The Second Most Effective Mayor Of The 20th Century
By Kenneth T. Jackson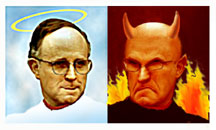 As Rudy Giuliani leaves office, New York City is not free of problems. Some public schools remain wonderful, and many of the teachers are terrific, but the general perception of the system remains negative. Until we fix public education, the city will not be in great shape. Infrastructure, too, remains a problem. For example, one hundred years ago this city built the greatest bridges in the world. Now it is all we can do to paint the bridges to keep them fixed. Similarly, water pipes are leaking under our feet. The third issue for me is Mayor Giuliani's misguided decency commission, and his inability to communicate or empathize with the minority community. When the homicide rate went from 2,200 in 1990 to 650 in the year 2000, a difference of 1,550 people, a thousand of those potential victims would have been young black males between the ages of 15 and 35. But Giuliani did a poor job of working with African-Americans, of saying, "If this is not working for you, why not?"
There are also many Giuliani decisions with which I disagree. For example, as a fervent Yankees fan, the idea of moving Yankee Stadium anywhere strikes me as nonsense. I think we should spend at least one percent of the city's budget on parks. And I think we should spend at least one-hundredth of one percent of our budget on history and the municipal archives. We don't do either.
But, having said all that, I would argue that, after Fiorello LaGuardia, Rudolph Giuliani will go down as the most effective mayor of New York City in the 20th century.
In my view, Gotham's success in the 1990's has little to do with the boom in the national economy. Since World War II, the national economy has often been good, but cities have been in a disastrous slump. Too often, national prosperity has even correlated with urban decline. And in the 1990's, Detroit did not boom, St. Louis did not boom, central Memphis did not boom. But New York did.
Giuliani's legacy is related to the decline in crime. It is true that some of this is a question of perception. The rise in the number of police, and the decline in homicide, began under Mayor David Dinkins, though that was only a 14 percent decline, a relatively small amount. And the squeegee people left about the time that Giuliani was running for mayor. Before 1994, there was a sense that the city was out of control. Mayor Dinkins was kind and gracious and generous, but the public felt that he was not up to the task.
Last night, after working late in my office at the New-York Historical Society, I left about midnight. I went out the freight entrance, to 76th Street. As I was walking west a young woman stepped into a brownstone. She was so attractive that she almost made my heart stop. But she and her little dog were alone.
And then I began to walk along Columbus Avenue behind the American Museum of Natural History, and I was behind another young woman. She was also by herself, and this is after midnight. People were sitting on benches hugging, two older women were talking. There is a sense of safety now, whether Giuliani himself deserves credit for it or not.
What we may have is a historic reversal of an American pattern now almost two centuries old. New York is leading the nation toward a new paradigm. Because "stranger crime," which is the crime we worry most about, is down more than 80 percent, people are no longer frightened in this city.
Even if it were a public relations ploy, people have come to believe it. It becomes a self-fulfilling prophecy. If you think it's safe outside, and then you go to the corner grocery at midnight, you make the street safer for everyone else. And in that sense it is self-policing or community policing. But it is a major, major change.
The boom in the city is not confined to Manhattan. Think of the Bronx decals of a little curtain, a lampshade, a flower pot, on windows in Morrissania and East Tremont which presumably made abandoned buildings look occupied, so that passersby or drivers by would not be depressed. How different is that today? We see no decals in 2001. Similarly, when you saw an abandoned building in the past, it was just one more indication that the city was going to hell. Now when you see a building with boards in the windows, you see opportunity. I've been hearing about a new Renaissance in Harlem for more than three decades, but only recently has hype turned into reality. There are renovated houses everywhere. There is a change in perception. There is a sense of order.
Does Mayor Giuliani deserve all the credit for this? Certainly not. The new housing in the Bronx, in Harlem and in East New York is because of initiatives Ed Koch took when he was the mayor. Similarly, David Dinkins turned around the crime situation. But Rudy Giuliani made us believe again that New York is governable.
Fifty years ago New York statistically was in good shape. It had the most important harbor in the world and it was the most important manufacturing city in the world. It was clearly the most important city in the world. But underneath this surface success 50 years ago, bad things were happening. The harbor was dying with containerization. Manufacturing was leaving, first to the suburbs, then to the South, then to Third World nations. Everyone, it seemed, wanted to move to the suburbs.
Yes, the city had 2 billion passengers a year on the subways. But most people in fact wanted to buy a car and move to Levittown. And as soon as they could, they did. In the 1950's and the 1960's, the future of America seemed to be in some corporate office park, in some shopping mall, in some new suburban development.
That is no longer true. Since 1810, every single census without exception showed that the suburbs of New York City were doing better than the city. Until 2000, when for the first time in almost 200 years, the city became more attractive. This metropolitan region mercifully does not have the vicious suburban-city split that so many cities, like Detroit, have Partly because of Giuliani, the people in New York's suburbs tend to like the city. They do not live here but they come here. The ridership on all of the commuter railroads is up. And we are one of the few cities anywhere in which ridership on the subways and buses is up.
We also have a new appreciation for the benefits of congestion and high density, which New York brings together like no other city in the world. High buildings to work in and high buildings to live in. No other place on earth does this in the same way. For most people, this pattern has long been a negative, a turn-off. Now, partly because of Giuliani, partly because of "Seinfeld," there is a sense that urbanity and sophistication does not consist of driving a car to a shopping mall. Giuliani gets some credit for that.
As I said, we are experiencing a paradigm shift. The most important legacy of Rudy Giuliani is this shift in attitude. If the next mayor does not hold down the level of crime, the citizenry will likely blame it on him. The new challenge is to figure how to do for the schools what Dinkins and Guiliani did for crime, so that the schools are no longer perceived as a problem.
We still have many challenges in the 21st Century, and I hope that the winning mayoral candidate in 2001 can say in 2009 that the city is as much better at the end of his eight years in office as Giuliani can say now after his eight years.
Kenneth Jackson, Barzun Professor of History and the Social Sciences at Columbia University, is the president of the New-York Historical Society
###
Read Giuliani's Legacy: A Change In The Way New Yorkers Think About Crime, Welfare, Quality Of Life, Squeegee Men by John Tierney
Read Giuliani's Legacy: Taking Credit For Things He Didn't Do by Wayne Barrett
Check out the Feature Archives!



$app = JFactory::getApplication(); $menu = $app->getMenu(); $menu_items = $menu->getItems('menutype', 'mainmenu'); var_dump($menu_items); * */ ?>