Why We Have Signed Up As Poll Workers
Let A Thousand Inspectors Bloom
By Puja Kumar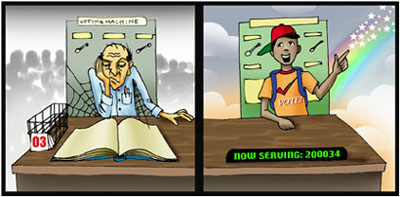 For someone who was never interested in politics and did not bother voting until last year, I have really launched body and soul into New York City's electoral process. I haven't just signed up to be a poll inspector du ring both the primary and the general election, I have also signed up other people -- 1,359 other people.
The reason I have been working so hard to recruit inspectors, as I explained in April in Gotham Gazette, is because the Board of Elections needs to hire 30,000 temporary election day workers to staff the poll sites both on September 11 and November 6. Unfortunately, the board usually falls short by about 4,000 inspectors.
Poll workers have a variety of tasks. They make sure that poll sites run smoothly by signing voters in, directing voters to the correct voting machine, and providing answers to voters' questions.
This year Citizens Union Foundation (where I work) and City University of New York (CUNY) pledged to help the board recruit additional election day workers. We have been reaching out to schools and civic organizations, and have placed newspaper ads in both the New York Times and the Daily News in order to get the word out. And thanks to an increase in the stipend from $130 a day to $200, the number of inspectors has increased dramatically. In addition to the 1,359 people recruited by Citizens Union Foundation, City University of New York has recruited more than 1,600 students.
One of the reasons I decided to sign up as a poll inspector was to experience first hand what the work was like. I would be in a better position to propose ways to make the experience better, having gone through it. In addition, since I helped sign up so many poll inspectors I felt I should lead by example and also serve my community.
To understand why other New Yorkers have decided to work as poll inspectors, we asked a few whom we signed up (and one whom we didn't). After the election, we will contact them again and find out what their experiences were like on Election Day.
TO KEEP THE SUN RISING
By Teresita Joson
On Election Day where I grew up, dead people suddenly came back to life, and got to vote. Priests and nuns were imprisoned. There was violence, vote buying, and "ballot magic" - ballots would suddenly disappear, and when they were found, voila, the votes cast sided with the dictator.
I grew up in the Philippines under the dictatorship of Ferdinand Marcos. I never knew any other Philippine president. That is why I despise tyrants and dictators. I have my own little personal embargoes on countries like China and Singapore - there is no such thing as a benevolent dictator. I will not buy anything that is made in these countries.
Election 2000 in the United States brought back all the feelings that I had about elections going awry. As the years go by, people will not look kindly at what happened in Florida, and the Supreme Court's decision to step in and stop the counting. Regardless of who I believe should be president, it is imperative that people vote and that each and every vote be counted.
Most Americans take their freedom for granted. For somebody like me, freedom is as sweet and hopeful as the sun rising after a long dark night. Becoming a poll worker is a first step for me in becoming part of the political process.
Teresita Joson, who has lived in New York for 15 years, works as an equity research associate at a global asset management firm
TO EARN, AND LEARN
by Harold Rodriguez
I'll admit I agreed to serve as a poll worker for the cash. The possibility of earning $460 for two days of work proved too good for me to resist. But in the weeks after I signed up, it started occurring to me why my decision had been a good one.
Working as a poll inspector seems a good way to get an introduction into local politics, especially issues of concern to the local Spanish-speaking community. I have always considered myself socially conscious, and indeed have spent many years studying both history and political science. But my focus was in the international arena. Having arrived in New York only two years ago from California, I have yet to learn as much as I would like about the community here.
I have never considered myself underprivileged or a victim of the inequities of this nation's social system. I recognize, though, that the same cannot be said for many of the minorities here in New York City and in the nation as a whole. Though Hispanics are currently the fastest growing community in the US, they still have a long way to achieve political power and awareness in proportions to their population numbers. As I see it, this can only come through integration into the electoral process. Becoming a poll worker is not a solution to my ignorance, but it is a first step.
Harold Rodriguez just completed a masters from New York University in European politics.
TO FIND DEMOCRACY AT ITS RAWEST
By Erin Dooley
I volunteered to serve New York City as a pollworker in search of American democracy at its rawest. That, I believe, is exactly what I have already found, though not in the way I had hoped.
I recently received a notice from the Board of Elections that I had been designated a "Standby Pollworker." This did not sound good. I could not find this job description in the Poll Worker's Training Manual. The "Election Day Team" includes eight "poll worker categories," including
Coordinator. Among the coordinator's duties is to supervise everybody else, and "refer difficult problems to the Board of Elections."
Chairperson. At the odd-numbered election districts, this person is a Democrat, at the even-number, a Republican. The chairperson "organizes the physical layout of the polling area."
Inspector. This person, according to the manual, "safeguards the rights of voters." This is what I wanted to do.
Poll Clerk. The clerk "collects a Voter Card from each voter" and "operates the party lever on the voting machine for Primaries and the officer's control handle for all elections. Reminds voters that curtain remains closed and how voter handle works.
Information Clerk. "Uses the Street Finder and Poll Sites List to direct voters to their correct Election District/Assembly District and poll site."
Interpreter. "Assists non-English speaking voters by translating information provided by the Inspector."
. Door Clerk. "Assists, but does not provide physical help, to disabled people entering the site."
There is also "Police Officer."
I was surprised to learn that the Coordinator, the Chairperson, the Inspector and the Poll Clerk all have to be either Republicans or Democrats. But the Information Clerk, the Door Clerk, and the Interpreter do not have to be, nor presumably does the Police Officer. This was all fine, but where was "Standby Poll Worker." I called the Board of Elections, searching for an explanation. I am still standing by for one.
Erin Dooley is an undergraduate at Barnard College
TO DO IT DIFFERENTLY
By Sonia Charles
Besides the financial reasons, I decided to become a Poll Clerk to make a difference on Election Day in terms of how voters are treated. When I took the Poll Clerk classes, I learned that there were things that Poll Clerks did to me that they should not have done. For example, I learned that clerks should not ask a voter for identification if they do not have their voter's registration card. As a voter, I was caught in that exact situation. I never knew that the clerk was wrong in asking for my identification.
But you don't need to get the Poll Clerk training to understand that a lot of clerks are doing things wrong. You go to the Polling Site and the clerks are so disorganized, it takes strong will-power for you not to walk right out and not vote. For example, one year I went to the Polling Site and walked up to the desk to sign in. Four people were sitting right around the desk, and their backs were turned to me. I was offended by this kind of reception. I pointed this out to the clerks, and asked why everyone wasn't facing the voters. They all had an attitude, as if I did not know what I was talking about. When I am a Poll Clerk, I am going to face the voters.
Sonia Charles is the mother of two daughters and a Secretary/Manager in the College Relations Office at Bronx Community College.
WHY I WILL NOT BE A POLL WORKER
By Nuriel Adler
As we all know, poll workers are selfless people who leave the comfort of their homes to work a 16-hour day, braving the elements, mediocre air conditioning, and people who will insist adamantly that they are registered to vote -- thrusting documents at you even when you can tell by their face that they're clearly lying -- for no other purpose than to serve their country. These poll workers are modern-day heroes who would probably have been among the first charging up the beach at Normandy, although it is difficult to know for sure. Their motivation is a sense of civic duty. Civic duty, and the fact that they can make $460 in only two days.
Actually, I really did think poll working was selfless, something noble that you hardly get paid for, like jury duty or being a librarian. But $460 is a lot. It could easily take an entire two weeks for me to make that kind of money. Besides, what else am I going to do on a Tuesday (other than go to school)? As far as I am concerned anybody who does not sign up to be a poll worker is a fool and should lose his parking privileges. True, you also have to go to a three-hour training session, but a) you get $25 for it and b) rumor has it that even if you fail the test you can still work, although you might get smacked across the forearm with a ruler.
So why am I not a poll worker? The answer is simple: Our country is nothing but a thinly veiled fascist dictatorship. More specifically, I am 17 years old, and the minimum age for being a poll worker is 18, the same as voting. But that has not stopped me from voting before. I can recall a time, I think I was about 7, when I went into the voting booth with my dad, and flicked whatever lever I pleased. Does every person with kids do this? This actually frightens me now, although it does explain a lot about how certain people ever got elected. While I may have been only partially qualified to be a poll worker then, I am definitely qualified now. I can read, I can write, and I know the Animaniacs song about the presidents by heart. The way I see it, that I cannot serve as a poll worker is a loss for our city, a loss for our country, and, yes, a loss for democracy. And it is also a loss for me. Not being able to work towards a fair election makes me feel empty, like something's missing. Something like $460.
Nuriel Adler is a senior in Hunter College High School and will be registering to vote in January when he turns 18.
If you would like to work as a poll inspector too, download the application form on Gotham Gazette's Searchlight on Campaign 2001, fill it out, and mail it to the address listed on the application form -- or fax it to the number 212-227-0345.
###
Check out the Feature Archives!



$app = JFactory::getApplication(); $menu = $app->getMenu(); $menu_items = $menu->getItems('menutype', 'mainmenu'); var_dump($menu_items); * */ ?>