Public Parks, Recreational Access, and the Post-Industrial Harbor of New York
by John Waldman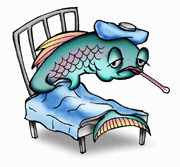 Long ago, the coves and marshes of Manhattan's Hudson River banks were replaced with landfill, pilings, bulkheads, and walls. The river itself was despoiled by sewage and industrial pollutants. Today, the Hudson River Park creeps shakily northward along a portion of this far-from-natural shore, washed by less-than-pristine waters. Against this warped and complex setting backers and opponents of the park project have waged battle over the environmental consequences of park-driven modifications to the infrastructural status quo of this strip -- a battlefield defined by its very inscrutability.
But there is a larger and more glorious context: the under-appreciated recovery of the Hudson from centuries of abuse.
The life in the harbor that greeted European colonists awed them in its sheer diversity and abundance. The Dutchman Jasper Danckaerts wrote in his journal of 1679-1680 that "it is not possible to describe how this bay swarms with fish, both large and small, whales, tunnies, and porpoises, whole schools of innumerable other fish, which the eagles and other birds of prey swiftly seize in their talons when the fish come to the surface." Gowanus oysters as large as dinner plates were Brooklyn's first export; for much of the 1800's local oysters were the breakfasts, lunches, and dinners of the poor. Manhattan became the center of sport angling in North America with fleets of rowboats plying nearby waters. Large sharks, as many as seven in a day were caught off the East River piers. Anglers traveled from far to fish for Hell Gate's famous striped bass.
By the late 1800s New York City's human population was growing rapidly -- fueled daily by waves of immigrants -- and torrents of untreated human wastes and chemical discharges ravaged the harbor's waters. Raw sewage accumulated to ten feet on portions of the bottom, rotting and giving off methane gas so vigorously that sightseers would come to watch the waters "seethe and spit." This decomposition robbed the harbor of dissolved oxygen, leaving many of its sections uninhabitable by anything but bacteria. Most oyster beds were covered with sludge. Those that were not yielded shellfish with slimy, green meats that tasted like petroleum and carried typhoid fever.
Sheets of floating garbage washed back and forth with the tides, carrying turds and dead animals to swimmers on the few beaches that hadn't already been closed for health reasons. Oil slicks ignited on the water's surface. Some reaches of the harbor were so polluted they became legendary. Stenches from Newtown Creek in Queens and the Gowanus Canal could be smelled for blocks; nearby residents even fled during the worst episodes. The Gowanus Canal became known as "Lavender Lake" because its color would change depending on the hues dumped by its dye works.
Incremental improvements to the sewage treatment system and increasing control of industrial pollution brought steady environmental gains to New York Harbor, especially following passage of the Clean Water Act in 1972. Oxygen levels rebounded far enough that shellfish and other invertebrates are recolonizing the harbor's bottom. Stripers and blue claw crabs thrive. Seahorses and colorful butterflyfish routinely swim among the pier pilings at the Hudson River Park site, as do some three-dozen other fish species. Ironically, two kinds of marine borers are now eating and tunneling through the harbor's 10,000 timber pilings now no longer protected from these creatures by foul waters.
Lately, sea turtles have been seen in the East River and bottlenose dolphins and porpoises have been spotted in the lower Hudson. Harbor seals sometimes rest on Robbins Reef in Upper New York Bay where they were common three hundred years ago. Peregrine falcons now nest and swoop from the Brooklyn, Verrazano Narrows, Throgs Neck, Bayonne, Goethals, and George Washington Bridges. Ospreys rear their young yards from JFK airport.
The return of healthy prey fish populations has allowed the dramatic recovery of other large fish-eating birds that were entirely absent from New York Harbor just decades ago. In fact, the archipelago of uninhabited islands in the East River and Arthur Kill are the nesting sites of hundreds of pairs of ibis, cormorants, egrets, and herons.
And it's not just water quality that's improved. Government agencies and private institutions are restoring habitats, mainly salt marshes essential as breeding and nursery areas for fish, shrimp, crabs, and birds. An experimental reef made up of old shells that was deposited near Liberty Island in June is already showing newborn oysters.
In August 1998 I toured the Gowanus Canal and saw a profoundly sick waterway nearly devoid of life. But in March 1999, New York City restored a pumping system abandoned in the 1960s, for carrying oxygenated water to the Canal from Upper New York Bay. Although the cause of its improvement is patently artificial and rings of oil still drift between its bulkheads, the Gowanus is now home to multitudes of young striped bass, bluefish and weakfish -- right in downtown Brooklyn.
The broad recovery of the post-industrial harbor has provoked some changes in its usage by the public (although general perceptions of its environmental condition appear to lag behind its actual improvements). The number of harbor aficionados is growing. Harbor festivals are held annually. Floating the Apple runs a summer youth camp that takes children on the water in rowboats and teaches them about the ecology of the lower Hudson. New Settlement Apartments has a Rocking the Boat Program in which students build "Whitehalls" -- traditional nineteenth century harbor skiffs -- and then row them on the Harlem River.
Then there are the recreational pioneers, people who take pleasure from New York Harbor on their own, irrespective of the obstacles. Charter boats specializing in urban angling for stripers and bluefish now pick up bankers and brokers near Wall Street after work Ü- the best spots include near the Statue of Liberty and behind the United Nations headquarters. Kayakers slalom through underpier piling fields. And swimming clubs hold meets on reaches that were health hazards just decades ago. But most parts of the harbor remain spectacularly difficult to access; it's a challenge simply to find places to dip a hand in its waters.
Debate over Hudson River Park's very existence and ultimate manifestation will continue, tied in with larger philosophical issues such as the recent and curious notion that new parks for the public benefit need to support themselves economically. Nonetheless, the creation of some form of Hudson River Park and other access sites is essential to help reconnect City's residents with a harbor worth visiting again, enjoying, and even celebrating. Not because it is fully recovered -- the harbor will never again relive its native biological glory -- but because it is one tough and surprising body of water that has risen from its deathbed to regain a remarkable functionality. New York Harbor's comeback is not complete, but it is far enough along that it should already stand as a national symbol of environmental accomplishment and the possibility of ecological recovery.
###
John Waldman, a scientist and writer, is author of Heartbeats in the Muck: The Sea Life, History, and Environment of New York Harbor (Lyons Press), to be released in January 2000.
Check out the Feature Archives!



$app = JFactory::getApplication(); $menu = $app->getMenu(); $menu_items = $menu->getItems('menutype', 'mainmenu'); var_dump($menu_items); * */ ?>