BILL'S BUDGET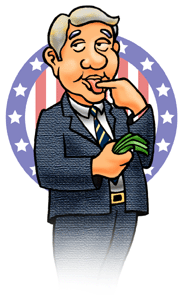 No one thinks that President Clinton's FY 2001 Federal Budget will pass without a major makeover from Congressional Republicans. As the Washington Post editorial page put it, Mr. Clinton "...assumes congressional enactment of legislation that, he, more than anyone else, understands is beyond unlikely."
On the other hand, it also seems pretty clear that the GOP is ready to cut a deal that will allow their presidential standard bearer to talk about something else besides tax cuts and missile defense systems during the fall campaign. This is no year for draconian trimmings of federal largesse.
And if the White House and the Congress split the difference, then it will be a very good year for New York City. Even half the loaf from the President's generous-to-Gotham bakery would constitute quite a meal.
Some preliminary indications:
Overall. Spending on Cabinet Departments with relatively small impact on NYC is either down (Agriculture) or steady (Defense, Interior). Departments with relatively big impact on NYC (HHI, HUD, Education, Transportation) are way up.
Clinton proposals for nationwide increases for homeless programs; for a reprieve on local reimbursements for Medicare costs by public hospitals; for an expansion of health insurance to parents of poor children; for a major bilingual migrant and adult education program; for low income housing vouchers; and for generous support of mass transit all spell special benefits for the City. The bottom line, says senator Chuck Schumer (a responsible party), "Probably the best budget for New York City in years." Other details:
Education. NYC shares include $517 million for primary and secondary schools (up $66 million); $188 million for Head Start (up $30 million); $22 million for afterschool programs (up $12 million); plus substantial increases in federal aid for job training.
Social Services. $108 million for social service block grants (up $20 million); $300 million for child care block grants (up $177 [!] million).
Transportation. $20 million for the new Penn Station; $10 million for connecting the Long Island Rail Road with Grand Central Terminal; $5 million for the MTA's feasibility study for a Second Avenue Subway.
Waterfront. $5 million for dredging the Arthur Kill to allow larger ships to use Staten Island's Howland Hook containerization facilities; $4 million to renovate the bathhouses and indoor pool at Riis Park in the Rockaways.
Rather muddled: Governors Island. The President's budget contains a $300 million projected revenue figure for the sale of Governors Island from the feds to NYS/NYC, $299.999 million more than the figure earlier mentioned by Senator Moynihan. In subsequent comments from the US Office of Management and Budget, it was said that the island could still be had for "a nominal fee," but that a detailed proposal would have to be submitted first. Not easy to figure.
Empire State Campaigning. Downstate and upstate, these programs tend to be popular so long as the overall national economy still seems strong. Trust Hillary Clinton and Al Gore to pound away on childcare, Social Security, prescription drugs, and clean air. Candidate Giuliani will probably move consistently leftward once the campaign heats up and the need for direct mail fundraising with national donors gets supplanted by the need for local, local, local. Absent a big economic downturn, New York looks solid for Gore versus Bush/McCain; Hillary may ride in on Al Gore's coattails, providing fresh evidence for the hypothesis that history proceeds by ironies.
Conn Nugent is the Editor of the Gotham Gazette
###
Check out the Feature Archives!



$app = JFactory::getApplication(); $menu = $app->getMenu(); $menu_items = $menu->getItems('menutype', 'mainmenu'); var_dump($menu_items); * */ ?>