Dorismond Digits: Round up and Count down
Gotham Gazette Staff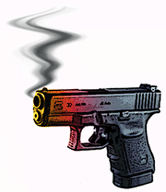 The death of Patrick Dorismond has sparked sharp criticism of the Mayor and the NYPD; an outcry from minority communities; and a flurry of political activity. Since the shooting on March 17rh , the complexities of the case have multiplied and divided, spreading into the reaches of local, state and federal politics.
In a grave political miscalculation, Mayor Giuliani opened Dorismond's sealed juvenile record to bolster his adamant assertion that the victim had a history of trouble with the law. The Mayor's behavior was criticized from all sides, including a front page story in the New York Times about how fellow Republicans began to question the Mayor's actions. Similar stories followed. This prompted a seemingly bullheaded insistence from the Mayor that his actions were justified. Public Advocate Mark Green intends to find out.
Employing an obscure, heretofore unused clause of the City Charter, Green has charged the Mayor with official misbehavior by releasing the Dorismond files. The Mayor will have to explain his actions in State Supreme Court next month.
Other pols have jumped on board. Hillary Clinton has used the shooting to criticize the Mayor, accusing him of racially polarizing the City. Giuliani responded by asserting that the First Lady was projecting her own shortcomings onto him. Reverend Al Sharpton has called for a federal investigation. Longtime Giuliani supporter Reverend Michel Faulkner has called for the Mayor and the Police Commissioner to resign. State Comptroller H. Carl McCall calls Mayor Giuliani "unwilling or unable to provide the leadership necessary to restore calm and confidence." He asked Governor Pataki to appoint a commission "to examine the myriad issues that affect the relationship between police officers and the people they serve."
There has been frustration, anger and scuffles with the police at Dorismond's funeral, attended by over 2,000 people. The City Council's first public hearing of its newest committee -- the Select Committee on Police Performance and Community Relations -- was held in the Bronx last week. Rather than promoting dialogue, the meeting served as a forum for residents to vent fear and frustration. In response to Councilwoman Robinson's gentle explanation that the purpose of the meeting was to improve relationships with the police, one resident declared, "I don't want a relationship with the police."
Other community meetings have had a similar tone. On Thursday, March 30th, a group of Haitian clergy went to Police Plaza to meet with Commissioner Safir. The clergy had planned an early exit when the Commissioner refused to apologize for the shooting. Once Mayor Giuliani showed up unannounced, they delegation promptly left, snubbing both Mayor and Commissioner. The same day, chaos erupted at a town meeting in Chinatown held by the Mayor. Residents, shouting criticism, accused Mr. Giuliani of being a racist. Six were arrested on charges of disorderly conduct.
Tensions are high; invective and accusations are liberally distributed. Though nothing will undo the damage caused by Mr. Dorismond's death, some cold facts may help lawmakers, community leaders and advocates cast a clearer eye on the issues at hand: