April 3, 2000 - Inner City Press Bronx Report
Matthew Lee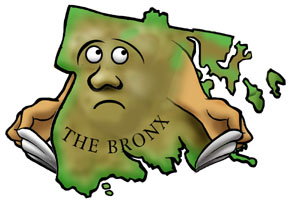 With all the talk about (but so little action on) campaign finance reform, Inner City Press has just conducted a study of federal campaign contributions from The Bronx, and selected zip codes in neighboring Manhattan. The results are striking (and may, not surprisingly, explain why Bronx residents get so little accountability from federal agencies):
As of the end of March, the Federal Elections Commission data base before, from zip code 10454 (Port Morris and Mott Haven, up to 146th Street) a total of 10 federal campaign contributions, in the previous year. All of the contributions from this zip code, which, according to the last Census, has 35,994 residents, and a median family income of $10,865 -- were from businesses. Businessman Murray Feiss, who has received extensive City subsidies in the past decade, contributed $300 to the National Republican Congressional Committee in September, 1999. Andy Wist of Standard Construction gave $1,000 to the Congressional campaign of Brooklyn's Noach Dear. And Howard Stein of Rite Check Cashing gave $1,000 to the National Check Cashers Association Political Action Committee.
10454's ten federal contributions, as of March 31, can be compared to zip code 10021, Manhattan's Upper East Side from 61st to 80th Street. The FEC data base reflects 5,874 contributions from this zip code (population 106,564; median family income $101,959) in the same time frame. 10454 has a huge waste transfer station, and bank (HSBC) offices that the federal regulators allow to be closed down without repercussion....
Continuing in the South Bronx: zip code 10455, Mott Haven, made 11 federal campaign contributions in the past year, five of them from one John Villanueva, all to "Friends of Giuliani Exploratory Committee." A Raul Rodriguez gave $500 to the National Republic Senatorial Committee; Carmen Arroyo gave $250 to Gore 2000, Inc.
Zip code 10453, Highbridge, listed only one federal contribution: from Clarence Plummer, to Bush for President, Inc.. By these numbers, it's a uniformly Republican zip code...
Zip code 10457, East Tremont, listed 6 contributions -- all to Republicans, except for Solomon Berger's $1,000 to "Lautenberg 2000 Committee," in April 1999. Lautenberg has been a New Jersey Senator. He's no longer running; the contribution has been refunded. So, make it FIVE contributions, from this zip code -- ALL to Republicans.
Zip code 10452, the West Bronx from 161st Street to Featherbed Lane, listed only two federal campaign contributions: one to North Bronx Congressman Elliot Engel, the other to the Textile Rental Services Association PAC.
Zip code 10451, the West Bronx up to 161st Street, made 13 contributions, mostly from businesses. Robert Cummins of Guardsman Elevator played both sides: in March 1999, $1,000 to Gore 2000, Inc.; in December 1999, $1,000 to Bush for President, Inc.. Is that a hedge bet, or a change of heart in the course of nine months? Steve Bacher of the Children's Aid Society gave $250 to Bill Bradley for President, Inc., as did Karen Courtney of the Citizens Advice Bureau. Murray Lewinter gave $1,000 to Bush for President, in November 1999.
Zip code 10456, Morrisania, listed only two contributions, one from Assemblywoman Gloria Davis in October 1999, to Hillary Rodham Clinton's campaign.
Zip code 10459, Longwood, made only one federal campaign contribution, in March 1999, to a painters union PAC.
Zip code 10460, West Farms, made 8 contributions - seven of them from Peter Duffy, each of them to Pat Buchanon. Hannie Santana gave $250 to Bush for President, Inc. -- making it a Republican sweep of West Farms.
Above 183rd Street, zip code 10458 gave 17 contributions (posted through March 31, 1999) -- 12 of them from Albanian activist Harry Bajraktari, who met with President Clinton in April 1999. Gjon Chota of this zip code gave $1,000 to Trent Lott for Mississippi.
Zip code 10468, Kingsbridge, gave six contributions. Stephen Jerome of Monroe College that $1,000 each to Congressmen Engel and Serrano.
Zip code 10474, Hunts Point, was more active, with 14 contributions, all from businesses. Robert Schratzmeier of Hudson Sheetmetal went Republican (National Committee); Leon Eastmond went Democratic (Congressional Campaign Committee). The Cattlemen's and the Sheetmetal Contractors' PACs also got contributions from Hunts Point.
In perhaps the hypest comparison, zip code 10472 (Soundview, location of the killings of Messrs. Diallo and Ferguson) gave five federal campaign contributions: one to Bradley, one to Hillary Rodham Clinton, and two to Republican Congressional race funds.
Across the river in Manhattan, in zip code 10023 (Upper West Side from 60th to 76th Streets), residents gave 1,616 contributions in the same time frame, off a smaller population base...
Matthew Lee is the Executive Director of the Inner City Press
###
Check out the Feature Archives!



$app = JFactory::getApplication(); $menu = $app->getMenu(); $menu_items = $menu->getItems('menutype', 'mainmenu'); var_dump($menu_items); * */ ?>