How to Cut Taxes and Build a New Subway (maybe) While Keeping Everyone Happy
by Philip Lentz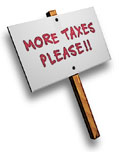 If you listen carefully these days, you will hear two persistent themes in our public policy dialogue.
One is that we must shrink the size of government and continue to cut taxes. Hooray --everyone's for that!
The second is that we must invest in the future by rebuilding and expanding our infrastructure --- that means new train lines and tunnels, as well as rebuilding existing roads and bridges. Hooray -- everyone's for that, too!
But, can we really do both at the same time? That's the rub.
New York has long had the reputation as being a costly place to live and work, and our high tax structure, both in the city and the state, has in large part been to blame. So the major tax cuts implemented at city and state levels in recent years were long overdue. And since government has enjoyed vast multi-billion dollar surpluses in the wake of the 1990s economic boom, tax-cutting has been relatively painless; so much money is coming in, there is little need to cut government's basic services in order to lower taxes.
With the recession of the early 1990s now a distant memory, urban thinkers and planners are now telling us we need to build more stuff -- more housing, more roads, more trains, more tunnels -- to accommodate the growing masses coming to New York to enjoy our renewed prosperity. Otherwise, they say, all our gains will be for naught. Two-hour commutes and $2,000 studios will eventually force people -- and the jobs they seek -- to go elsewhere.
Yet, lower taxes -- and a relatively lower cost of living -- are helping to make the City, and the State, a more attractive place to live.
So how will we pay for all this new stuff the visionaries tell us we need? Good question.
Crunch time is coming.
We saw the first evidence of this conflict in the recent squall over gas taxes. When prices at the pump rose astronomically, politicians of all stripes did what they always do – grasp for a short-term answer that will be popular in the polls. They suggested repealing state and national gas taxes to ease the burden on the driving, and voting, public.
But then there was a curious backlash. And it came from an unexpected source -- the business community. The conventional wisdom is that business types favor smaller government and lower taxes. But that stereotype is not always correct, since government spending can also help business.
In the case of gas taxes, these revenues are used to fund highway and mass transit projects that the business community builds. So we had the anomaly of business groups pleading not to lower taxes. Several weeks ago, Richard Anderson, president of the New York Building Congress, which represents the local construction and design industry, urged his members to call and write Albany to lobby against lower gas taxes.
"This is not the time to cut taxes," Mr. Anderson says. "This is the time to invest in our future."
A liberal Democrat couldn't have said it any better.
The conflict between taxes and investment came to a head over the Metropolitan Transportation Authority's five-year $17.1 billion capital plan. Regardless of the contents of the plan -- whether it includes a partial or full-length Second Avenue subway, or future fare hikes -- the MTA just doesn't have the money to finance the whole shebang.
So where would the money come from?
The transit advocates who liked the MTA plan knew calling for fare hikes and tax increases right off the bat would get them drummed out of town. So instead they crafted a strategy of creating demand for new transit projects like the Second Avenue Subway before addressing the issue of cost.
And they were very successful. Through skillful use of the media and helpful local politicians and civic groups, they generated a huge public groundswell to give backbone to the politicians in Albany to make what are euphemistically called "hard choices" to fund the MTA plan. "Hard choices" means finding new revenue sources.
The plan worked, sort of. Assembly Speaker Sheldon Silver vowed to throw his body in front of the state budget until Gov. George Pataki agreed to fund a full-length Second Avenue subway. And the Governor gave in.
So how did they decide to fund the plan? Was it higher fares? More taxes?
Neither, said the politicians who face re-election this fall. Let's borrow the money. Let future generations figure out where the revenue will come from. In essence, the pols punted.
Under the tentative state budget framework agreed to last week in Albany, the Governor and the Legislature agreed to cut an additional $1.2 billion in taxes while funding the MTA's capital plan, and a companion upstate highway construction program, primarily through debt.
This has caused angst among transportation advocates. They fear that long after this generation of politicians is re-elected and has gone on to its just reward (judgeships, lucrative pensions), those cherished transit projects -- like the Second Avenue subway -- could end up unfinished, especially if the party on Wall Street suddenly ends and the government surpluses stop rolling in.
"One political leader or another has ruled out every possible funding source for transportation," says Mr. Anderson of the Building Congress. "They're saying, `We want to have our cake and eat it too.' "
So this election year, the pols have seemingly kept everyone happy. More tax cuts. More subway and train lines. Newer highways. The only question is, will there be any crumbs left on the plate to build a Second Avenue subway after all the debt service is paid off?
Philip Lentz is the political reporter for the Crain's New York Business.
###
Check out the Feature Archives!



$app = JFactory::getApplication(); $menu = $app->getMenu(); $menu_items = $menu->getItems('menutype', 'mainmenu'); var_dump($menu_items); * */ ?>