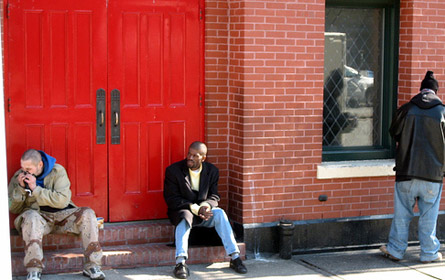 As Mayor Michael Bloomberg approached the end of his first term in 2004 with his eye toward re-election in 2005, the administration was able to momentarily turn away from the city's economic turmoil. Bloomberg began re-examining some of New York's social service policies, putting fighting poverty and homelessness at the top of his list.
In June 2004, Bloomberg announced an ambitious five-year plancalled "Uniting for Solutions Beyond Shelter" with the goal of tackling the complex questions of homelessness -- particularly ending chronic homelessness within 10 years -- and cutting the homeless population by two-thirds. "At its heart, this new plan aims to replace the city's over-reliance on shelter with innovative, cost-effective interventions that solve homelessness -- and to make visible headway in reducing homelessness on the streets and in shelters," said the mayor.
To be sure, there have been bumps along the way: controversial moves offering homeless individuals one-way tickets out-of-town or enforcing a never utilized Pataki-era state law charging homeless families for their shelter stay. There also was an extremely unpopular attempt to move a Manhattan intake shelter to Brooklyn. And, at a recent Working Families Party mayoral forum, media reports quoted Bloomberg as saying New York's homeless find shelters "a lot more attractive" than "permanent living situations."
But more significantly, Bloomberg's lofty goals have not materialized. In fact, rather than cutting the population by two-thirds, the administration has seen homelessness increase substantially.
A Rising Population
According to the Coalition for the Homeless, the city's homeless shelter population has increased by 65 percent between 1998 to April 2007. Earlier this month, the coalition released revised numbers revealing the homeless shelter population reached its highest level ever at the end of September 2009. It reported "39,000 homeless New Yorkers -- including 10,000 homeless families, an all time high -- sleep in municipal shelters every night." It also found since Bloomberg took office, 45 percent more New Yorkers are in shelters every night.
These updated numbers detailed that in August "an all-time record 1,914 new homeless families entered the shelter system, and the past year has seen the largest number of new homeless families entering shelters since modern homelessness began."
Moreover, the coalition found the number of homeless New Yorkers sleeping in city shelters in fiscal year 2009 was "10 percent higher than the previous fiscal year, and 45 percent higher than fiscal year 2002, when Mayor Bloomberg took office." This data includes more than 16,500 children sleeping in shelters, a 12 percent increase since last year.
The city sees some successes in its fight to end homelessness. In its recently released Mayor's Management Report, it noted that the number of single adults in a shelter on an average day has dropped from 8,474 in 2005 to 6,526 in fiscal year 2009 and attributed some of the drop to shorter shelter stays.
The city also says it has kept many people from becoming homeless stating, "More than 90 percent of families and adults receiving prevention services did not enter the [Department of Homeless Services] shelter system." However, even by the administration's own figures, the average number of families with children in shelters has increased steadily since fiscal year 2006. In fiscal 2009, 12,959 families with children entered the shelter system, a 61 percent rise from 2005.
But its homeless policies continue to attract criticism. Chastising the mayor for thinking some people "would choose to live in a homeless shelter over permanent housing," Public Advocate Betsy Gotbaum said in a statement, "Because the administration doesn't understand the problems facing homeless New Yorkers, its policies fail to present real solutions. Policies should be reevaluated to respond to the worsening economy, the scarcity of jobs and affordable housing, and the reality that recent strategies have not been working."
The City's Tactics
In its effort to fight homelessness, the administration adopted what its Web site describes as "a first-ever effort to bring together the public, nonprofit, and business sectors in a coordinated campaign to address homelessness."
The plan was multi-faceted and integrated a myriad of city agencies. It has included an expansion of community-based homelessness prevention programs, a centralized database to better track the homeless, and ways to redirect funding and priority into prevention and away from the shelter system. It set stricter eligibility requirements, a redesigned intake process, shorter shelter stays and the creation of more supportive housing.
Deputy Mayor Linda Gibbs, former commissioner for the Department of Homeless Services and one of the advisors who helped create the new approach, said what was really innovative was that the city "flipped the paradigm." Traditionally, once someone enters "a shelter, your [other] needs are met, and then we figure out housing." Now, Gibbs said, the priority is being placed on housing needs, followed by other support services.
Patrick Markee, senior policy analyst with the coalition, though, said the administration has made mistakes from the start. While the faltering economy accounts for some of the increase in homelessness, Markee also attributes the surge to a 2005 decision by city officials to stop giving homeless families priority for federal Section 8 housing vouchers and apartments in public housing.
"From the days of Mayor Ed Koch," Markee said, "the neediest have always received a portion" of these programs. Now, non-homeless poor families receive all the priority. "It's not that they are undeserving of housing [assistance] -- there's now just anti-homeless discrimination," Markee said.
Gibbs said the administration made this shift because the supply of vouchers and public housing "is insufficient to meet the demand from the shelter system," and so it opted to give preference to "disadvantaged lower-income people." To deal with homelessness, she said, the city decided to focus "on preventive [programs] versus re-housing."
Changing Programs
In 2005, the city introduced a housing assistance plan called Housing Stability Plus, which was authorized by New York State. Gibbs said in a recent interview that the plan was "not as attractive as Section 8, where the voucher is less time-limited," but there was a shortage of Section 8 vouchers during the Bush administration when housing assistance was perennially on the chopping block.
"Housing Stability Plus," Gibbs said, "was tied to the case of a family and to receiving money and welfare... and freed up Section 8 for other community needs." Housing aid for a family decreased in value by 20 percent each year and assistance ran out after five years.
The program was "initially successful" according to Gibbs. However, the administration abandoned it two and a half years later because, Markee said, it was "a failure…and deeply flawed." The city replaced it in 2007 with Advantage New York/Work Advantage, a rent-subsidy program for homeless families that required them to work at least 20 hours a week.
Robert Hess, commissioner of Homeless Services described it in an email as, "the most generous municipal rental assistance program in the nation." According to Hess, over 13,000 leases for permanent housing have been signed under the program. "Each week 131 families sign Advantage leases, an increase of 52 percent over Housing Stability Plus levels and 79 percent over Section 8," he said. This subsidy lasts for only two years.
Both Gibbs and Hess described how Advantage New York "incentivizes" participants, to create savings accounts and to work. The city matches dollar-for-dollar up to $250 a month in a bank account to strengthen "asset development strategy, banking skills and rewards for savings." Gibbs also said the plan gets beneficiaries "in the habit of contact with a landlord." In addition, Hess said, the program "enhances landlord participation and creates options to serve a broader population. Most importantly, it focuses on quickly returning families to their communities."
Markee, though, disputes the administration's claims of success. What is especially galling, he said, is that there is no evidence that time-limited rent subsidies are effective, but the administration continues to use them to replace other, proven programs. The city, he charged, wants change for the sake of change. It is, he said, preoccupied with the "fetish of the new."
Markee also expressed concerns over the short time limit, noting that work advantage vouchers are expiring this year for approximately 2,000 formerly homeless families. The city "has never addressed" what will happen to these people, Markee said.
Homeless Services also invested in HomeBase, a homeless prevention pilot program that has since gone citywide. Its budget increased by 22 percent in fiscal year 2010; its client service levels increased by more than 10 percent in the first quarter of fiscal year 2010; and funding for anti-eviction services was raised by 16 percent, all according to an agency spokesperson.
The administration should not take the credit for that, though, Markee said. In an email, he wrote, "Bloomberg and City Council adopted a budget cut of $150,000 from the homelessness prevention fund," for fiscal year 2009. Bloomberg, he said, "also proposed major cutbacks to eviction prevention legal services," but the City Council restored those.
For fiscal year 2010, which began in July, Bloomberg initially called for a cut of $5 million for HomeBase prevention offices, according to Markee, but federal stimulus money then provided approximately $74 million for homelessness prevention in New York City over three years.
No Room at the Shelter?
As the cold weather approaches, capacity at shelters has also raised red flags. Another Coalition for the Homeless report claimed the city has virtually run out of space, especially for homeless single adults. It noted, "the number of homeless single adults... this year has increased by more than 7 percent -- the largest one-year increase since the 2001 economic recession." The coalition discovered on the night of Sept. 30 only two available shelter beds for homeless men and eight for women.
Gibbs described this as normal: "Capacity is always at 99 percent… and the single numbers always go up in winter; [These are] tried and true projections."
Bloomberg pledged to construct about 12,000 units of supportive housing across the city. These would address the needs of various people, including substance abusers and domestic violence victims, Gibbs said.
Many units are currently in the works. There is "a major dent made to move the chronically homeless" from the streets and shelters, in part by learning more about, as Gibbs put it, "the who, where, their history … tracking [and] understanding their needs."
However, the coalition said, supply continues to lag behind demand. "More than half of the newly-constructed supportive housing -- 3,276 units of the planned 6,250 new units -- will not be built until at least 2011," a coalition reportsaid. That's a different timeline than the one set out by Bloomberg, which applies until 2016.
Hess, though, said the city is prepared for future demand. "We function somewhat like an accordion, expanding and contracting as needed, so that our system does not keep space open unnecessarily at the taxpayers' expense and minimizes impact on communities, while at the same time, being ready at any moment to meet need," he wrote in a email.
Underlying all the specifics for many homeless advocates lies a question of philosophy. "One of the major reasons the Bloomberg administration gave for changing the old system of giving homeless families preference for some housing program was that it acted as a perverse incentive for families to go into the shelter system. Even without the priorities, family homelessness has escalated, suggesting either that the homelessness is driven by housing market and economic pressures pushing families out, not by perverse incentives. The priorities should be restored," said Victor Bach, director of housing research at the Community Service Society.
With an eye on those economic pressures, Brooklyn College sociology professor Alex Vitale said in an email that the city needs to "step up and reinsert itself into housing markets through new construction of affordable housing... The amount we spend to [house] homeless families in the emergency system... is a misuse of resources that could be put into permanent affordable housing if government would embrace the reality of the current market failure and quit trying to work with for-profit landlords and developers."
The administration often points to its record of creating new housing. Whatever its successes, though, more demand clearly exists, leaving some New Yorkers with no place to live.
Jillian Jonas is a freelance journalist focusing on local and national politics, government and public policy. She is a former national political analyst for U.P.I.