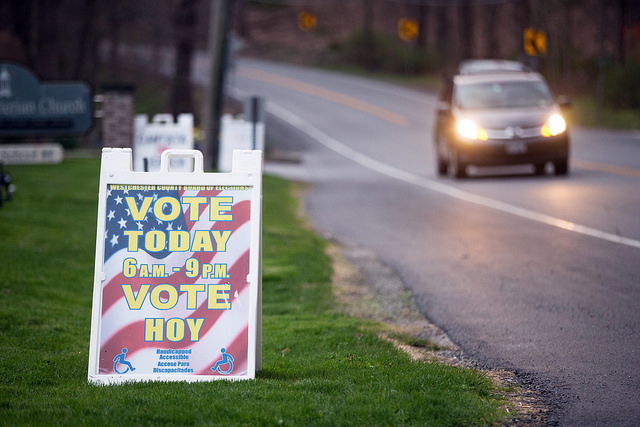 Vote Today (via The Governor's Office on Flickr)
---
2016 is a big election year in New York. Not only is there a national Presidential election, but as is the case every two years, all of the New York State Legislature is on the ballot in 2016. New Yorkers have four - yes, four - election days this year if registered with one of the two major political parties and living in a district with competitive primaries. There were presidential primaries in April, congressional primaries in June, and state legislative primaries in September. Now, all eyes are on the general election, which will be on Tuesday, November 8. While Donald Trump plans to make New York competitive, Hillary Clinton is almost sure to win the state that they both call home. Meanwhile, there are several pivotal congressional seats at play in New York, which will influence which party controls the House of Representatives. There is also the matter of which party controls the New York State Senate. And, there are always other interesting races that may have fewer broad implications but are of more importance locally.
Below, find 2016 election stories, resources, and guides either produced or compiled by Gotham Gazette:
GENERAL ELECTION COVERAGE & FALLOUT FROM STATE LEGISLATIVE PRIMARIES
Super PAC's Big Primary Spending Mostly Comes Up Short
Manhattan GOP Sees Hope on Upper East Side
Trump Could Tip Key Races for State Senate Control
Can Trump Win New York? Inside the Numbers
Could 'Third Party' Candidates Swing the Presidential Election?
STATE LEGISLATIVE PRIMARY COVERAGE (Prior to September 13, 2016 vote)
Gotham Gazette partnered with WNYC for an interactive election guide to the state legislative primaries. Other coverage:
Races to Watch in State Legislative Primaries
Crowded Assembly Field Looks to Quickly Unseat Silver Replacement
Assembly Candidates Turn Down Televised Debates
Two Very Different Democratic Assembly Primaries in Brooklyn
Education-Focused Super PAC Spends on Additional Legislative Races
In Race to Replace Espaillat, Ramifications for His Power, Senate Control, and More
2016 A Far Different Election Year for Independent Democrats
New Yorkers Head to the Democratic National Convention
Super PAC Begins Flyering Bronx Senate Race
Senate Republicans Face Departures with Battle for Control Looming
New Yorkers, Including the Presidential Nominees, Head to the National Party Conventions
New York Primaries are Closed, Repetitive and Costly
Former Informant, Out; Candidate Indicted on Voter Fraud, In
Rangel's Replacement Decided, Other Uptown Races Take Shape
New York Congressional Primary Results; Espaillat, Teachout Among Winners
Former Government Informant to Run for Old Assembly Seat
Bronx Council Member Preparing to Again Challenge Incumbent State Senator
New Yorkers Vote in Congressional Primaries June 28
Takeaways from New York Presidential Primary Voting
Special Election Results Buoy Hopes for Reform
New York Voting Results: Presidential Primary and Special Elections
PRESIDENTIAL PRIMARY COVERAGE (Prior to April 19, 2016 vote in New York)
Delegate Matters: How New York's Presidential Primaries Actually Work
Mapping New York's Presidential Primary
Calls for Democrats to Address Urban Issues at New York Debate
New Yorkers Run for President: History and Insights for 2016