U.S. Congressional District 12
The 12th Congressional District includes Brooklyn Heights, DUMBO, Willamsburg, Bushwick, Sunset Park, Ridgewood, and parts of the Lower East Side.
---
Help Small Business, Not the Wealthy
By Nydia M. Velázquez
March 26, 2004
If you had listened to President George W. Bush's speech in Bay Ridge on March 11, you might think all is well for New York City's economy. Mayor Michael Bloomberg agrees with Bush, saying that "jobs are coming back to the Big Apple."
But the facts tell a very different story. In January, New York City's unemployment rate was 8.4 percent, compared to 5.6 percent nationally. This awards New York the worst performance of our country's top 20 cities.
The city's economy has lost some 230,000 jobs since President Bush took office in January 2001. Some 900,000 New Yorkers now receive food stamps, and personal bankruptcies are on the rise. This certainly does not paint the rosy picture the Bush administration would like New Yorkers to see and believe.
We have not witnessed the kind of economic recovery and sustained job creation that the White House promises times and time again, and a major cause of that is this administration's hardheadedness.
Instead of realizing that huge tax cuts for the wealthy will do little to stimulate our economy and produce jobs, the Bush camp continues to push for making the tax cuts permanent, sending the record deficit soaring even higher and largely ignoring the most important economic sector in the United States ?- small businesses. The White House plan has not worked, yet the administration adamantly sticks to it.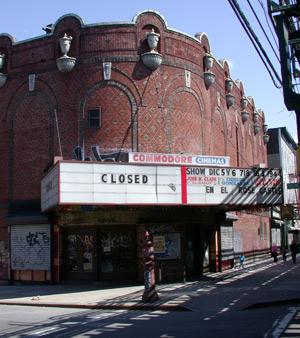 Closed cinema: 329 Broadway, Williamsburg
Small businesses are the backbone of the American economy -- and of our local economies. Entrepreneurs generate three out of every four new jobs in the United States and account for 99 percent of all employers. During tough economic times, the small business sector generates jobs instead of shipping them overseas, like large corporations do.
Just as he did in Bay Ridge, President Bush consistently touts his tax cuts as playing a large role in jumpstarting the economy. Yet according to Citizens for Tax Justice, a group that works for more equitable tax policies, the Bush tax cut benefited the top one percent of New Yorkers the most, and raised the federal debt burden of New York residents by approximately $9,500 per person, or $37,800 for a family of four.
More than half of all New Yorkers will receive less than $100 from Bush's $350 billion 2003 tax bill, and the majority of New York small businesses will receive, on average, less than $100.
In addition, Bush's latest budget cuts critical programs aimed at New York's small business sector and at providing job training. For example, the president proposed eliminating the Microloan program, which provides capital to underserved entrepreneurs, even though it infused more than $2 million into the New York economy last year alone.
Sadly, it also proposes to severely underfund the Manufacturing Extension Partnership program that has helped thousands of New York's small and mid-sized manufacturers become more competitive each year. This program provides a variety of help to manufacturers, such as assisting them with management systems, designing their facilities, marketing, financial planning and electronic commerce.
Many small businesses rely on technical assistance provided through the Small Business Administration's Small Business Development Centers. The development center at Boricua College in Brooklyn has worked with over 8,000 businesses, helping them invest almost $30 million into the area's economy since its inception in 1986. Yet each year the Bush budget has provided no increase in funding for the small business centers, which amounts to a 10 percent cut after inflation is taken into account.
In addition, President Bush's budget for the coming fiscal year slashes $286 million for job training and employment services, on top of the $1.5 billion in cuts to these programs in the last three years. The Bush budget makes cuts to the One-Stop Career Centers, aimed at providing job training and employment services to small firms and individuals, threatening the future of New York City's One-Stop network.
The proposed cutbacks are a peculiar move for an administration that has lost millions of manufacturing jobs under its watch, including almost 140,000 in New York.
Such shortsighted policies that push small businesses and families to the sidelines will not help to get this economy back on track and put New Yorkers back to work. Instead, it will foster an ever-widening gap between the haves and the have nots. This kind of polarization is bad for our city, our state -- and for the nation as a whole. It also explains the kind of schizophrenic economic recovery that the country is currently experiencing, where the economy is growing but the number of jobs is not.
The way back to economic prosperity and job creation is investment in our small business sector, in our neighborhoods, and in our hardworking families. We cannot continue to allow this administration to gamble our future on tax cuts and leave our children without Social Security and Medicare. But that is exactly what President Bush's policies have done.
All I can say is, let's not hope for another four years.
Nydia M. Velázquez is the U.S. representative for the 12th district, which includes part of Brooklyn, Queens and Manhattan. She is the ranking Democrat on the Small Business Committee.
React to this article on our Feature-Commentary Message Board
Presidential debates
President Bush and Senator John Kerry had a series of 90-minute debates:
Thursday, Sep. 30: University of Miami, Coral Gables, Fla. Theme: Foreign policy and homeland security.
Moderator: Jim Lehrer, PBS
Transcript of debate
Friday, Oct. 8: Washington University, St. Louis, Mo., no subject restrictions.
Moderator: Charles Gibson, ABC
Transcript of debate
Wednesday, Oct. 13: Arizona State University, Tempe, Ariz. Theme: domestic and economic policy.
Moderator: Bob Scheiffer, CBS
Transcript of debate

Video of debate.
---
Vice Presidential debates
Tuesday, Oct. 5: Case Western Reserve University, Cleveland, Ohio. Theme: No limits on topics.
Moderator: Gwen Ifill, senior correspondent for "The NewsHour with Jim Lehrer"
Transcript of debate
---
Live TV coverage: C-SPAN and C-SPAN2, ABC, CBS, Fox, NBC, CNN, MSNBC, Fox News Channel
Official debate site: www.debates.org
Critique of Commission on Presidential Debates: www.debate.org
News about the presidential campaign, the convention, and the relationship between D.C. and NYC