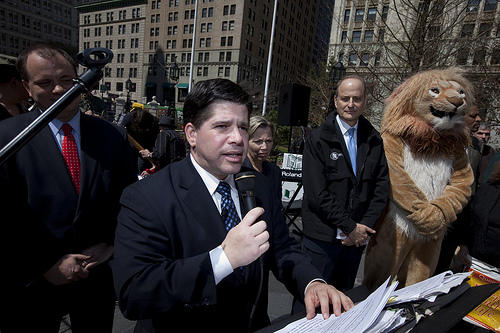 Democratic mayoral candidate Bill de Blasio, hailed in some corners as the leading progressive candidate in the race, has landed an endorsement from an unexpected ally in the City Council.
Brooklyn Councilman Vincent Gentile, who represents parts of southern Brooklyn like Bay Ridge that tend to vote more conservatively, announced his support for Public Advocate Bill de Blasio earlier today, calling De Blasio the outer-borough candidate that Brooklyn needs.
"Bill de Blasio understands what residents in southern Brooklyn need: strong neighborhood schools, safe streets, and local community health centers," Gentile said via a campaign statement today.
But while Gentile may be happy to endorse De Blasio, the two men disagree on one major policy front: policing. The councilman's endorsement comes days before the City Council votes to override mayoral vetoes of bills to create an inspector general for the New York Police Department and strengthen the city's ban on racial profiling.
While many observers believe that the inspector general bill will retain a veto-proof majority, advocates have worked hard since the Council vote in July on the bills to retain the 34 votes needed for the racial profiling bill.
After his vote against the profiling bill, Gentile — who sits on the Council's public safety committee — explained his decision to the Home Reporter was largely based on what already was discussed at Council committee hearings.
"As a result of the hearings, the focus of how stop-and-frisk can be done properly was on the table. The NYPD re-examined the procedure and has reduced the number of stop-and-frisks and also revised their training," Gentile told the Home Reporter. "The City Council hearing has been effective in addressing the issue…it served the purpose it was supposed to serve."
Meanwhile, de Blasio has been a staunch advocate for both laws, especially the profiling bill being that fellow front runners Council Speaker Christine Quinn and former comptroller Bill Thompson oppose it. The de Blasio and Thompson campaigns even engaged in a long back-and-forth over the bill.
"Mayor Bloomberg is wrong — fundamentally wrong — to veto the racial profiling ban," de Blasio said at an event in late July. "But a number of my fellow Democrats are wrong, too. Some Council members, and obviously some mayoral candidates, are aiding and abetting Michael Bloomberg by agreeing with him that we don't need a racial profiling ban."
Even if Gentile and De Blasio can disagree on policing, the councilman praised him for his advocacy on behalf of struggling neighborhood hospitals. "While others have stood idly by as hospitals threaten to shut down across this city, de Blasio has stood on the front lines and fought in the courts to keep these hospitals open," Gentile said.
The endorsement came just before three mayoral campaigns camped outside of what remains of St. Vincent's Hospital in Greenwich Village, including one star-studded presser with De Blasio. De Blasio' focused much of his campaign on the issue of hospital closures in Brooklyn, going so far as to get arrested while protesting the LICH closure.
In 2008, Gentile's own district saw Victory Memorial Hospital shut down.