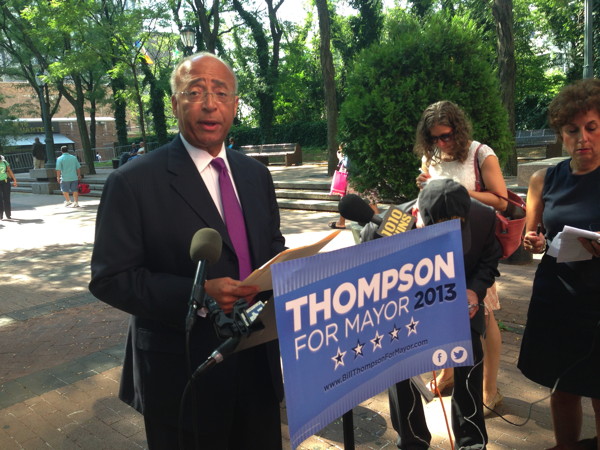 Announcing himself as the first mayoral candidate to lay out a specific plan to reform stop-and-frisk, Bill Thompson said earlier today that if he is elected he would create a more accountable police department that protects New Yorker's rights.
"As I've said throughout this campaign, protecting our civil rights and preventing crime must not be competing ideas," the former comptroller said. "As a mayor, I will keep New Yorkers safe and protect their constitutional rights."
Standing in front of police headquarters this morning, Thompson not only vowed to find a commissioner who would be willing to reform how police officers conduct stops but also reevaluate how the New York Police Department tracks incidents and even assigns officers. In a detailed outline of what he would do as mayor, Thompson prioritized ending racial profiling by eliminating quotas, training officers to base stops on better-defined actionable suspicion, tracking of stops via the department's CompStat system, and providing those stopped with a written note of why they were stopped.
The former comptroller steeped his announcement on the controversial police policy with references to the 1963 March on Washington and the Crown Heights riots in 1991.
"I'll eliminate civil rights violations resulting from the misuse of stop-and-frisk," he said as he began to outline his plan, a combination of ideas he's previously promoted. "That begins with a new police commissioner who understands that stop-and-frisk is being abused and has a clear vision on how to use it as it was intended."
The plan also calls for the imposition of "disciplinary actions on those that engage in racial profiling and other forms of discrimination," but does not explain what sort of action.
Thompson, who has heavily courted endorsements from police unions, has also spent the last few weeks distancing himself from previous comments of support for Police Commissioner Ray Kelly.
At today's press event, Thompson linked Kelly and Mayor Michael Bloomberg to violations of rights in an effort to boost statistics instead of safety. It's a far cry from Thompson's praise for Kelly earlier this year when Thompson said that the problem with stop-and-frisk had little to do with the commissioner.
"It's not about Ray Kelly," he told NBC New York at the time. "I think he's done an excellent job, and I happen to personally like the commissioner.
Many of the ideas aggregated by the Thompson campaign have been long-floated throughout the primary race by his fellow candidates for mayor.
In May, Public Advocate Bill de Blasio decried the "tacit acceptance of racial profiling and quotas" in a Guardian op-ed, his campaign putting stop-and-frisk center front. Former Congressman Anthony Weiner floated the idea of including stops in CompStat data in early August. And City Council Speaker Christine Quinn often refers to her work in early 2012 with Ray Kelly to improve transparency and training within the NYPD, taking credit for the drop in stops and for at least one major piece of Council legislation.
"Christine Quinn is the only candidate that has actually done anything to reform stop-and-frisk, passing a bill instituting an inspector general to provide oversight of the NYPD and she will override the mayor's veto on the bill on Thursday," said Quinn spokesman Mike Morey in a statement today. "Bill Thompson and Bill de Blasio talk a great deal about stop-and-frisk, but Christine Quinn is the only person who has actually done anything about its overuse."
Thompson opposes the inspector general bill that is part of the Community Safety Act that was vetoed by the mayor. He said he would respect the law if the Council does the mayor's veto. He also vowed once more to respect Judge Shira Scheindlin's decision ruling last week against the city's use of stop-and-frisk, which called for an independent monitor.
Otherwise, Thompson put the responsibility for oversight squarely on his administration.
"That's why we elect mayors," he said. "It would be on my plate. It'd be on my commissioner's plate. We would provide transparency to let the public understand where that's at. And let's be honest: there's a good chance that legislation will be passed. I will make that legislation work."
While the inspector general bill had more than enough votes in early July to secure a veto-proof majority of 34 Council members, the second bill to strengthen the city's ban on profiling is less sure. With 34 votes, the mayor, police commissioner and unions have reportedly sought to sway Council members against their original vote in favor of the bill.
Thompson's argument that his administration would eliminate racial profiling through executive mandate and not through a Council bill isn't an unpopular one — every Democratic candidate but one agrees. Only De Blasio — who would also keep a reformed stop-and-frisk — supports both the inspector general and profiling bills.
At the press event, Thompson criticized De Blasio's latest ad, which calls him "the only candidate who will end a stop-and-frisk era that targets minorities."
"I think that when you look at the ad, which The New York Times said is not true, I think Bill needs to take that ad down," he said.
De Blasio, the current frontrunner in at least one recent poll, has previously called out Thompson for his opposition to the two Council bills. After the press event, the De Blasio campaign repeated their line of attack.
"In May, Bill Thompson said there was an 'overreaction' to stop and frisk and won praise from no less than Rudy Guiliani for his position," wrote the De Blasio campaign in a statement. "He has said he opposes legislation to ban racial profiling and create independent oversight for the NYPD. Another day, another position for Bill Thompson."