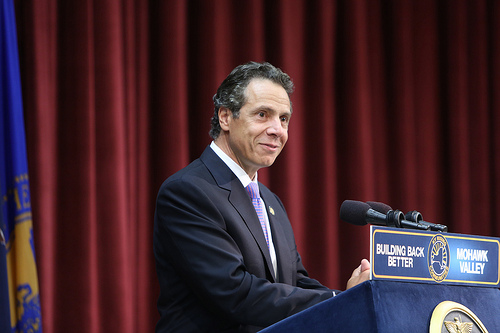 "I'm not registered to vote in New York City, so I don't think it's a situation where it's appropraite for me to express a preference," Gov. Andrew Cuomo told reporters today in Au Sable in upstate New York.
Cuomo has avoided public events in New York City this summer like it is part of his job description. The messy primary race for mayor and comptroller only offers negatives for Cuomo — having his name tossed around with tabloid fodder like Anthony Weiner and Eliot Spitzer, endorsing the losing candidate — the kinds of things a large and in charge executive like Cuomo wants to avoid.
His friend and current frontrunner Bill de Blasio hasn't made it easy for Cuomo to avoid questions about the race. First, de Blasio pushed Cuomo to get involved in the hospital crisis in Brooklyn. A member of the Cuomo administration told the Gazette in early August, "No one is going to step foot in Brooklyn for the West Indian Day Parade without addressing the hospital situation."
The mayoral candidates did step into Brooklyn without there being a clear-cut solution. Cuomo did not, electing to skip the parade that draws politicians from all over the state.
De Blasio's plan to raise taxes on the wealthy to fund school programs also led to questions for Cuomo, being that the candidate's plan would need approval in Albany. In response, Cuomo says he wants to wait to see who is elected before discussing policy proposals.
And yet Cuomo has not ruled out endorsing in other races.
"I have plans to get involved in the future," Cuomo told reporters today. "To the extent I have an opinion in primary races I will be getting involved probably in a couple, but I don't have any to get involved in the New York City mayoral."