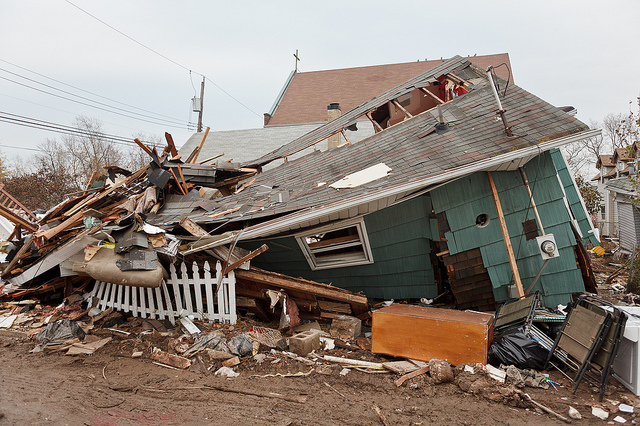 "The Mid-Island section of Staten Island suffers in particular from suburban sprawl. Contractors have been tearing down old single-family homes and putting in multiple-family townhouses, creating as many as six homes where there used to be one. Developers are building on the island's wetlands, which reduces natural floodplains, causing sewers to overflow when it rains."
This eerily prescient quote is from a Gotham Gazette campaign feature about Staten Island's 50th City Council District race published in 2001.
Eleven years later, as Hurricane Sandy slammed into this part of Staten Island with a vengeance, the consequences of developing into the wetlands became all too clear. Some experts estimated that 3,000 Staten Islanders were displaced from the storm. The majority of those lived in the 50th district, or the "Mid-Island", which includes a small part of Brooklyn and the entire middle of Staten Island, from its heavily populated east coast to its more industrial west coast. Over the past three decades, new townhouse development has been intense along this district's eastern coast.
As District 50 residents gear up to replace Republican James Oddo — who is running for borough president — the primary election encapsulates all of the uncertainties that still grip this embattled area.
The Candidates
On the Democrat side, Mendy Mirocznik, is a court attorney to a state Supreme Court justice and a member of Community Board 2. His opponent, John Mancuso, is a local businessman and civic leader who previously served as chief of staff for City Councilman Vincent Gentile and deputy chief of staff for state Sen. Seymour Lachman.
Mirocznik, who is strongly backed by Staten Island's Democratic Party, is promising to "put government back on the side of homeowners and small businesses," according to Kevin Elkins, executive director for the Democratic Party on Staten Island.
While Elkins cast Mancuso as a newcomer to the Democratic Party (despite his previous work for Democratic elected officials), Mancuso plays up his outsider status, presenting himself as the candidate of reform. He has won support from the Citizens Union, the sister organization of Gotham Gazette.
The more contentious GOP race represents two sides of an increasingly bitter and factionalized Republican party on Staten Island. Steve Matteo, Oddo's chief of staff, is running a fierce race against local attorney Lisa Giovinazzo, who is backed by former Borough President James Molinari and the Richmond County Tea Party Patriots. Molinari and Oddo have been locked in a power struggle since the last year when Molinari accused Oddo of endorsing a candidate for the state Assembly seat without consulting with the borough's Republican Party.
Two weeks ago, Giovianizzo filed a lawsuit charging Jobs for New York, a political action committee that supports Matteo, with libel. The PAC had recently distributed a mailing claiming that Giovianizzo was in favor of lowering the drinking age to 17. Just prior to the mailing, Giovianizzo held a press conference where she voiced her reservations about proposals, put forward by the Real Estate Board of New York (which is funding the Jobs for New York PAC) and current mayoral and City Council hopefuls, to increase affordable across New York City and Staten Island.
Noting that affordable housing actually means "low-income housing," she said, "I have serious concerns, and the threat is obviously real."
The Storm
For residents, party politics have little to do with the immediate issues at hand. Ten months after Sandy, many Mid-Island homeowners are struggling to pay mortgages on severely damaged homes while others cannot pay for repairs.
"Mid-island is a big area — they had the most damage. They've got the worst problems," said Dee Vandenburg, president of the Staten Island Taxpayers Association.
Meanwhile, displaced residents continue to wade through a morass of applications for relief funds, and constantly changing information.
For instance, just a few weeks ago, Gov. Andrew Cuomo announced that the state would expand its buy-out program in Oakwood Beach from 180 to 300 homes. The program offers displaced homeowners 100% of the pre-storm value of their house and leaves the land undeveloped. Originally, residents in Mid-Island neighborhoods like Midland Beach, New Dorp, and South Beach thought they would get the buy-outs. However, FEMA's latest round of proposed hazard maps show these areas to be just outside of the most vulnerable zones, excluding them from the state's program.
The city's "Build It Back" program, which was it launched in June, promises to offer support to a wider number of qualifying homeowners and businesses. Using federal disaster relief funds, Build It Back helps cover the costs of rebuilding or repairing storm-damaged property. It also includes a "strategic redevelopment" program, where eligible homeowners can sell their properties to the city for pre-storm value. But making decisions about the best strategy for rebuilding includes a lot of guess-work at this point. Until FEMA finalizes its controversial revised flood hazard maps, building height requirements and insurance rates remain in flux.
Considering the importance of the City Council to residents' daily lives, however, the race for the 50th district seat has been surprisingly removed from issues related to storm recovery. In June, for instance, the borough's paper of record, the Staten Island Advance, ran a series that profiled the candidates — asking each of them about three key issues: the New York Wheel project, prescription drug abuse and the potential sale of a former NASCAR site. When asked to discuss issues of their own choosing, Giovinazzo highlighted the borough's "outrageous bridge tolls," its traffic problems and its lack of municipal services. Both Mirocznik and Mancuso emphasized education reform.
Matteo was the only candidate in the series to mention Sandy. "Priority number one is Sandy recovery," he said in an interview. "We have to get this right. It's been 10 months already… We have to help people on a case by case basis." As Oddo's chief of staff, Matteo has been working on signing people up for Build it Back, and he has helped to advocate for better flood protections such as sea walls and dunes.
While the Democratic candidates have certainly mentioned storm protections, other issues take precedence on their websites. Mirocznik lists economic and small business development and transportation as his first priorities, with his proposals for storm protections (including dunes and underground power lines) coming in fourth.
Storm recovery is the second plank in Mancuso's platform, under supporting small business and commerce. After making requisite vows to advocate for affected residents, Mancuso suggests expanding the Island's bluebelt and natural marshlands and updating its outdated infrastructure, including bridges tunnels and roads.
Overdevelopment, Opportunism & Infrastructure
Giovianizzo has taken a different tack. Her comments about affordable housing are part of a larger concern about the potential dangers of opportunistic, post-storm multi-family housing development. Emphasizing that the area lacks the infrastructure to support such housing, Giovianizzo said in the Staten Island Advance, "[Mid-Island residents] have already been victims of Hurricane Sandy. They cannot be victims of overdevelopment."
On this point, all of the candidates seem to agree. "You can't rip down houses and put up apartments in their place," said Elkins, speaking on behalf of Mirocznik. "You need to be much more vigilant and recognize we're an island."
Matteo emphasized his dedication to rebuilding for Mid-Island families first.
"We're not looking for Miami Beach apartments, or for others who've never lived here [to move in]," Matteo said. "We want resilient housing for the people who live there." Each candidate has also stressed the urgent need for scaling up and repairing existing infrastructure to accommodate the population growth of recent decades.
Across the board, the number one priority on the infrastructure list is transportation. Over the past decade, Mid-Island area residents have increasingly complained of bumper-to-bumper traffic, inadequate bus lines, and poor road conditions. Proposals for light rail, express bus service and increased ferry service have been well-received by local residents, but the city and the Metropolitan Transportation Authority have been slow to take such plans to the next level. Then, this spring, the MTA hiked cash fares on the Verrazano-Narrows Bridge to $15 per round trip.
Candidates and residents claim the toll is hurting small businesses and individuals and isolating Islanders from their friends and family who live on the other side of the bridges.
Giovianizzo has called for a "friends and family" fare discount.
All of the candidates also agree that the Mid-Island's medical infrastructure is woefully lacking. The whole of Staten Island is currently served by only two hospitals and two emergency rooms, and it is the only borough that does not have a public hospital. Here, again, the recent population boom has exacerbated hospital overcrowding and long emergency room waits.
Finally, the housing explosion of the early 2000s has led to school overcrowding, a problem that both Mancuso and Mirocznik have vowed to address.
Between a lack of municipal services, flood-prone infrastructure and the confusion around post-storm housing recovery, the Mid-Island area is facing untold challenges in the coming years. While much remains murky about this district's future, some things are crystal clear.
"The 50th district right now needs someone to hit the ground running from day one," Vandenburg said. "We don't have time to waste."