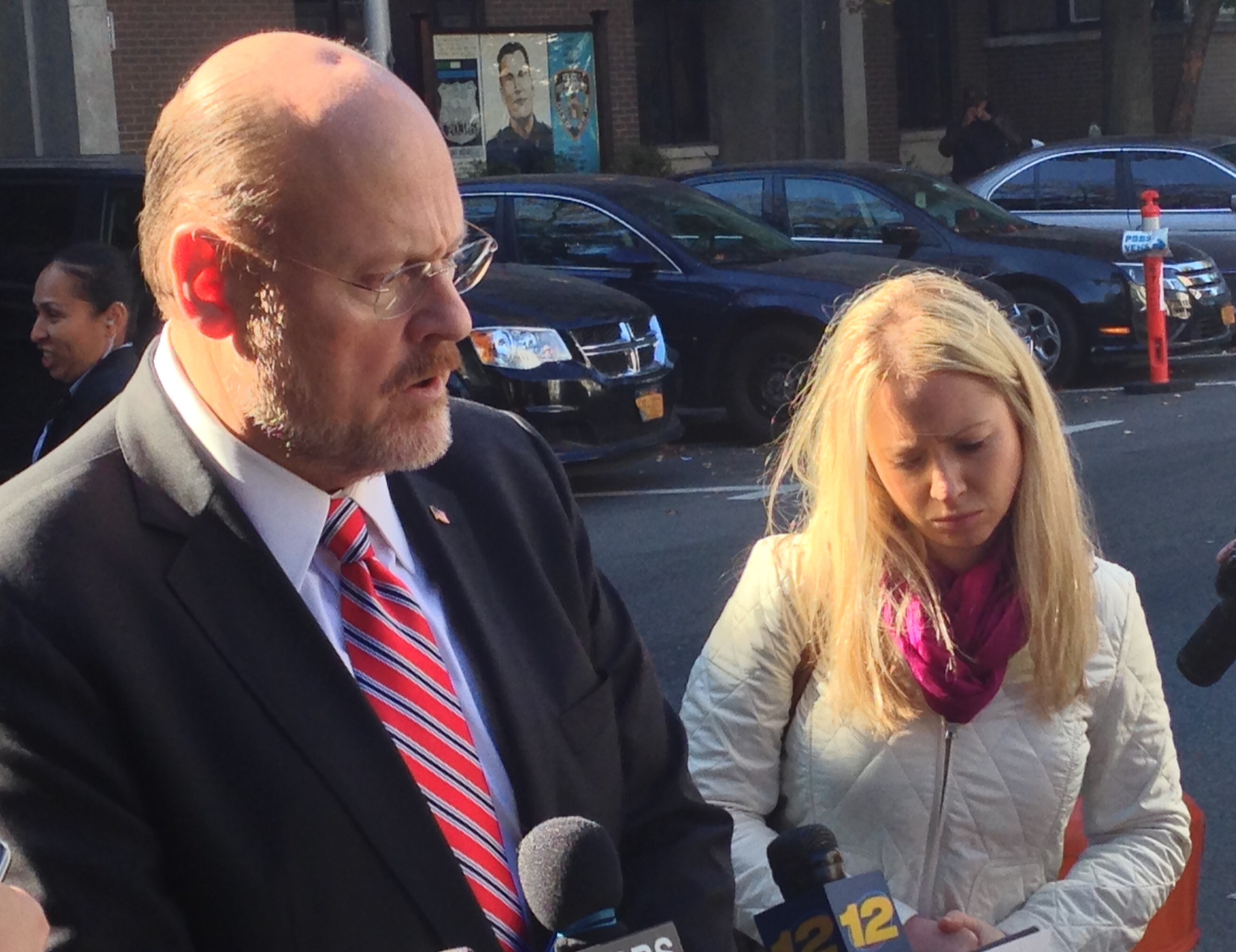 A PAC supporting Republican mayoral candidate Joe Lhota can now receive donations that exceed the $150,000 limit under state law.
A three-judge panel today overturned a lower court's decision preventing the New York Progress and Protection PAC from receiving contributions that exceed the state's maximum. As a result, the political action committee can now make unlimited independent expenditures in the mayoral race. By law, PACs can't coordinate with candidates.
The ruling may improve Lhota's efforts to close a 40-plus point gap in the polls behind Democratic rival Bill de Blasio, but it's still a lot of ground to cover in less than two weeks.
Lhota declined to discuss the ruling at an unrelated press event Thursday morning.
"You know, I have nothing to do with that case," Lhota said. "I have made it a point not to talk about independent expenditures. It's a violation of law for me to even coordinate with them or do anything with them."
Previously, Lhota has defended the rights of political action committees to receive unlimited donations, calling it a First Amendment issue.
Today, however, Lhota tried to defer any questions about the PAC to those behind it, adding that he wouldn't "cross that line."
"I don't even know who they are," he said, repeating a familiar refrain.
The New York Progress and Protection PAC brought its lawsuit against the state and city Board of Elections in late September. It requested an injunction so that it could continue to raise money far beyond what the current election law allows. While a lower court judge ruled against the request last week, today's news overruled that decision.
The panel grounded its ruling on precedent set by the controversial U.S. Supreme Court ruling in Citizens United v. Federal Election Commission, which protected donations to PACs as political speech.
"The hardship faced by NYPPP and its donors from the denial of relief is significant," wrote one of the judges in today's decision. "Every sum that a donor is forbidden to contribute to NYPPP because of this statute reduces constitutionally protected political speech."
The panel also threw out the argument laid out in the original decision that the PAC had created an "artificial urgency" in waiting 41 days before the Nov. 5 election day to bring it's lawsuit. Instead, the appellate judges concluded it's beyond the court's power to decide if political speech is pressing or not.
The city's Campaign Finance Board, which monitors donations to both candidates and PACs. is wary of today's ruling so close to the elections.
"Today's reversal by the Court of Appeals could unleash a last-minute tidal wave of special interest money into the election," the board wrote in a statement.
"However, thanks to new rules put in place for this election, these contributions will be visible to the public," the board added, explaining that even independent expenditures exceeding state limits must be disclosed to the board within 24 hours of being received by campaigns during the last two weeks of the election.
De Blasio, who in his capacity as outgoing public advocate filed an amicus brief in opposition to the PAC's request, is benefiting from PAC money himself. Capital New York reported in early October that city unions hope to raise at least $2 million for the Democratic nominee.
Still, the de Blasio campaign came out swinging against the court ruling. Within a few short hours, the campaign released a 40-second web ad linking Lhota to the billionaire Koch brothers, at least one of whom donated money to a second pro-Lhota PAC, New Yorkers For Proven Leadership. That PAC is not related to the one involved in today's ruling.
"Don't let the Koch brothers buy this election," warns the ad, showing a flurry of cash behind an image of Lhota but never speaking the Republican candidate's name.