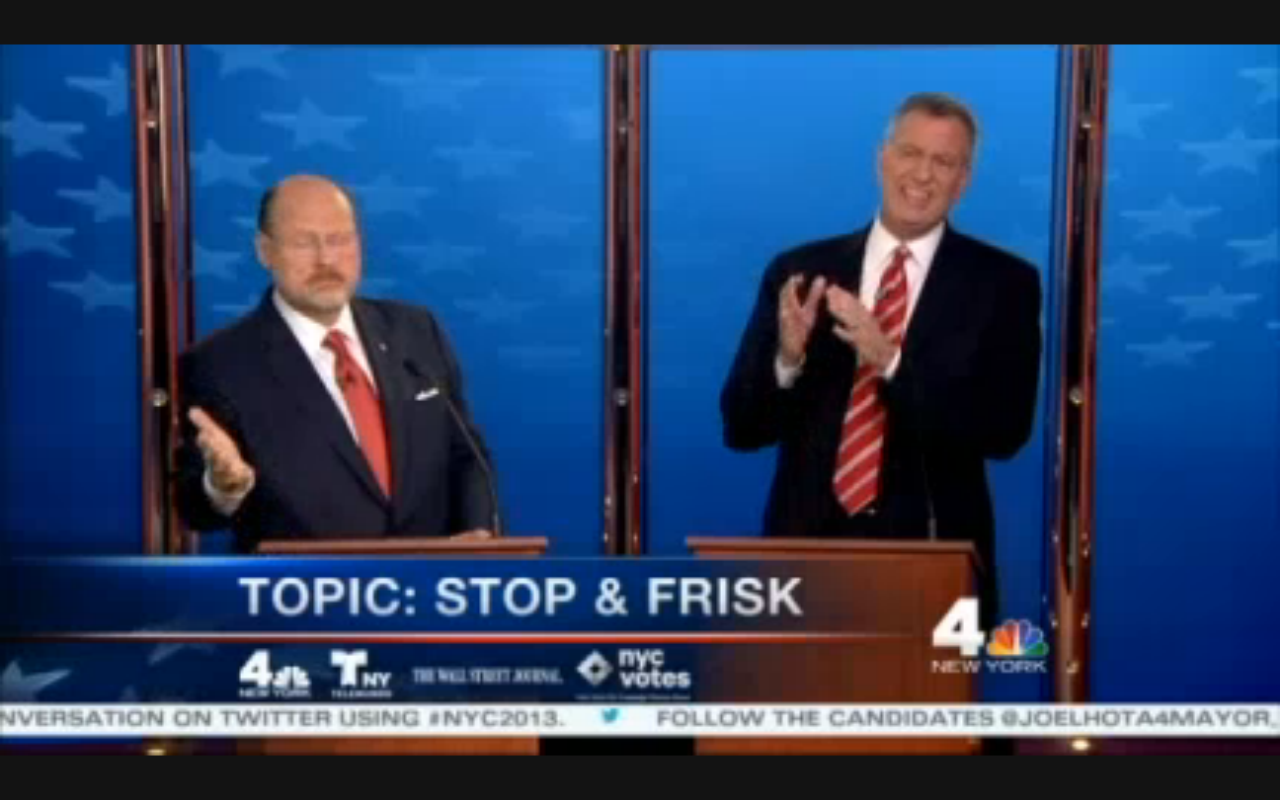 In the final mayoral debate between the two leading candidates, Joe Lhota likened himself to Rocky Balboa and rival Bill de Blasio to Soviet boxer Ivan Drago.
But instead of the climactic knockdown fight of 1985's Rocky III, last night's match between the Republican and Democratic candidates was more like Waiting for Godot.
Rehashing much of the past seven weeks of back and forth between the two candidates, Lhota and de Blasio ran through the motions of where they stand on many of the same issues they had previously sparred over: union contract negotiations, resiliency post-Superstorm Sandy, stop-and-frisk, charter schools and more.
The debate took place in the wake of yet another poll showing de Blasio with a commanding lead of 39 percentage points over Lhota. And Lhota knew that coming into tonight's showdown.
"New York loves an underdog," Lhota said. "And, quite honestly, I'm that underdog."
Unlike previous debates, Lhota's most focused attacks on de Blasio weren't on crime — which did come up when prodded by questions from the moderators— but rather on de Blasio's management skills. At one point, Lhota argued that de Blasio, who is the city's public advocate, had held a string of "mid-level jobs" that had given him inadequate preparation for contract negotiations with unions seeking retroactive pay.
De Blasio — who previously worked for Hilary Clinton's U.S. Senate campaign, served as a high-ranking regional director for the U.S. Department of Housing and Urban Development under former President Bill Clinton and spent time as a City Councilman — scoffed at the jab.
"I'm very, very proud of over 20 years in public service," de Blasio said. "I understand the people. I understand what people need right now."
In a rematch of past performances, the two also sparred over the records of the administrations they had worked for early in their careers: de Blasio with David Dinkins and Lhota with Rudy Giuliani.
One of the testier exchanges between the two candidates came when de Blasio again tried to link Lhota to Giuliani's "divisive" mayorship, accusing the administration of racial insensitivity. Lhota said he didn't see it.
"The divisiveness that existed was minute when compared to all the great things that happened," the former chief of the Metropolitan Transportation Authority said. "And I'm inextricably linked to the Giuliani administration, and I am proud of it."
De Blasio swept in immediately, citing the 2000 case of Patrick Dorismond, a black security guard killed by an undercover police officer. Giuliani released Dorismond's sealed juvenile record to prove that Dorismond was "no altar boy," an act that upset many minority community members.
"And you think there's nothing wrong with that," de Blasio said. "If you don't see that was divisive and problematic, it's another example of how, despite your much ballyhooed resume, you don't understand what life in this city is like and what people in the city need."
Lhota responded with a resolute defense of his New Yorker credentials.
"Listen, I know what it's like to be in poverty," Lhota shot back. "I know what it's like to aspire to be in the middle class … Don't tell me I don't know what it means to be a New Yorker."
In terms of what the two define as middle class these days, however, Lhota made a case for a yearly salary of $75,000 as the bottom end of the middle class. De Blasio defined a middle class as between $50 and $60,000. The U.S. Census found the city's median income was $51,270.
Continuing on that theme, de Blasio asked Lhota to clarify the former MTA chief's recent statement on national television that income inequality isn't a problem and that "it exists," prompting a complicated, contradictory answer that ended with Lhota admitting that inequality is a problem, and that it's best solved by spurring job creation.
Part of creating jobs, Lhota argued, is also making New York more appealing by lowering property taxes, the only tax that City Hall has any direct influence over, and corporate taxes whenever possible. De Blasio, who fought back against criticism about his plan to increase taxes on the city's wealthy to pay for his universal pre-K program, referred to Lhota's plan as Republican, trickle-down economics that don't work.
While Lhota didn't have to bat away any links to the national tea party as he did in previous debates, the Republican candidate eventually did confront de Blasio for linking him to the outgoing mayor's policies, specifically on education.
"I'm not Mike Bloomberg and I'm not going to continue what Mike Bloomberg's done in education," Lhota replied. "It's really unfair that you use your opportunity to still keep running against Mike Bloomberg. You're running against me. Let's talk about what I want."
De Blasio, who has consistently ended his debate appearances harkening back to his "tale of two cities" metaphor, said he was sure that his campaign's message of addressing the city's inequalities had successfully reached voters in time for Nov. 5.
Lhota, however, admitted that there was a disconnect between his message and New
Yorkers heading to the polls.
"I am the epitome of the American dream," Lhota said of his family's history in New York. "It's what I want for all New Yorkers. That message isn't getting out there enough. I need to make sure it's getting out there a lot."
Both he and de Blasio have until the polls close at 9 p.m. this Tuesday to make their final cases.