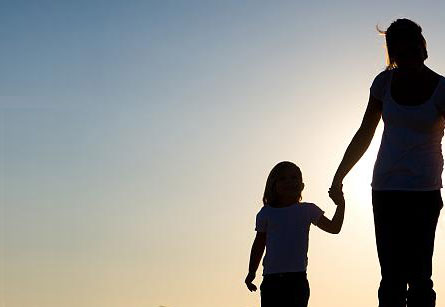 Jacob Gunther was just a toddler when the state removed him from his home. But when he finally reconnected with his mother as a teenager, dim memories flared into painful recognition.
Although Gunther was living at the time with a new family -- a couple who had adopted him out of foster care -- seeing his mother again linked him to a past he would never grow out of.
Since their separation, according to Jacob's recollection of that time, she had spiraled deeper into drugs and poverty, giving birth to more children along the way. Mired in a crack addiction, she spent years cycling through jail and rehab.
"I remember leaving from seeing my mother at that visit and feeling like shit," he recalled in an interview. "And that's probably the reason why I started selling drugs. It's connected in some way. I felt like, I'm just going to the dark side. ... That's what's going to become of me."
About a decade later, Christina Voight returned from Bedford Hills Correctional Facility in Westchester to her son Lance, ready to start over after about four years of separation. But Lance, who had grown up at Hour Children, a group home run by nuns, didn't recognize her as his mother.
"I thought she was just this lady who wanted to take me," said Lance, now 12, in a recent interview.
His mother was confused, too.
"I was just like, 'What did I do to him?" Voight recalled. "You know, full of blame, which a mother coming out shouldn't have." She thought to herself, "Maybe I should have just not come home to him."
The intersection of the child welfare and criminal justice systems is as complex as the relationships entangled in it. The prison system wasn't designed for families, but it nonetheless holds hundreds of thousands of parents including many who were their children's main caregivers. Likewise, the child welfare bureaucracy wasn't designed to deal with crime, but the many of children in its care are refugees from their parents' clashes with police, courts and prisons. (For more on the many connections between the two systems, see Michelle Chen's previous story, A Tangle of Problems Links Prison, Foster Care.)
Custody of the State
Federal data indicates that one eighth of all children in homes investigated by child welfare authorities have a parent who was recently arrested. A smaller but significant percentage of currently incarcerated parents report having a child in foster care.
Whether or not these "dual-system" families eventually reunite, both child welfare and law enforcement leave an indelible mark on parents and children. Despite recent reform efforts, the tangled knot of the courts, prisons and foster care brings together problems that are too deep for any one of those institutions to solve. Both the criminal justice and child welfare systems have come under similar criticisms from community advocates.
Although child protective services are supposed to remove children from their families only to prevent harm or abuse, critics argue that foster care often unnecessarily traumatizes children by cutting them off from their communities anddisrupting their schooling. Similarly, advocates say children with incarcerated parents frequently struggle with feelings of stigma and shame, on top of their household's legal and financial hardships. Research shows that a family's contacts with child welfare and criminal justice don't always happen simultaneously, but the two types of intervention nonetheless have similar origins and compound each other's effects.
There are common risk factors for both systems, including domestic violence, drug use and poverty. Sometimes, a police encounter itself is enough to prompt the removal of a child, since a parent's arrest may be considered a form of "neglect."
In her research on dual-system families, Susan Philips, a professor of social work at the University of Illinois-Chicago, pointed out that entry into foster care tends to be driven more by overarching crises besieging the household, rather than just by parental arrest or incarceration. Compared to other young people in households in the child welfare system, those with arrested parents experience a greater number of overlapping problems, such as mental illness and substance abuse.
"The criminal justice and the child welfare systems are the two most powerful systems in this country when it comes to families," Phillips said. "And I can't help but think that legislators [could], if they chose to, force those two systems to sit down and figure out how they're going to stop this pinging back and forth between the two systems."
Both institutions have begun to shift their efforts toward prevention in recent years. Following a nationwide trend, New York City's Administration for Children's Services has sought to reduce the number of children in care by shifting policies to emphasize preventive services and reunification. In the criminal justice system, too, Bedford Hills has developed programs that provide incarcerated parents with advocacy and supportive services to help them deal with child welfare and family court. Nonetheless, to the families forced apart by government intervention, even a softer touch can feel brutal.
The Lingering Effects
When Jacob Gunther was removed from his home in the early 1980s, his mother was using heroin and struggling to care for nine children on her own; his father was in prison. According to memories and anecdotes he later gathered from family members, city child welfare authorities took the children after they were left unattended at home. He and his brother, who are black, were placed with an older black couple, while their siblings were scattered to different caregivers.
The couple eventually adopted Jacob and his brother. On paper, that met the child welfare system's goal of moving youngsters into permanent homes. But the boys' state-approved home didn't bring stability, just discipline -- in the form of regular beatings that his new parents meted out to keep them in line.
Jacob Gunther's journey through the system was not exceptional. In the 1980s, as drugs and blight devastated inner-city neighborhoods, child welfare and police activity reached epidemic levels. In poor black and Latino communities, the government routinely left households like the Gunthers deprived of parents, children or both.
By 1998, according to a report by the Center for an Urban Future, one out of every 22 black children and one in every 59 Latino children in New York City were in foster care, compared to just one in every 385 white children.
Studies of the long-term impact of child welfare and law enforcement interventions reveal a cruel cycle spanning generations. In her book Shattered Bonds, Northwestern University law professor Dorothy Roberts noted that many black foster care children, marginalized and neglected by the system, wind up in the juvenile justice system as adolescents. "These institutions serve a similar function," she wrote. "Both use blame and punishment to address the problems of the populations under their control."
The criticisms of institutional racism in child welfare still resonate today. Black children remain starkly overrepresented nationwide, and more recently, advocates have raised alarm about children of immigrants streaming into the system as their parents are swept up in federal immigration raids and threatened with deportation.
The aftermath can ripple throughout a child's life. A national study of foster care "alumni" by the Annie E. Casey Foundation found that about one in five former foster youth had experienced homelessness within a year after leaving foster care and that they suffered from high rates of alcohol and drug dependence.
Gunther found his own way to wrestle with his problems. Around the beginning of high school, he and his brother reconnected with some of their estranged brothers and sisters. When hanging out together, he said, "We felt safe."
But rekindling old family ties didn't stop the rest of his life from unraveling. He recalled skipping school and getting into all sorts of trouble in the neighborhood with the other kids. His relationship with his adopted parents deteriorated further, and the trauma of seeing his mother again drove him toward a familiar path of turmoil. His involvement with drugs and gang activity led to a stint at a youth detention center. Labeled by the state as a delinquent, he bounced back into foster care.
Today, at 32, Gunther is finally clean and on his way to completing a probation sentence for a drug conviction. He's slowly repairing his relationship with his mother, who now works as a substance abuse counselor, and with his father, who is now out of prison.. To help him reconcile his present and past, he has begun work on a documentary film about his ongoing search for a brother, Destiny, the only sibling he has not yet reunited with.
Yet he still struggles not to get too close to his memories. "The gravitational pull to do something bad is always there. So I'm kind of like, relearning," he said. "I'm reparenting myself, so to speak, without parents."
Missing Mom
With a seriousness in his voice that makes him sound older than his nine years, Ruben Rivera remembered the moment he met his new foster family.
"When they came and took me home with them," he said, "I thought they were kidnappers."
He was confused when workers from the Administration for Children's Services took him from his aunt's house. At first, he said, he thought it was because he didn't get along with his parents. Later, he said, his aunt explained, "It was really my mom that messed up."
Ruben's childhood memories are colored by encounters with prison and family court. But in contrast to the chaos Jacob Gunther experienced, Ruben's family learned to navigate the prison and child welfare systems to slowly, and haltingly, piece itself back together.
Like Cristina Voight's son Lance, Ruben began his life at Hour Children. His mother Carol placed him there soon after she gave birth to him while serving time at Rikers. After her release, she reunited with Ruben and his father, Tony. The next several years brought bouts of addiction, treatment and relapse. After Carol was found passed out in the hallway of a shelter, the city removed Ruben and his newborn brother Jose, citing neglect. Carol was eventually arrested for snatching a purse and incarcerated again.
For Tony, the trauma of losing both his children and his wife within a few months "destroyed" him. He relapsed briefly after his sons were taken away. But Ruben's aunt went through a lengthy licensing process to become the children's formal foster caregiver, and the boys were reconnected with the family while Tony cleaned himself up. He now lives with his sons and holds a job at Hour Children, awaiting Carol's release next year.
Tony sees Carol's imprisonment as a crisis that had to happen. Before the children were removed, he recalled, children's services had pressured her to get clean and stable, but she wasn't able to stick with treatment. "The thing about prison -- she's safe," he said. "That's what I wanted ... whether it was prison or program, you know, as long as she's off the street, and she's able to redeem herself, [that's] what I want, for the kids."
Advocates for child welfare reform say agencies too often fail to intervene early, letting families spiral into crisis until foster care becomes the only option to keep children safe.
"We should be working with the people involved in these systems before or at least at the very earliest part of their incarceration," said Denise Johnston of the Center for Children with Incarcerated Parents, a national research and social service group. "And at the same time, we should be working with children at the beginning of the developmental process and not somewhere in the middle or at the end [of childhood]. It's too hard at the end."
Growing Together
When Voight was released from prison, she thought her most wrenching struggles were behind her.
Both her incarceration and her pregnancy had stemmed from a violent relationship. It was her abusive former partner who got her arrested on charges of arson. She fought a fierce battle in court, but was ultimately sentenced to several years, getting locked up shortly after becoming pregnant.
While in prison, isolated from her family, she arranged with the Administration for Children's Services to place Lance in foster care while she completed her sentence. But then a new state policy pitted her against a deadline that threatened to permanently sever her parental rights. New York had just implemented a strict new timetable for foster care cases under the federal Adoption and Safe Families Act, which mandates in most cases that the state seek "permanent" placement for a child after about 15 months in foster care. If the parent is unable to reunify with the child -- because the mother is serving a long prison term, for example -- the policy typically pushes foster children toward adoption.
As the time frame closed in on Voight, Lance was slipping away from his mother in other ways. Though he was living in a certified foster home, she noticed during visits that he sometimes appeared emotionally distraught or filthy, his skin raw from a urine-soaked diaper.
Voight eventually sued the city for neglect, regained custody through a legal settlement and placed Lance at Hour Children. But after surviving abuse, prison and the maze of child welfare, Voight faced her toughest challenge yet as a mother: reintroducing herself to her son.
"When I came home, he didn't want to touch me, feel me, nothing," she recalled. "Because I think he was so worried I was going to take him away from his 'mom' [the nuns]."
With support from the nuns at Hour Children, Voight worked back toward Lance in increments. She would start "by picking up his fork, or giving him a hug or sitting next to him or staring him in the eyes," she recalled. "Every day I got five more minutes, or ten more minutes."
Even after rebuilding her relationship with her son, Voight remained for several years at Hour Children, which provided housing support while she earned a graduate degree.
Since leaving prison, Voight has become a prominent social justice advocate, focusing on issues facing incarcerated women and parents and reproductive rights. Still, though her experience has been channeled into activism, it has left an undercurrent of fragility in her family life.
Parents who have raised their children from birth, she said, have "that security of, 'No one's gonna take my child away, I know my child, I've been with my child, I've seen my child.'" But for her and Lance, she said, "That's what's missing. Because I often wonder, 'What would have been, if you would have been a regular baby, and I would have grown up with you?'"
Michelle Chen is a freelance writer and a native New Yorker. This article is part of a series that will explore the connections between the criminal justice and child welfare systems in New York City. The project is supported by a fellowship from the Center on Media, Crime and Justice at John Jay College of Criminal Justice.