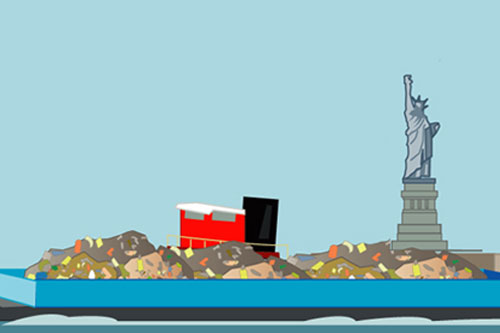 This is the second article in a series of commentaries Gotham Gazette will run between now and Election Day on the charter proposals appearing on the November ballot.
For decades, some low-income communities of color in New York have borne a disproportionate burden of polluting infrastructure. Communities such as Sunset Park, the South Bronx, East Williamsburg and Greenpoint are saddled with the bulk of the city's waste transfer stations, sewage treatment plants, bus depots and other facilities, both publicly and privately owned.
These communities are also the reluctant hosts of acres of brownfields and some of the busiest highways in the nation.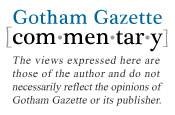 Clusters of pollution-spewing facilities have wreaked environmental havoc in these neighborhoods. They have been linked to disproportionate rates of severe health problems, such as off-the-charts childhood asthma rates and other cardio-pulmonary illnesses. As a result, organizations like UPROSE and El Puente in Brooklyn, Manhattan's West Harlem-Morningside Heights Sanitation Coalition, and the South Bronx's Nos Quedamos, The Point and Youth Ministries for Peace & Justice have spearheaded campaigns for environmental justice to challenge these noxious burdens and the ineffective public policies that put them there.
Until now, this struggle for environmental justice has been underscored by the failure of the City Charter policy called "fair share."
In November, however, a new iteration of fair share will be on the ballot, and it is a proposal worthy of support. If approved, community districts overrun by private and public waste management and transportation facilities will begin to have a more complete picture of their environmental burdens.
A History of Unfairness
In 1989, neighborhood activists saw a glimmer of hope.
That year, the Charter Revision Commission added "fair share" criteria to the City Charter, making New York the first city in the nation to attempt to plan for the siting of city facilities in a more transparent and balanced manner.
Fair share encourages a more equitable distribution of city facilities. According to the charter, agencies are required to analyze a community district's share of city facilities, like sanitation garages or sewage treatment plants, before siting, expanding, closing or reducing a facility. The city also is required to provide annual notice of its facility plans to local community boards before making final decisions. The Department of City Planning also must publish the Atlas of City-owned Properties and its accompanying map, which identifies the location of all city facilities by address and block and lot number.
The charter allows community boards to hold hearings and -- along with borough presidents -- propose alternative sites before city agencies reach a final siting decision. This unprecedented level of transparency was supposed to give overburdened communities additional tools and a platform for both agencies and the public to strive for greater fairness.
These provisions are advisory, so they were not designed to tie an agency's hands. Rather, they were intended to help agencies plan better, increase transparency and allow affected communities a voice in the process.
However, fair share hasn't produced greater fairness or useful transparency.
Chief among fair share's problems is that the Atlas of City-owned Properties and accompanying map only include city facilities. Of course, not only facilities owned and operated by the city have environmental impacts. The question presented to voters in November, as part of Question 2 on the City Charter, would begin to resolve this by including all public and private waste management and transportation facilities that overburden communities on the city map.
Polluting facilities operated by the state, public authorities and the private sector also undermine our local air quality. For example, some of the worst environmental impacts to local air quality and road infrastructure in East Williamsburg, Greenpoint and the South Bronx were generated by dozens of private waste transfer stations handling the city's solid waste. Presently these facilities are left off of the city atlas and map. This proposal would change that.
Under the current system, fair share rules require agency planners to look only at private waste management facilities within a 400-foot radius of a proposed "local" city facility or within a 10-block radius of a proposed "regional" city facility. As a result, any private or public facility beyond the 400-foot radius -- about half the length of an average city block -- does not appear on any map or analysis of a proposed local city facility. With city agency planners only looking within arbitrary areas with no scientific, medical or engineering basis, the entire pollution picture is left largely unexamined.
Fairness in a New Era
The limitations of the city's fair share policy is even more apparent in the 2002 New York City Waterfront Revitalization Program. The program actually encourages the concentration and clustering of industrial and maritime activities in six areas called "Significant Maritime and Industrial Areas." These designations are found in communities of color like Sunset Park, Red Hook, Brooklyn Navy Yard, Newtown Creek, the South Bronx and Staten Island's North Shore.
Development applications in these districts must meet fewer review standards than those for other waterfront areas, thereby easing the siting and clustering of polluting infrastructure. Moreover, all of these areas are in storm surge zones. Given the concentration of industrial materials and uses in these districts, any significant storm surge could expose local residents and workers to hazardous materials and contaminate waters and adjacent land with dangerous chemicals, heavy metals or other hazardous substances.
These issues loom large for the city's environmental justice communities, many of which are waterfront communities whose residents have advocated for maritime and industrial area reform.
If our city map had adequately included all city, state, federal and private facilities in each community district, officials might have reconsidered clustering even more industry in these areas.
Closing the Loopholes
The NYC Environmental Justice Alliance, our members and some allies proposed multiple amendments to the 2010 Charter Revision Commission to address the loopholes in the city's fair share review process.
For example, the alliance proposed that power plants and other public and private infrastructure be added to the atlas and accompanying map. Given the technological advances since 1989, we also proposed that the city include environmental and public health data for each community district -- data that is already collected by the departments of health and environmental protection, but not shared in one centralized, public and easily accessible location. Why not put all this relevant data in the atlas and map? (For more, please read our testimony on our website.)
In the end, the commission only agreed to mandate the inclusion of all state, federal and private facilities that handle solid waste and transportation in the city facilities map.
Our advocacy campaign was undermined by several factors. Some good government and social justice allies politically miscalculated that the mayor would re-empanel another commission after 2010, and therefore urged commissioners to "go slow/get it right." Still other allies -- and some elected officials -- were single-issue advocates concerned only with term limits or nonpartisan elections, and urged the commission to do nothing at all.
The commission itself repeatedly insisted it would not take on sweeping overhauls, given its short time frame.
Thankfully, several commissioners understood the value and fairness of what environmental justice activists and our allies proposed and advocated on our behalf.
While the 2010 commission left many proposals off the table, the expansion of the city's map reflects a much-needed first step in overhauling fair share. By voting yes on the map for facility siting question, New Yorkers will finally begin to see how truly overburdened some communities are -- and demand that something be done to correct this environmental injustice.
Eddie Bautista is the executive director of the NYC Environmental Justice Alliance.