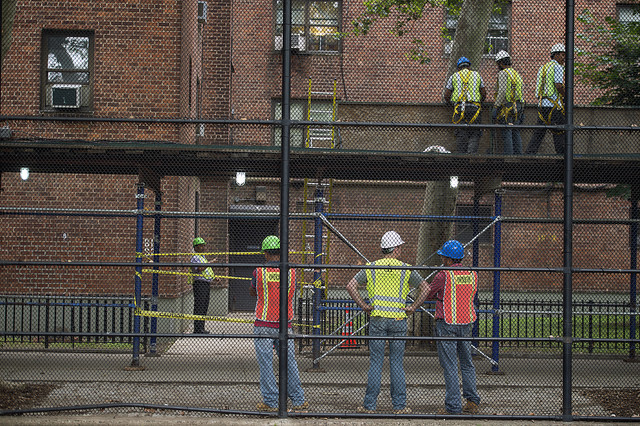 Workers at a NYCHA building (photo: Demetrius Freeman/Mayor's Office)
---
For the first time in decades, New York has become a competitive battleground in the race for the Democratic presidential nomination. As the race heats up in this delegate-rich state, the two Democratic candidates, Vermont Senator Bernie Sanders and former Secretary of State and New York Senator Hillary Clinton, have ramped up their outreach, particularly in New York City, home to millions of Democrats.
Each side has been increasingly fervent in its vollies against the other and on Thursday, April 14, just five days before primary voters head to the polls, the two candidates will meet for what may be the last debate of the Democratic race. While the candidates have been outspoken on national issues, domestic and foreign affairs, experts agree that both campaigns have largely failed to articulate policy for American cities and ways in which the federal government can improve urban life.
"It seems the Democrats have got stuck on who hates inequality more and they're not focused on the specific things that the government can do and needs to do right away to fix our schools, to rebuild infrastructure, to invest in creative economies that help cities thrive," said Charles Euchner, Fisher Fellow for the Middle Class Jobs Initiative, Center for an Urban Future.
Clinton and Sanders will square off at the Brooklyn Navy Yard's Duggal Greenhouse in a contest televised on NY1 and CNN. Both candidates have New York ties - Sanders was born and raised in Brooklyn before eventually moving to Vermont, while New York is Clinton's adopted political home that she represented in the U.S. Senate for eight years, 2001-2008.
Germane urban issues like infrastructure, transportation, resiliency, and national security have been addressed to some extent in the campaign, but not at a great level of specificity or regarding local jurisdictions like New York City. As both primaries hit the city, the lack of attention to such an agenda underscores the long-running gripe that New York State gives more to the federal government in taxes than it receives in federal investment.
Last week, Politico reported on efforts by City Council members and advocacy groups to inject issues of housing and urban policy into the campaigns, even pushing for the two Democratic candidates to visit a public housing development in the city. Public housing is one glaring example, many say, of federal disinvestment from cities like New York. City Council Member Ritchie Torres, who grew up in public housing and chairs the Council committee on the subject, will appear on MSNBC Wednesday evening to discuss the lack of federal attention to what was once a prized investment. Torres and Council Member Brad Lander led host Lawrence O'Donnell on a tour of NYCHA buildings in the Bronx.
Housing generally is essential to the New York political conversation, perhaps as much now as ever, and NY1's Errol Louis, who will be one of three moderators for Thursday's debate, has indicated it might form the basis of one of his questions. As they prepare for the debate, Sanders and Clinton are likely preparing for city-centric and New York-focused questions, as well as broader material for a national audience.
"We really haven't had an urban policy in this country for a really long time," said Euchner of Center for an Urban Future. He insists that the country as a whole has not considered an outright policy for cities since President Jimmy Carter's Commission for a National Agenda for the Eighties, which recommended migration of people away from poverty-stricken industrial cities in the north. The commission, chaired by former Columbia University President William McGill, "basically said cities are in trouble," Euchner said, insisting that an urban policy had not been revisited since then.
The reasons, he said, are simple - suburban and rural interests, which have a disproportionate influence on politics, have been historically hostile to cities. Euchner believes this hostility has diminished in recent years, giving rise to an opportunity to reframe urban issues.
"It really is time for a new community compact that acknowledges the challenges of cities and towns," he said. "All communities need some good rules of the road in pursuing common interests."
David Birdsell, dean of the Baruch College School of Public Affairs, believes the upcoming debate may change that. "This has been a campaign that has had virtually nothing to say about the prospects of cities," he said, also raising the point that cities receive little attention because of how electoral votes are distributed. "This debate, given the candidate's constituencies, may change that pattern somewhat. There are a lot of spins on national issues that look different when discussing from inside of the nation's largest city."
He hopes to see the candidates address issues like mass transit, immigration, global warming, and infrastructure. "These are local issues and these are national issues," Birdsell said. "They resonate differently when you talk about them in New York."
A nuanced local debate is exactly what Nicole Gelinas, senior fellow at the Manhattan Institute, said is necessary for concerns about infrastructure, transit, housing and counter-terrorism, which she identified as some of the biggest issues for New York City. The position of presidential campaigns so far has been to throw money at these issues without talking about the "impediments to those investments," Gelinas said. "The reality is, no matter what they say, these are difficult issues you can't just solve with more money. These are problems that are really hard to solve from Washington."
Gelinas said there needs to be a better focus on the wage structures and state labor rules that eventually end up pushing up the costs of infrastructure projects, along with a streamlining of the federal environmental review process for projects under the National Environmental Policy Act.
CUF's Euchner echoed Gelinas. "One of the things we need desperately is an approach to making government work better," he said, chalking up much of the dysfunction in federal investment to "logistics and bureaucracy."
Euchner also agreed that infrastructure is probably the number one priority in the country and the candidates have to rethink their approach to it. He said the federal government needs to leverage its power and funding to nudge local jurisdictions towards the right path, whether it involves issues of poverty, transportation, education, or counter-terror.
Part of the lopsided federal investment into New York seems to stem from its relative success in comparison with other cities after the Great Recession. "The disparity among cities makes it tougher to have an urban policy today than 30 years ago," Gelinas said, pointing to cities such as Detroit, Chicago, or Flint, Michigan that are still struggling to recover from the recession.
New York largely has the means to take care of itself. It has a large tax base, especially centralized in New York City, and is a "donor state" - an issue that former U.S. Senator Daniel Patrick Moynihan, of New York, highlighted in an annual report called "The Fisc" in which he analyzed the significant imbalance between federal taxes and federal aid. Moynihan died in 2003 but the issue of "The Fisc" did not die with him. An October 2015 report by State Comptroller Tom DiNapoli, which mentioned Moynihan's work, found that New York paid $214 billion in federal tax revenues in Federal Fiscal Year (FFY) 2013 and received $19.9 billion less than that in federal spending.
"It's no surprise that a high-income state would generate more in federal taxes than many others. But other factors complicate the picture, raising questions about equity in New York's balance of payments with Washington," DiNapoli's report says, citing the state's higher poverty rates and health care costs.
"New York's consistent pattern of underinvestment by the federal government is nothing new," said Birdsell. "That gap has certainly widened substantially." He said issues of grave importance to the city, including coastal infrastructure, resiliency and counter-terror, are key in this federal investment argument.
Euchner criticized the idea that New York City was expected to take care of its own issues without federal aid, particularly since the city and the state are early adopters of many policies that set standards for others. "It's a place where experiments take place," Euchner said. "It's really the country's biggest laboratory."
The most recent iteration of this federal trend came in President Barack Obama's proposed cut of $90 million from New York City anti-terror funding, a move that brought heavy consternation from Mayor Bill de Blasio, NYPD Commissioner Bill Bratton, New York Senator Charles Schumer, and others. Just this week, Hillary Clinton took the President to task on the issue and promised to fight for restoring the funds.
Gelinas, Birdsell, and Euchner all agree that, of all issues, terror is one that affects New York City more so than any other urban center. "Even in general, the foreign policy debate affects New York," said Gelinas. "One could argue that the foreign policy decisions made at the federal level going back 15 years have made New York City more vulnerable."
Euchner added, "It's imperative that the federal government not pull away from New York. We need every tool that's available - big data or boots on the ground in the city. I would be looking for very specific commitments in this debate."
Thursday's debate will be watched eagerly across the state, particularly since a New York primary has not been a close contest among Democrats since 1988, when former Massachusetts Governor Michael Dukakis won a heated race against prominent civil rights activist Rev. Jesse Jackson. New York Assemblymember Michael Blake, a former White House aide to President Obama, indicated he would be looking to the candidates to discuss issues of diversity and justice. "From racial to gender, from economic to social, it is critical to hear what these candidates will do for Minority and Women Owned Business Enterprises, Criminal Justice reform and Educational equity so that communities of color go from cradle to the career," Blake said in a statement emailed to Gotham Gazette.
Mayor Bill de Blasio will also be paying close attention. He served as Clinton's campaign manager for her first Senate run in 2000 and is a vocal supporter. "Mayor de Blasio is looking forward to hearing Secretary Clinton lay out her plans to move our country forward at Thursday's debate," said a spokesperson for the mayor in an email. "He believes that Hillary has the most progressive platform of any incoming President of the United States in a generation. This platform will fundamentally increase wages and benefits for working people, it will bring us things like full day Pre-K for all. It will rein in Wall Street, tax the wealthier at a higher level. The Mayor believes these are the changes we need in New York City and across the country."
"The Mayor has also talked a lot about the need for a federal government that supports our cities by investing more in things like mass transit and public education, and he looks forward to hearing the candidates address these issues on Thursday," the spokesperson added.
This year, the state's large delegate count is a necessity for Sanders, who is coming off his eighth win out of the last nine primary contests with a total of 1,069 delegates, but is still far behind Clinton's 1,758. A candidate needs 2,383 for the Democratic nomination. If Clinton should win New York with a big margin, which she is poised to do, she would have the nomination in the bag. The state has 247 delegates up for grabs: 163 are pledged and 84 are at-large delegates selected by the state Democrat Party at the May convention and allotted proportionately based on voting results. There are an additional 44 superdelegates, some of whom have already decided to back Clinton even if Sanders should somehow win the popular vote. A recent NBC News/WSJ/Marist poll (conducted between April 6-10) gives Clinton a 14-point lead over Sanders among likely Democratic voters.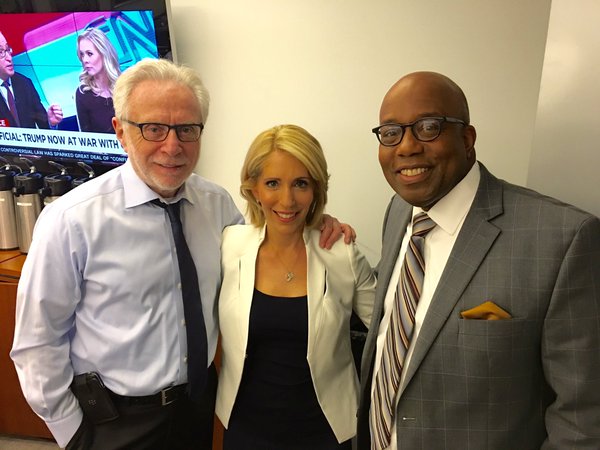 CNN's Wolf Blitzer will moderated Thursday night, joined by Dana Bash, CNN's chief political correspondent, and Louis, NY1 political anchor and a CNN contributor. Louis told Gotham Gazette in an email that he couldn't share any particular questions in advance of the debate. "But I'm sure that both campaigns and our national media partner all know what it means to have NY1 and the Daily News involved: a firm, fierce focus on what we need to make a great city greater," he wrote. (pictured l-r: Blizter, Bash, Louis)
Louis also appeared on The NY Slant podcast to discuss preparations for the debate. He estimated that there would be roughly 17 to 20 questions asked of the candidates over the two hours, setting aside time for commercial breaks, introductions, questions, answers, follow-ups, and rebuttals.
"What things do you want of those twenty? Well, you want some New York questions for sure," Louis said, stressing that he had yet to formulate specific questions. "You want some, for lack of a better word, news of the day questions," he added, in reference to everyday happenings on the campaign trail including any latest barbs exchanged by the candidates.
Asked about how he would approach the question of urban issues and urban disinvestment at the federal level, as raised by the Politico article from last week, Louis seemed to make the same point as Baruch College's Birdsell.
"There a lot of urban issues that are disguised as other issues," Louis said. "If you look at say issues of policing and community relations, you tend to think of it as a criminal justice question, but then you look at where all the hot-button cases have happened -- it's Baltimore, it's Chicago, it's New York -- it starts to look a little bit like an urban issue. When you talk about education, everybody has a school district, everybody has to send their kids to school. But where are the biggest problems with the achievement gap and the funding questions and the charter schools and so forth? You know, it's New York, it's Chicago, and you're right back to, is this an urban question? There's also an open question about whether there needs to be an urban policy."
Louis went on to say that "things really happen through the state level and the relationship of cities to their state in some ways is more important than - depending on the issue or the funding stream that you're talking about - than the issue of all of those cities to the whole United States."
There's been so little, Louis said, that "you almost want to have a policy discussion which is...do we need urban policy?" But, he noted, "the debate is not the place to have that."
***
Prior to the 9 p.m. debate on Thursday, April 14, Gotham Gazette and City Limits will co-host a forum in Manhattan, from 6-8 p.m., where political experts will provide their perspectives on the presidential race. There will also be multiple campaign representatives on hand. Details & RSVP.