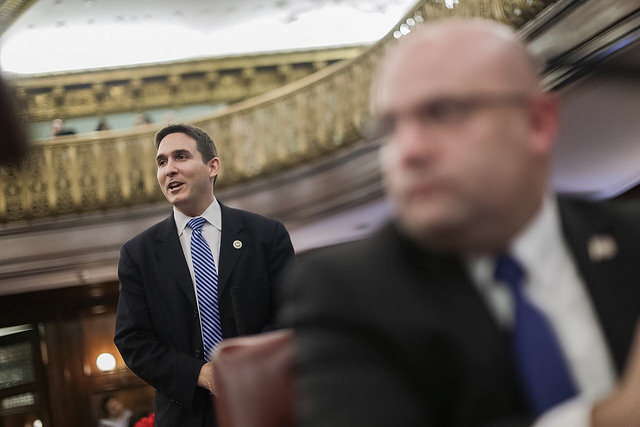 Council Member Ben Kallos (photo: William Alatriste)
---
The chair of the City Council's governmental operations committee, Council Member Ben Kallos, is hopeful that a package of eight campaign finance reform bills, introduced November 10, will move through quickly after they are heard for the first time next month.
The legislative package, scheduled for a hearing May 2, is aimed at making improvements to the New York City campaign finance system, including its landmark small-donor public matching program, ahead of the 2017 municipal election cycle.
While the system is already robust and held up as a national model by many, these bills aim to make it stronger. Among other things, the bills would prevent lobbyists who do business with the city from bundling contributions to candidates, provide public matching funds to candidates at earlier dates in the campaign cycle, and improve disclosure of donations from entities that do business with the city. The bills came out of recommendations that the New York City Campaign Finance Board made in its comprehensive 2013 post-election report.
"We're looking forward to really drilling down to what's going on with lobbyists, expanding disclosure and shining a light on dark money in elections," said Kallos, in a phone interview with Gotham Gazette, "and given the recent questions regarding lobbyists who have bundled six figures and their influence, we're looking at disincentivising lobbyist bundles by making those dollars non-matchable. This could be a solution to the appearance of impropriety or any one person having an undue influence through the ability to direct hundreds of thousands of dollars. which are then matched six-to-one for total bundles of over a million dollars after matching with taxpayer dollars."
Of the eight bills, Kallos is prime sponsor of three.
In the weeks after the bills were first introduced, good government advocates worried that delaying them would be detrimental to candidates running in 2017 and slow improvement of the overall program. Most agreed that changing rules halfway or more through an election cycle is, at the least, unfair. Kallos, however, is not worried. He doesn't think it's too late to push these bills. "The rules would be impacting disclosure and matching," he said. "We haven't issued matching funds and most people haven't begun to raise money for the elections."
Asked about why it took so long to schedule a hearing on the bills, Kallos said it was just par for the course. "I've introduced bills in 2014 that got hearings in 2016. This Council's been overactive in introducing bills and passing some in a span of days. Some bills take longer to get a hearing."
Now that a hearing has been scheduled, Kallos believes that the bills will receive little pushback and that strong support from the CFB and good government groups will help them pass in time for the 2017 elections. "Who's gonna come out against shining a light on dark money?," he said rhetorically. "Who's gonna come out in favor of further empowering lobbyists? Government should belong to the people, not special interests."
Read more on the subject from Gotham Gazette here.