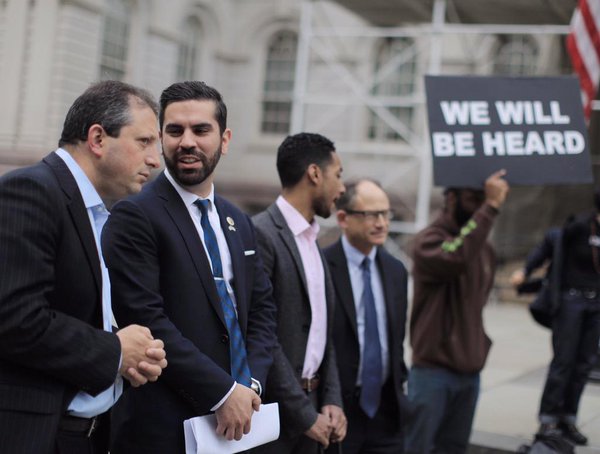 City Council Member Rafael Espinal (second from left) (photo: William Alatriste)
---
Colleagues heaped praise on City Council Member Rafael Espinal last week as the deal he negotiated with the de Blasio administration to rezone a portion of his Brooklyn district was passed through committee. The process and the agreement were being watched closely by Council members, especially those whose districts are in the pipeline for rezonings under Mayor de Blasio's larger housing plan.
Espinal, who represents most of the area being rezoned, which includes part of East New York, managed to extract significant concessions from the city to get to a framework that he said he could be proud of, taking back to his community a robust plan for new housing and infrastructure, job training, tenant protections, and other community amenities.
"From the start, I told my community I would fight for a better plan," Espinal said at the first of the two committee hearings on Thursday. "One that wasn't just about housing, but about developing a neighborhood that had been neglected for decades."
The package of changes in land use rules, levels of affordability for new housing, and planned investments in East New York sets an important precedent - it is the first of 15 neighborhoods that the de Blasio administration will target for rezoning as part of a plan to create and preserve 200,000 units of affordable housing over ten years. Next on the list: part of Flushing, corridors in the Bronx and on Staten Island, a portion of East Harlem, and other areas of the city where there is room for additional housing density and neighborhood improvements.
Espinal's fellow Council members expressed widespread approval of the deal he reached, while some members who will soon be in his position are looking at what lessons they can learn. Council Member Donovan Richards, chair of the zoning subcommittee that first voted on the plan, said Espinal had done "a phenomenal job," while Council Member Vincent Gentile commended him on "a job well done." Council Member Antonio Reynoso said, "I've never seen units that affordable and that much at any city-owned sites." Council Member Ritchie Torres quipped, "Rafael, you're the man."
"The East New York Plan represents a new way of planning for New York City," said Council Speaker Melissa Mark-Viverito in a statement outlining the benefits included in the deal. "I thank Council Member Rafael Espinal for his staunch commitment to his constituents in putting forth a plan that truly meets the needs of East New York," she said.
Perhaps the most effusive was Council Member David Greenfield, chair of the land use committee, which voted second, who called Espinal the "superstar of the day" and characterized the East New York plan as "quite literally the best community affordable housing plan ever in the history of new york."
While each plan will be different, de Blasio is aiming to add thousands of units of housing to a variety of under-developed areas throughout the city in order to create more affordable apartments, while also adding new school seats, improving retail and green spaces, and more. In each case, City Council members and other local stakeholders aim to see how much community benefit they can secure as part of agreeing to major changes to their neighborhoods.
Fear of gentrification and displacement often top the list of concerns when an area is identified for rezoning, while many also worry that an influx of additional residents to an area will overwhelm existing infrastructure - transportation, schools, parks, and other public services. These are the issues hanging over discussions between local representatives and the mayoral administration, including city agencies like the City Planning Department and the Department of Housing Preservation and Development (HPD).
East New York is the first application of the newly-approved zoning amendments -- Mandatory Inclusionary Housing and Zoning for Quality and Affordability -- which allow taller buildings and denser neighborhoods while mandating that developers set aside a certain ratio of affordable housing units in new developments, making it easier to build affordable senior housing, and creating more attractive retail space.
The proposal, which will head to a full council vote on Wednesday, April 20, is an expansive neighborhood development plan that includes $267 million in capital investments in addition to school and sewer construction funded through other streams.
"I'm actually calling this the unicorn deal," Greenfield said. "And the reason I'm calling this the unicorn deal is because quite frankly you're never gonna see a deal like this again. This is the new standard that's being set in the city that quite frankly everybody else will chase. But rest assured I can tell you, as the chair of the land use committee, they're not gonna capture it."
Council Member Deborah Rose hopes that's not true. One of the next few rezonings is the Bay Street corridor on Staten Island, in Rose's district, and the East New York plan has bolstered her confidence about the process. "I hope that my rezoning turns out to be the best plan with the most amenities for my communities," Rose said. She recognizes the "herculean task" of a neighborhood rezoning and navigating the city's Uniform Land Use Review Procedure, saying, "It's quite stressful and often contentious. Council Member Espinal really wanted to get the deepest affordability he could under the MIH amendment. I only have accolades for him to get that level of affordability."
Rose will be looking for more mixed affordability in her rezoning efforts, she said, not necessarily looking for the lowest income and rent thresholds available under Mandatory Inclusionary Housing, which created several choices for Council members overseeing a rezoning. The MIH bands for creating affordable housing dictate the percentage of new units that must be affordable to households with certain income levels. For instance, the East New York plan, as selected by Espinal, has two of the four options, which developers will be able to choose -- one would require 20 percent of new housing units to be set aside for households making up to 40 percent of Area Median Income ($31,080 for a household of three) and another option would require 25 percent of units at 60 percent AMI (including 10 percent at 40 percent AMI).
Rose might select one or more bands that require more affordable units at higher rents - for example, 30 percent of units at 80 percent AMI.
What Rose really wants, though, are the second- and third-order investments that come with rezoning. "I see this as an opportunity to address the infrastructure issues that we've been trying to remedy since I've been in office," she said, citing improvements that are necessary for increased density, including hospitals, schools, recreational facilities, and, most significantly, transportation. "Through this rezoning, the resources will be available to do that," she said.
While Bay Street corridor might be much smaller than East New York, which is likely to be one of the largest neighborhoods of the 15, Rose isn't going to hold back on her demands. "My list is as long, probably longer than Espinal's," she said.
"We're a manufacturing, residential and commercial area and we're gonna have to support all those communities," she added. "I'm eager to get started."
The differences in neighborhoods are definitely going to play an important role in how the city and the Council members approach the rezoning process. Queens Council Member Peter Koo, whose district includes the next neighborhood on the rezoning calendar, said as much.
"I applaud Council Member Espinal and the Mayor for negotiating a long, hard-fought list of investments that addresses many of the needs of East New York," Koo said in a statement to Gotham Gazette. "As the focus turns to Flushing, we must remember that every rezoning area has different and distinct needs. Flushing West is on the waterfront which limits depth, and the LaGuardia flight path limits height. We are also already in the middle of a real estate boom, so the city must find a way to balance affordability with infrastructure, particularly to ensure new development does not compound our existing problems with traffic, 7 train capacity and the pollution of the Flushing Creek."
The East New York plan saw several modifications to accommodate demands from community advocates and Espinal, who, along with the Council's land use director, Raju Mann, led the negotiations with the de Blasio administration, for deeper affordability, anti-displacement mechanisms, and job creation measures.
Among the key changes to the plan from the original version proposed by de Blasio's City Planning Department is removal of the Arlington Village housing development. Residents and activists had expressed concern that the owner, Bluestone Group, which had purchased the property shortly after the proposed rezoning was announced, would take advantage of the upzoning without creating sufficient affordable housing units.
The city will also dedicate 500 LINC vouchers to help move about that number of families from homeless shelters into affordable housing, while at the same time moving to close three homeless shelters and encouraging the owners to convert those units into affordable housing. The city has committed to closing two by the end of June and the third in the next fiscal year.
A working group of elected officials, community stakeholders and multiple agencies will also look into helping homeowners legalize basement units. If conversions of these units is impractical, the plan sets aside $12 million to support conversions and home repairs. It also mandates a Homeowner Helpdesk to provide financial and legal advice to help homeowners modify mortgages, prevent foreclosures, access loans for repair or weather-proofing, and fight housing scams.
To preserve affordable housing, the plan will fund free legal representation to tenants facing harassment, for five years. The plan will fund the acquisition or renovation of a childcare center with $2.8 million in capital funding.
While the original proposal had provided for the creation of a new 1000-seat school, it was modified to include another $17.45 million to fund school improvement projects for existing schools.
Additionally, the plan also addresses issues of economic and community development, including large infrastructure investments and capital spending. A key part of the proposal is the East New York Industrial Business Zone which will receive $16.7 million in funding to renovate buildings for business use, improve street infrastructure and provide high-speed broadband to businesses. The city will also create a Workforce1 Career Center to provide job recruitment, placement, training and counseling services to residents. The Housing Preservation and Development department will also initiate a Neighborhood Retail Preservation Program to create discounted space for local retailers in new developments. The plan also makes investments to renovate and upgrade two neighborhood parks, create a new NYPD community center, repave streets and replace water and sewer mains.
Community advocates and neighborhood groups had protested the East New York plan for not providing deeper levels of affordability for low-income residents. Till Wednesday, the day before the initial Council votes, protesters were pushing Espinal to reject the plan and a few were even arrested outside his district office. The final plan added an option for more affordable housing set asides at public sites but not in private units or to the levels the groups had demanded.
Espinal has repeatedly acknowledged this criticism. "The plan isn't perfect," he said after the hearing, "but this is the best possible plan I was able to get for my community."