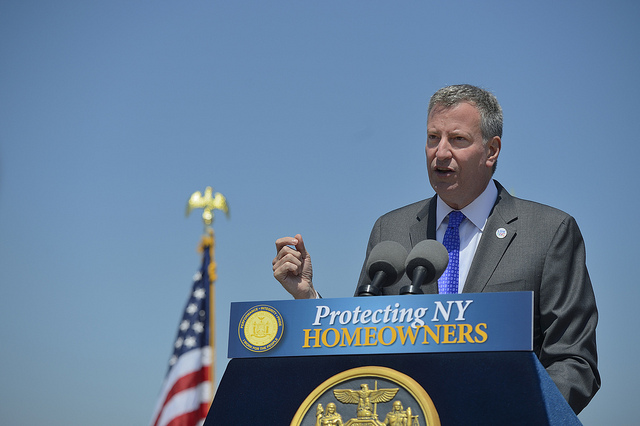 Mayor de Blasio (photo: Rob Bennett, Mayor's Office)
---
As plans to spur new development in areas around New York City proceed, mostly silence surrounds the experience of homeowners who are being pressured by investors to sell. Prior to the City Council's approval of rezoning East New York, Brooklyn last week, there had been little public discussion of how or whether to ameliorate real estate speculation on small homes. At least in East New York, some homeowner protections have been introduced to the plan, but investor-backed speculation, to some extent, still seems to be part of the city-wide housing agenda.
Facing a shortage of housing attainable for moderate- and low-income residents, Mayor Bill de Blasio has stressed the importance of creating a comprehensive affordable housing plan, part of his larger agenda to combat inequality. De Blasio is attempting to harness the sweep of gentrification that continues to displace residents – both renters and small home owners - who are being priced and bought out, especially in the "next" neighborhoods where prices are rising rapidly.
"We know right now that we can do a lot to stop evictions from rental apartments," de Blasio said in a March interview with WNYC. "We don't have as good a model to protect homeowners that might be the subject of speculation."
The mayor is working with the City Council on much of his housing plan, including tenant protections, new affordable housing requirements, and the rezoning of as many as 15 neighborhoods across the city. East New York's is the first such rezoning plan to be approved by a Council vote.
The Council itself has been especially focused on protecting tenants from eviction. When asked, though, about protections for financially-strapped homeowners who will have trouble resisting aggressive speculation, Council Speaker Melissa Mark-Viverito also indicated, like the mayor, that the subject has not been thoroughly discussed. Acknowledging pressure on homeowners as a challenge in a "very hot" market, she said, "Those are things we can talk about as we think about initiatives and existing legal services and getting to more targeted populations."
In the revised East New York rezoning plan, the city has committed to establishing a "Homeowner Helpdesk," which will be a community-based support service with financial and legal counselors offering advice to homeowners facing overbearing speculators who are drawn in by low prices and the potential for high price growth that comes with the ability to build higher. The city will also provide low-income homeowners with loans and small grants for critical repairs through the Home Improvement Program and Senior Citizen Assistance Program, among others.
The Department of Housing Preservation and Development (HPD), which subsidizes the construction of affordable housing, also says it will work with the Department of Environmental Protection to implement water rate relief programs, and is also looking into the possibility of establishing a "Cease and Desist Zone," where homeowners would be protected from unwanted solicitation. Buying, however, is still a principal tenet of the agenda to have real estate developers build much of the city's new affordable housing stock.
Part of Mark-Viverito's East Harlem district is also on the list to be rezoned, as well as neighborhoods including Flushing West, Long Island City, a Jerome Avenue corridor in the Bronx, and a Bay Street Corridor on Staten Island.
The rise in sales prices and the interest investors are showing in one-to-four unit houses in areas eyed for rezoning indicate that homeowners may increasingly become the targets of forceful, even predatory, buyers.
Mark-Viverito mentioned the calls she herself receives to sell her East Harlem home, while "keys for cash" flyers proliferate in the neighborhoods on the shifting lines of gentrification. Often, even more aggressive tactics are taken by those looking to invest early when a neighborhood appears to be considered for improvement.
Stakeholders and Stakes
All homeowners stand to gain from increasing property values in neighborhoods slated for rezoning. Those with moderate incomes and unburdened by mortgages are in particularly good position, whether they decide to take the money and run or stay vested. But many, often most, of the homeowners in areas pending rezoning have relatively low incomes and face significant pressures like mortgage obligations and the cost of maintaining old housing. As investors see greater opportunity in neighborhoods the city plans to upzone, this latter group of homeowners becomes more vulnerable to buyout offers that don't reflect the value of their assets.
For small home owners, the ability of government intervention to prevent displacement and promote affordable housing options falls into a grey area. "Obviously, the first thing we would say to anybody is to encourage nobody to respond to anything unless they get some sort of guidance," Mark-Viverito said in March of homeowners being approached to sell. "These are challenges that we face in a market that is very hot, you know, that is putting a lot of pressures."
While Mark-Viverito may offer a tip to fellow homeowners - some of whom speak limited English and many of whom are seniors - and the city provides some advice and loan services, homeowners appear to be largely on their own as the city encourages investment in underdeveloped communities. As part of the plan to rezone East New York, the city aims to subsidize the construction of new deeply affordable housing on private land, but in many cases, developers must first buy land from existing homeowners.
"Gentrification, rezoning it all trickles and impacts," said Darma Diaz, a homeowner in Cypress Hills, which is partially included in the East New York rezoning plan. "We definitely know that rents in New York City are high and apartments are hard to find, but it makes [living in the city] that much more challenging when you have the pressure of investors wanting and pursuing and making it really financially lucrative to sell your home."
Diaz has been living in Cypress Hills, Brooklyn since the late 1970s and has owned a home there since 2007. She is worried that small home owners have not received enough attention throughout the city-wide discussion of rezoning as part of the mayor's affordable housing agenda. "We knew that building more units was necessary for our community, but I think what [the mayor and City Council] did not take into account was the impact that the speculators were gonna have on small home owners."
Mayor de Blasio's affordable housing plan, in part using legislative tools passed through the City Council in March, includes leveraging property value growth that will come with changing land use regulations to allow greater housing density, encourage construction, and require developers to build tens of thousands of new units of affordable housing. De Blasio's overall plan is to build and preserve a total of 200,000 units of affordable housing over ten years with varying rent regulations affordable to low-, moderate-, and middle-income New Yorkers. Another 160,000 market-rate units are part of the plan.
Benjamin Dulchin, executive director of the Association for Neighborhood and Housing Development (ANHD), told Gotham Gazette that the areas pending rezoning are typically regions of the city with high concentrations of low-rise buildings. Now with low housing density, developers will soon be allowed to build higher in these neighborhoods, creating additional market-rate apartments along with mandated affordable units.
The buildings that would need to be torn down to make room for the higher, denser housing necessary to achieve the mayor's goal of 80,000 newly built affordable units are also often the kinds of buildings - one-to-four family houses - that are occupied by the owner.
In East New York, a majority of all housing is in buildings with fewer than six units. According to the Coalition for Community Advancement, a group of neighborhood organizations independently monitoring the planning process and pushing for deeper affordability levels, roughly three-quarters of the buildings on sale in East New York are one-to-four family houses.
The Department of City Planning's East New York Community Plan, the revised version of which was passed just by the City Council, proposed to change land use rules to allow six- to 14-story buildings to be constructed, which could more than double the area's population density. In the next two years, HPD plans to build 1,200 new affordable housing units in East New York and, by 2024, seeks to make affordable half of all new units developed in that community.
Even before rezoning proposals are approved through the Uniform Land Use Review Procedure (ULURP), which is the public process involving many city actors that any major land use change must go through, the increase in property value that comes with rezoning has potential to make waves among buyers and investors - and thus, existing homeowners.
While the steady sales price growth of New York City real estate over the past five years (20 if you allow for some dips) is cooling, annual price growth in East Brooklyn, which includes Bedford-Stuyvesant, Brownsville, Bushwick, Crown Heights, and East New York, increased to a high 20.5 percent in February, exceeding the Brooklyn-wide growth rate by about 300 percent, according to a StreetEasy report.
Alan Lightfeldt, a data scientist at StreetEasy, said that it is impossible to tell what impact the new affordable housing legislation will have on home sales because of the complexity of factors that affect prices, such as the "endemic demand" for homes - the built-in demand that a large city with a population of aspiring homeowners, like New York, almost always has today.
That demand is part of the general trend of gentrification, radiating outward as the population continues to grow, business centers expand, and the city becomes safer. The latest hot neighborhoods are those where prices are still affordable to moderate- and middle-income residents, and that have public transportation infrastructure connecting them to the rest of the city.
Paula Crespo, a senior planner at the Pratt Center for Community Development, who works with the Coalition for Community Advancement, provided Gotham Gazette with data that the sales prices of one-to-four family homes has increased by 13 percent in East New York since the rezoning was announced in 2014. Yet, they are still relatively low compared to the city- and borough-wide median sales prices.
The combination of low prices and high price growth makes places like East New York incredibly appetizing to real estate speculators who seek to turn a profit. When speculation is rampant, homeowners - both current and prospective - feel the effects.
From a market perspective, other considerations aside, "when an area sees widespread value change, especially through external factors like rezoning," Lightfeldt said, "homeowners usually benefit." Being able to choose when to sell gives homeowners, like investors, the ability to capitalize on the increase in their property's value.
Hardships of the Small Home Owner
For homeowners who are in debt and facing financial hardship, however, the agency to choose whether and when to sell is not always theirs. Up against wealthy buyers attracted by favorable prices and even more favorable price growth, homeowners in areas under rezoning consideration face the weighty task of holding out against offers to buy. Giving in may satisfy immediate financial needs, but, for the lowest-income earners, it almost certainly means displacement from the community as speculation ratchets-up prices.
"I think it's dollars and cents," said Diaz, who works with the Coalition for Community Advancement in Cypress Hills. "They're capitalizing on people who may be financially strapped, and that's a way to harass them, and makes them think…they can pay off their debt and go buy something else. OK, and where are they going to buy something else in Cypress Hills or New York City as a whole?"
According to the Coalition for Community Advancement, the median income of homeowners living in one-to-four family houses in East New York is nearly $19,000 below the city-wide median, making it difficult to meet housing and maintenance expenses, including mortgage and loan payments, property tax payments, utilities, and repairs. Because of their effect on taxes and everyday neighborhood expenses, rising property values can actually hurt a homeowner who wants to stay in their house and in their community.
In the zip codes that comprise East New York, census data from 2010 show that, of the 15,157 owner-occupied housing units, 12,286 were owned with a mortgage or loan. Less than one-fifth of homeowners were free and clear. For many of these homeowners, the risk of foreclosure is high and buy-out offers, even relatively low ones, may be hard to resist. (It should be noted that the East New York rezoning does not include the entirety of the neighborhood, but a significant portion of it.)
Some of the homes in East New York have already changed hands as a result of foreclosure. The 2008 housing collapse resulted in millions of foreclosures nationwide, and in New York City a second wave of foreclosures early this decade further destabilized homeowners. Census surveys in 2010 and 2014 show that the number of owner-occupied units in one East New York zip code fell by 217, or about three percent, in the intervening years.
Last year, East New York reported the fourth highest foreclosure rate in the city, according to data from the Coalition for Community Advancement.
The foreclosure crisis has not been lost on unscrupulous opportunists, who have inundated New York City homeowners with unlicensed and often illegal mortgage refinancing offers. According to a 2014 report by the Center for NYC Neighborhoods in conjunction with the Lawyers' Committee for Civil Rights Under Law, "New York homeowners report larger losses to scammers than in the rest of the country."
Because such foreclosure rescue scams are so costly to their victims – they often involve the redirection of mortgage payments towards fraudulent restructuring services – and in many cases lead to more urgent mortgage trouble, they compound the risk of displacement of homeowners who are, by definition, already in distress, and incentivize buy-outs below the potential market prices of the near-future.
The areas hit hardest by these scams – Southeast Brooklyn, Southeast Queens, and the Northwest Bronx – are also places where rezoning is being discussed.
In addition to the financial stresses that accompany onerous mortgage obligations, the Coalition for Community Advancement reports that a majority of homes in East New York – 64 percent – have a water or sewer lien, demonstrating the level of economic distress faced by homeowners to pay for essentials. Adding to the cost of staying, most of the small housing stock there was built prior to 1950 and, according to several sources, many homes need serious repairs. Increasing property value also means that property taxes will rise, an additional burden to homeowners who do not wish to sell.
Diaz, who does not intend to sell her home despite regular solicitation from buyers, says its assessed value has gone up $8,000 in the past year, and that her property tax payments have increased by about $116 a month.
The homeowners in areas to be rezoned represent more vulnerable and historically disadvantaged groups that face greater barriers to keeping their homes and greater challenges if they lose them. According to Coalition data, nearly half of all small homeowners in East New York are senior citizens and 89 percent are either black or Hispanic.
Many senior citizens in East New York depend on retirement benefits, and some have experienced a significant reduction in income upon retiring. Discussing the challenges faced by seniors in her neighborhood, Diaz said, "I was speaking to a senior just on Sunday, and her income basically decreased by $32,000 when retiring. So that's a big indicator."
Ring of Investors
A mark of community fracture, homebuyers seeking to take advantage of favorable conditions in the market are less and less first-time buyers and end-users. Increasingly, they are investors and big firms using their buying power to flip real estate quickly. The Center for NYC Neighborhoods, which works with the city and state to facilitate home ownership and prevent foreclosure, recently reported that house flipping in New York City is at a five-year high, with more than 1,800 one-to-four unit homes flipped last year.
Speculators, often using public records to identify which doors to knock on, are seeing gross return 29 percent higher than the country-wide rate. It is a practice highlighted by the There Goes The Neighborhood podcast from WNYC radio and The Nation, which investigates themes of housing, race, and gentrification in New York City.
Cypress Hills had the highest median gross return on flipped one-to-four unit houses in the city in 2015, and East New York as a whole experienced the highest volume of flips. The house next to Diaz's in Cypress Hills, she said, has been bought and resold three times since she bought her home in 2007.
Investor-backed buyers have the capital to buy houses that many first-time buyers do not. As a result, they can make cash purchases on houses in foreclosure directly from the bank, renovate them quickly, and sell them or rent out rooms in a significantly higher price tier than many of the current residents of East New York and other neighborhoods can afford. According to the Center's data, most homes that were originally affordable to families making 95 percent of the area median income (AMI) last year - about $75,000 annually for a family of three - were resold at prices affordable to families making 163 percent of AMI, sometimes only months later.
At times, as in the case of Dixon Advisory, the Australian firm that has bought up large swaths in Bushwick, Bedford-Stuyvesant, and Crown Heights, investors are buying houses with the intent of converting them into market-rate rental units, rather than making them affordable or building more units, a portion of which would have to be made affordable under MIH. Turning units in one-to-four family houses, currently among the more affordable rental options in the area according to Dulchin of ANHD, into market-rate housing would restrict the number of affordable housing units available for preservation in rezoned areas, as well as the potential number of new affordable units that could be built if the land were to be redeveloped.
The decrease in affordability of ownership means that many longtime renters will not be able to own property in their neighborhood following rezoning. "For me owning a home was one of life's plans," said Diaz. "I know what it is to have two-point-five jobs and say that's what you are gonna do." For families who have lived in Cypress Hills all their lives, she said, "it would take some sacrifices to be able to do that."
HPD offers a down payment assistance program for low-income, first-time buyers who can receive up to $15,000 toward a down payment, as well as some low-interest loans for repairs and energy efficiency improvements. Even with assistance funding, though, most homes in East New York will not be affordable to residents there when they are being flipped.
A Challenge to Affordable Housing Options
Home speculation has the potential to impact Mayor de Blasio's affordable housing goals. In addition to feeling pressure from speculators in the areas targeted for rezoning, homeowners also house a significant portion of renters in these communities, people who risk displacement if market prices rise ahead of the development of new affordable housing.
According to Humberto Martinez, an urban planner at Cypress Hills Local Development Corporation, part of the Coalition for Community Advancement, over 34,000 people live in owner-occupied homes, roughly 40 percent of East New York residents.
If homeowners sell their homes en masse to speculators seeking to flip houses into higher price brackets or to create market-rate rental units, many of these renters will be displaced from their homes. According to the Center for NYC Neighborhoods, "The rents required to sustain the resale prices of flipped properties...far exceed the median rents in their boroughs." Before the mayor's affordable housing agenda even rolls out in East New York, both renters and former area homeowners may have to leave the community.
Unregulated one-to-four unit, owner-occupied buildings are a "hidden supply of affordable housing," said Dulchin. Because landlords live next to their tenants and often have personal relationships with them, these rental units tend to lag behind the market, providing housing options for some of the lowest-income earners.
"One of my cohorts who is also a small home owner, he rents to working Section 8 families," said Diaz. "With the increase of the taxes it's made it difficult for the rents to be at the level that they are now. When the homeowner's expenses exceed those subsidies that they're getting, they're gonna have to go outside the box and will no longer be able to rent to those that [depend on public assistance] programs."
David Shichman, director of homelessness prevention at New Alternatives for Children Inc., says that if rents in unregulated buildings are too far below market rates it is a sign of inadequate housing. Often there is doubling- and tripling-up, which is considered a form of homelessness.
East New York, in addition to being an area with the potential to greatly increase housing density, was also put forward for rezoning, according to Shichman, because it is "a top catchment area" of eviction and homelessness. As rental prices rise, it is becoming increasingly common for single-resident occupancy units (SROs) to house more than one tenant, which increases burdensome water and sewer charges and compounds the need for repairs.
While there was some effort to incorporate homeowner protections into the East New York plan, it seems that the sale of one-to-four unit houses from homeowners to developers is key for enough land to be made available to construct new housing in these low-rise areas. Small homes - under six units - contain 60 percent of all current housing units in East New York. All the same, HPD plans to build three-quarters of the 1,200 new units of affordable housing on privately-owned land over the next two years. Without high-volume buying of small homes by developers, there might not be enough available land for HPD's development plan to unfold.
A senior HPD official said that land speculation simply cannot be stopped, but it can be dampened by Mandatory Inclusionary Housing (MIH), which places affordability requirements on developers that could deter those seeking to exploit the market. In an interview last year with New York Magazine, Deputy Mayor for Housing and Economic Development Alicia Glen said, "I'm not here to be punitive. We want these guys to build."
Whether aggressive speculation at the level experienced by current East New York homeowners is inevitable is under dispute. Paula Crespo, in an email, stated, "The mere announcement [that] the plan [to rezone East New York] would happen has fueled speculation."