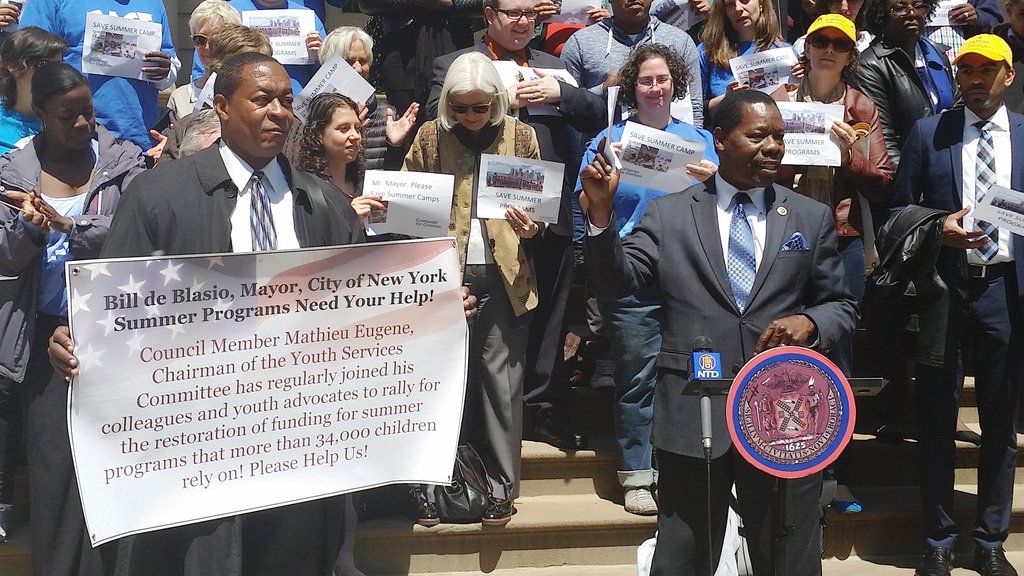 Council Member Eugene & advocates for youth summer camps (photo: @CAMBAInc)
---
When the City Council held its first hearing on Mayor Bill de Blasio's Executive Budget for fiscal year 2017, Council members made it clear that they weren't satisfied with the level of investment in the city's youth, one of the top priorities identified in their prior response to the mayor's preliminary budget.
On Tuesday morning, members of the City Council's Black, Latino and Asian Caucus, which has 24 members including Speaker Melissa Mark-Viverito, and advocacy groups will band together outside City Hall to rally for one particular aspect of youth investment: the Summer Youth Employment Program (SYEP). The rally will be accompanied by the Tuesday morning release of a report by the Campaign for Summer Jobs, a coalition of more than 100 community-based organizations, that outlines a plan to expand SYEP while making key programmatic changes.
SYEP provides up to six weeks of paid work to youth between 14 and 24 years old and it received 120,000 applications last year but only served 54,000 young people. This year, Council members and advocates want the city to increase that number to 60,000. "We're trying to create a roadmap to get to 100,000 spots by Fiscal 2019," said Andrea Bowen, policy analyst at United Neighborhood Houses and co-chair of the Campaign for Summer Jobs along with Justin Hardy, policy fellow at the Neighborhood Family Services Coalition. "This is achievable and possible and necessary," Bowen said in a Monday interview.
The Campaign for Summer Jobs report, which Gotham Gazette reviewed before its public release, calls for baselining increased funding for the SYEP over the next few years. Adjusting for increases in the minimum wage and accounting for program changes, the report proposes $75 million in city funding in fiscal 2017 for 60,000 summer youth jobs, increasing to $178 million in Fiscal 2018 for 80,000 jobs, $257 million in Fiscal 2019 for the ultimate goal of 100,000 jobs and $288 million in Fiscal 2020.
So far, the de Blasio administration has allocated $36.5 million in city funds for fiscal 2017, which begins July 1 of this year, with an expected state contribution of $15.6 million, for a total of about $52 million. This would fund about 35,000 jobs this summer.
Some of the report's key proposals include implementing earlier application, enrollment, and orientation dates; earlier release of funding to service providers; recruiting more providers to the program; increasing base funding for providers; and creating an SYEP Expansion and Improvement Fund. With the ultimate goal of reaching 100,000 summer job slots, "funding levels for the next few years need to be known in advance," said Bowen.
Much of what's in the report dovetails with the City Council's priorities. "The issue that we have is that year to year, we have to negotiate for this funding," said Council Member Julissa Ferreras-Copeland, who is leading the budget process as the Council's finance committee chair. "We want it baselined so agencies can properly plan and young people can be informed that they have a job in the summer."
She stressed that the underinvestment in youth in the executive budget was of "great concern" to the Council and that members will continue to push the administration "aggressively" for more funding. "We want to take an opportunity to overhaul and do an evaluation of SYEP, figure out what works," Ferreras-Copeland said on Monday, insisting that this was necessary for expanding the program to 100,000 slots. "Using the strategy that we're using currently, going year by year, we're not going to get there," she added.
The de Blasio administration sent a statement to Gotham Gazette that echoed what the mayor has said when asked about the issue: "As announced in May 2015, last year's additional seats for summer programming were for one year only. We gave parents and providers a year's notice to plan ahead for this summer. The Department of Youth and Community Development runs the largest summer youth jobs program in the nation, and we increased seats to ensure that more New York City youth have the opportunity to gain valuable exposure and workforce skills over the summer months. We have also extended hours at Cornerstone Community Centers, so both young people and adults can have a safe and supportive environment to be active, learn and develop their skills throughout the summer months."
A cacophony of voices have been raised in favor of improving the summer youth employment program. Last week, Bronx Borough President Ruben Diaz Jr. and New York Congressional Rep. Hakeem Jeffries held a press conference where they called on the mayor to increase SYEP funding. On Monday, Speaker Mark-Viverito, Council members, advocates, and others congregated at City Hall to release a new report by the Young Women's Initiative, a $20-million City Council campaign that promotes services for young women, particularly women of color. One of its recommendations is an expansion of the SYEP. Hours later, Council Member Mathieu Eugene, chair of the youth services committee, brought together his colleagues and community advocates to the same spot to push for a related cause, increased funding for youth summer camp programs. He called on all those present to return for Tuesday's rally.
Eugene chairs the Council's youth services committee, which will hold its executive budget hearing on Tuesday morning, right after the City Hall rally calling for more SYEP funding. Council members will question de Blasio administration officials about their funding decisions.
"Those young people that are looking for a job are begging to do positive things," Eugene told Gotham Gazette shortly after Monday's summer camp rally. "They want an opportunity and I believe it is our moral obligation as elected officials, as people who serve New York City, to provide them with the opportunities that they are looking for."
[Related: First Executive Budget Hearing Sets Stage for Final Negotiations]
Note: this story has been updated with comment from the de Blasio administration.