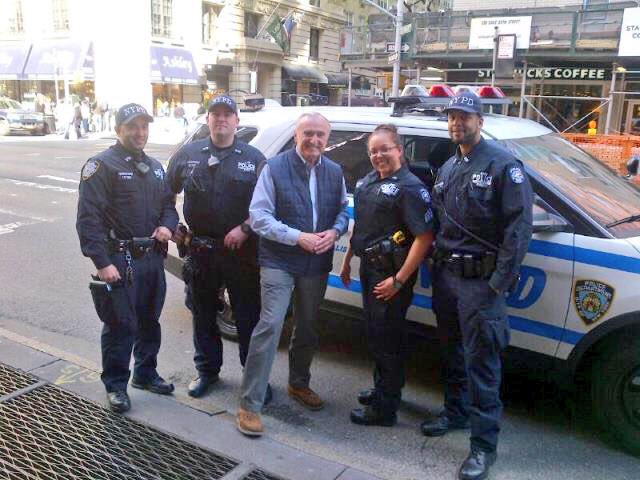 NYPD Commissioner Bratton with officers (photo: @CommissBratton)
---
The City Council voted on Wednesday to pass the Criminal Justice Reform Act, a package of eight bills largely aimed at diverting low-level nonviolent offenses from criminal to civil matters.
Offenses such as public urination, littering, drinking alcohol in public, and being in a park after hours are currently enforced as criminal misdemeanors and prosecuted in criminal courts, at times resulting in permanent criminal records for offenders. Under these bills, spearheaded by Council Speaker Melissa Mark-Viverito to put "more justice" into the criminal justice system, police officers will be encouraged to hand out civil fines instead of criminal summonses.
Mayor Bill de Blasio has indicated he will sign the bills, which will be enactment in a staggered fashion, giving the NYPD time to create new guidelines and train officers in the new rules. Police Commissioner Bill Bratton has also given the bills his seal of approval, though he asserted throughout the two-year process of legislative negotiation that it was essential not to remove the corresponding criminal violations for the offenses and his wish was granted.
One bill, that reduces breaches of park rules from criminal misdemeanors to violations, goes partially into effect 30 days after it is signed into law. Two specific violations -- being in a park after closing and failure to comply with park signs -- will no longer be enforced as misdemeanors after those 30 days while the other provisions in the bill only take effect after a year. A bill that creates civil instead of criminal fines for public urination and littering will apply after 60 days.
The intent of the legislative package is to reduce the impact of Broken Windows policing, a system championed by Bratton under which the police department aggressively enforces low-level offenses in an effort to maintain order and preempt more serious crime. This method, critics say, disproportionately affects young men from low-income communities and communities of color.
"These bills will give our police force the tools they need to address low-level offenses for exactly what they are: infractions to be taken seriously but not ones that should yield life-altering consequences," said Council Member Vanessa Gibson, chair of the Committee on Public Safety and sponsor of one of the bills, before the vote. The bills, she pointed out, would reduce the burden on the city's criminal courts while reducing the "harsh penalties" given for low-level offenses to people of color and low-income communities. She stressed, though, that the legislation was not making anything legal that was illegal.
"[The CJRA] will ensure proportionality and fairness on a grand scale, all while keeping our city safe," said Mark-Viverito at Wednesday's vote.
Within the Council itself, there was varying opposition to the bills. Of the eight bills, two passed unanimously -- they require the NYPD to deliver quarterly reports on summonses and Desk Appearance Tickets (handed out in misdemeanor cases). The bill reducing penalties for littering was the most heavily opposed, passing 39-10. The bill that requires the NYPD to create guidelines for civil punishment instead of criminal summonses passed 40-9. Other bills received four or five "no" votes. There are 51 members of the City Council, but two were absent Wednesday and could not vote.
Some Council members, like Queens Republican Eric Ulrich, warned of the bills ushering in a decreased quality of life in the city. Others, like Brooklyn Democrat Jumaane Williams and Bronx Democrat Ritchie Torres, stressed that the legislation is aimed at creating a fairer criminal justice system.
Minority Leader Steven Matteo, a Staten Island Republican and outspoken opponent of the bills, said they are "unnecessary and send the wrong message about our priorities," even as he commended the speaker for the respectful debate over the course of negotiation. "These crimes are not major felonies," he conceded, "but just because they are not serious crimes does not mean they should not be taken seriously."