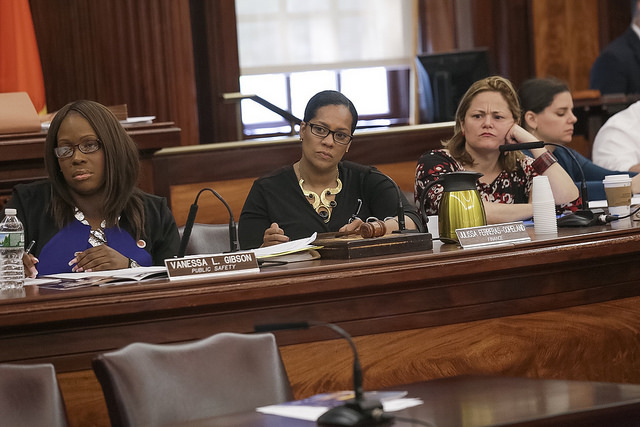 Council Members Gibson, Ferreras-Copeland, Mark-Viverito (l-r) (photo: William Alatriste)
---
The City Council is about to take the next step toward making feminine hygiene products readily available, and free, in New York City public schools, shelters, and correctional facilities. On Thursday, June 2, the Council's Committee on Women's Issues will hold its first hearing on a package of bills to improve access to tampons and pads after the legislation was introduced in March.
The three bills are being spearheaded by City Council Member Julissa Ferreras-Copeland and Council Speaker Melissa Mark-Viverito, the lead sponsors, and the hearing will come as New York State is set to eliminate the so-called "tampon tax" - the sales tax on feminine hygiene products.
Representatives from the city agencies that would carry out the new mandates outlined in the bills and relevant advocacy groups have been asked to testify - leaders from the Department of Health and Mental Hygiene, the Department of Education, and the Department of Correction will attend the hearing, as will representatives from ZanaAfrica Foundation, UnTabooed, and PowerPlay NYC. Representatives from the Women's Prison Association, Care for the Homeless, the YMCA, and other groups that participated in a roundtable discussion about access to menstrual products with Ferreras-Copeland last summer may be present as well.
Women who filed a class action lawsuit against the New York State Department of Taxation and Finance to end the tax on menstrual productsand Jennifer Weiss-Wolf, a leading national and international voice calling for better access to menstrual products, have also been invited to testify.
During the hearing, questions about the logistics and costs of implementing the mandates will be addressed. According to her office, Ferreras-Copeland looks forward to hearing from the de Blasio administration about its views on the bills and the current policies of the relevant agencies in terms of access to menstrual products. Ferreras-Copeland, who is likely to lead the hearing with Mark-Viverito and Council Member Laurie Cumbo, chair of the women's issues committee, is also looking to hear what barriers there may be in implementation of the requirements in the bills.
It is not yet clear how tampons and pads will be provided to women and girls in city shelters, jails, and schools, though no-charge dispensers have already been installed in the girls' bathrooms of 25 middle schools and high schools in the city through a pilot program, and Ferreras-Copeland has previously mentioned the possibility of installing dispensers in shelters.
The three bills in the package are accompanied by a resolution, sponsored by Council Member Ydanis Rodriguez, calling on the state to exempt feminine hygiene products from all state and local sales taxes, which the state is poised to do - on Wednesday, state lawmakers passed a bill to exempt feminine hygiene products from the tax on retail sales, prompting Governor Andrew Cuomo to release a statement saying, "I look forward to signing it into law."
The Council bills and the elimination of New York's "tampon tax" contribute to a growing movement to de-stigmatize menstruation and improve gender equity, as women end up paying hundreds of dollars in taxes buying tampons and pads throughout their lifetime, despite the fact that women cannot avoid buying the products. Fourteen states and three major cities have introduced legislation to eliminate the tax on feminine hygiene products since January, though few cities or states have taken action to make the products more freely available.
The city push to make feminine hygiene products freely available to the city's most vulnerable women - students and those in prisons and shelters - is meant to correct the disparity that when men walk into a bathroom, they are provided with everything they need to take care of their normal bodily functions while women are not. While some have questioned the price tag involved, Ferreras-Copeland has said time and again, "I've never heard anybody complaining about how much it costs to buy toilet paper."
One bill, introduced by Ferreras-Copeland, would require all schools to make feminine hygiene products readily available to students and would require DOHMH to provide schools with a supply of tampons and pads that is adequate to meet the needs of the student body.
In September 2015, Ferreras-Copeland and the High School for Arts and Business in Queens launched a pilot program of free tampons and pads by installing a free dispenser in the girls' bathroom. In March, Ferreras-Copeland and the DOE expanded that program to 25 middle and high schools in Queens and the Bronx, providing access to free tampons and pads to the 11,600 girls attending the schools in the program.The principal at Arts and Business attributes a 2.4 percent increase in attendance rates in the months after the dispenser was installed to tampons and pads being freely available. Previously, when girls got their period and weren't carrying tampons or pads, they often had to miss class time and go to the nurse's office in order to get what they need.
Ferreras-Copeland says the DOE has been receptive and that conversations with schools Chancellor Carmen Fariña have been productive, although the cost of freely providing menstrual products was initially raised as a concern.
Another bill, introduced by Speaker Mark-Viverito, would require DOHMH to provide feminine hygiene products to all female residents in temporary shelters (here meaning Department of Homeless Services family shelters and single adult women shelters, Department of Youth and Community Development shelters, and Human Resources Administration domestic violence shelters).
Tampons and pads are often in short supply in the city's shelters, where women are already often unable to purchase the products. SNAP, WIC, and flexible spending accounts cannot be used to buy tampons or pads. Congressional Rep. Grace Meng of Queens has introduced a bill that would reclassify feminine hygiene products so that they can be purchased with flexible spending accounts.
The third bill, also introduced by Mark-Viverito, would require the Department of Correction to provide inmates with feminine hygiene products immediately upon request, "unless so providing would be unsafe, in which case products would be required as soon as possible." This would be a slight, but potentially significant change to the current DOC policy, as it would allow women a form of recourse if their requests are denied. Currently, additional supplies are available upon request, but inmates allege that their requests are sometimes denied by correction officers for no legitimate reason or because those products are understocked in jails, forcing women to ration pads.
Under DOC's current policy, each housing unit of female inmates in Rikers' Rose M. Singer Center is given a box of 144 sanitary napkins each week (housing units hold up to fifty women, meaning each woman may get two to three pads a week - pads that are small and thin), according to an August, 2015 letter from DOC Commissioner Joseph Ponte to Mark-Viverito and Ferreas-Copeland and shared with Gotham Gazette. Ponte said in the letter that he had "not heard of any issues or complaints regarding access to these items."
Others say that's not the case. During a roundtable discussion on access to feminine hygiene products last summer, Ferreras-Copeland said she heard from representatives of the Women's Prison Association that "some women were reduced to using one pad for their whole cycle" and stories from women who have had "to show soiled pads before they get the new ones," both of which are harmful to a woman's menstrual health and dignity.
In an April interview, Ferreras-Copeland said her original idea was to have coin-free dispensers installed in women's prisons as well, but "there was fear that the actual vending machine could be used as a weapon," and so that option was scrapped.One county in Wisconsin approved a resolution last year authorizing Dane County to begin a pilot program to provide tampons and pads for free via coin-free dispensers in the restrooms of eight county buildings, including a correctional facility. Ferreras-Copeland added that she did not want to legislate the number of pads the DOC must provide to women because "who am I to say how many they need, I just want to make sure that they have enough."
On Wednesday, Ferreras-Copeland expressed excitement about the upcoming hearing to Gotham Gazette, but was not available for a follow-up interview.
Weiss-Wolf said in a statement that she is looking forward to testifying next week. "The bills' sponsors...and others," she wrote, "have taken an important step by acknowledging that the ability to access and afford menstrual products is a necessity for half the population, and that it is impossible to be an engaged student or productive citizen without these products."