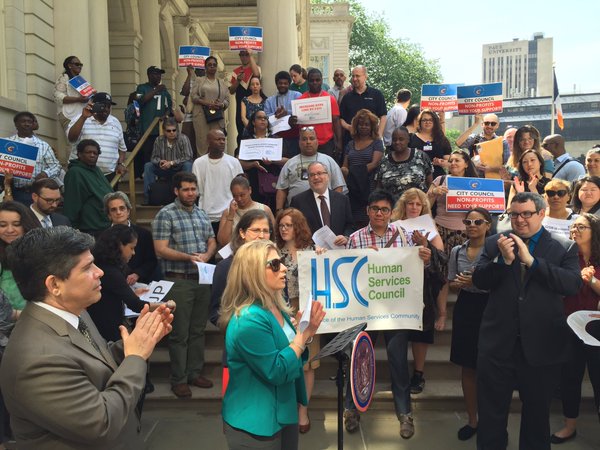 The Human Services Council and City Council Members rally at City Hall
---
On a hot and sunny day, dozens of nonprofit workers took to the steps of City Hall to call on Mayor Bill de Blasio to fund a 2.5 percent increase for the administrative costs of nonprofits that contract with the city. Forty-seven of 51 City Council members have signed on to a letter to de Blasio asking him to baseline the increase, an additional $25 million annually, into the budget as the city moves toward adopting a new spending plan. A budget deal between de Blasio and the Council is due by the start of the new fiscal year on July 1.
As nonprofits and their employees have strained under increasing costs for space, staff, and programming, sector leaders, workers, and legislators are pointing to what they say are flaws in how the city budgets funding for vital services.
The human services nonprofits requesting more funding from the city provide a wide range of services to the city's most vulnerable, including foster care, homelessness services, mental health care, immigrant services, early childhood literacy and after-school programs, home-care for the elderly, and more.
The city is required to provide many of these support services, but contracts them out to nonprofits to save money and increase efficiency. However, many of these nonprofits are on the brink of insolvency and are borrowing from banks to meet payroll and provide services due in part to decades of underfunding from federal, state, and city government.
"I've had to make some really hard decisions in this past year," said Marla Simpson, executive director of Brooklyn Community Services. "I can think of two programs that are very well run and much needed in our communities where we have had to choose to not fill vacant positions because we cannot afford to put the staff in that position and also pay the rent or the insurance bill."
The increase in "other than personnel funding" that nearly the entire City Council and a coalition of human services nonprofits - including the Human Services Council, the Federation of Protestant Welfare Agencies, the New York Immigration Coalition, Urban Pathways, and the Center Against Domestic Violence - are asking for would help city contracted nonprofits to afford staff development, rent, repairs, equipment, and technology. (City Council Members who did not sign the letter to de Blasio were Finance Chair Julissa Ferreras-Copeland, Council Speaker Melissa Mark-Viverito, Dan Garodnick and David Greenfield)
These nonprofits are "consistently paid 80 cents for every dollar of work," said chair of the Contracts Committee Helen Rosenthal, who spearheaded the letter to the mayor, referring to the fact that although government contracts account for the majority of nonprofits' budgets, they pay roughly 80 cents or less of each dollar of true program delivery costs. "Human services providers need funding…in order to effectively serve the at least 2.5 million New Yorkers in their care," Rosenthal added.
The de Blasio administration has taken steps to improve conditions for workers in the human services nonprofit sector, which employs over 200,000 New Yorkers, a majority of whom are women (four out of every five workers). In May of last year, de Blasio included a 2.5 percent cost of living adjustment increase for some of the city's human services providers, and this January, announced a $15 minimum wage for all workers contracted by the city.
Yet more needs to be done, Council members and advocates say, to meet the demands of a sector whose workers are increasingly in need of the types of safety net programs (like Medicaid and food stamps) that they help to provide for others. The extra $25 million in funding is a relatively small ask in terms of the city's overall $82.2 billion executive budget, said some present at Thursday's rally.
"The city relies on nonprofit human services providers to deliver essential services on their behalf, but government contracts continually fail to cover the full cost of programs and payment is often late and unpredictable," said Allison Sesso, executive director of the Human Services Council. "This chronic underfunding prevents nonprofits from being able to make important investments in things like technology, building maintenance, and employee training, which compromises the quality of important programs and services on which countless individuals and families depend."
Thursday's rally and the letter to the mayor come after two oversight hearings on contracts in the past year, one of which was prompted by the release of a report from the Human Services Council that painted the picture of a sector in crisis: underfunded contracts with the city create budget gaps and diminish the quality of services nonprofits can provide, and contract payment is chronically late, forcing providers to turn to costly borrowing to meet their organization's needs, often accruing interest that is not covered by government contracts.
"If the city wants to build a bridge, if the city wants to build infrastructure, the city puts money in the budget into that. And if costs go over, we put more money in the budget to do that. That's what we do for infrastructure in this city, and that's what we have to start doing for our human services contracts," Rosenthal said at the rally.
"If costs go over, we have to put more money in the budget," Rosenthal concluded, returning to a comparison she made during the last contracts oversight hearing about the fact that many human services nonprofits are told to seek grants and other funding methods to account for the expenses that their government-funded contracts do not cover. At the time, Rosenthal pointed out that the city would never hire a construction company to build a $40 million bridge, then say to the construction company, "'We're going to pay you $35 million. Try to get philanthropy, foundations, or other jobs that you do to pay for the remaining $5 million.'"