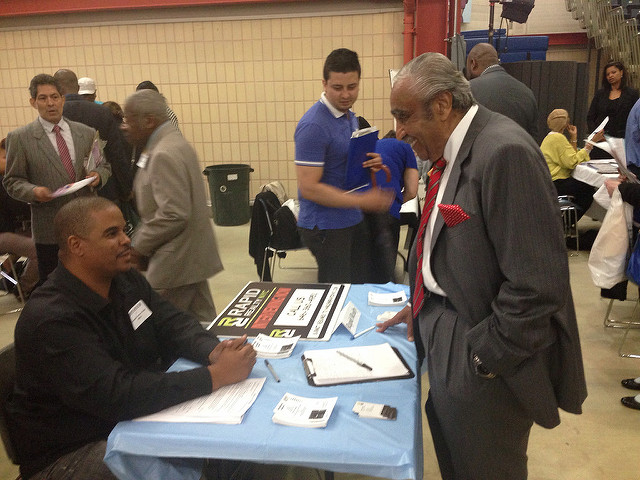 Rep. Charles Rangel is retiring (photo via Rep. Rangel on Flickr)
---
While many voters and most media are focused on the race for President, this year will also see all 435 seats in the U.S. House of Representatives and 34 of the 100 U.S. Senate seats on the ballot. New York's 27 seats in the House and one of its two Senate seats - the one held by Senator Charles Schumer - will be voted on during June 28 primaries and the November 8 general election.
In an odd - some say counterproductive and undemocratic - twist, New York is holding four election days this year. Many New Yorkers have already had the chance to vote in one election this year—the April 19 presidential primaries—and, in the fall, will have the opportunity to vote in September state Senate and state Assembly primary elections before the general election with all of the aforementioned offices on the ballot.
Ahead of the June 28 congressional primaries, things are largely quiet in New York City's 13 districts, though a few incumbents are being challenged and there is one particularly prominent primary - that to replace retiring U.S. Rep. Charles Rangel. Rangel is one of three congressional incumbents across the state not seeking reelection this year.
Twelve of New York City's 13 districts are currently represented by Democrats, with the exception of District 11, which includes Staten Island and part of Brooklyn and is represented by Rep. Daniel Donovan, who is not facing a primary challenge.
Rangel represents New York's thirteenth congressional district, which includes upper Manhattan and a small part of the Bronx. Rangel has served the area since 1971. His decision to retire has prompted a crowded field eager to fill the rare empty seat. That crowd includes state Senator Adriano Espaillat, who challenged Rangel in both 2012 and 2014. Rangel has endorsed Assembly Member Keith Wright as his chosen successor.
Christine Greer, a political science professor at Fordham University, says that Rangel's endorsement is a boon to Wright' campaign. "Having Charlie Rangel's endorsement is important because Charlie Rangel's people, who support [Wright], know they have to vote in June, not just in November," Greer told Gotham Gazette.
Greer says that the June congressional primary is often forgotten, especially since New Yorkers will be asked to go to the polls three other times this year. With a bevy of other Democratic candidates in the running, Rangel's endorsement could indeed be a difference-maker. It is a virtual certainty that the Democratic primary winner will win the general election in November and be seated in Congress come January.
Along with Wright and Espaillat, other Democratic primary candidates in NY13 are Assembly Member Guillermo Linares, Adam Clayton Powell IV, Clyde Williams, Suzan Johnson Cook, and Michael Gallagher.
In New York City, several Democratic congressional incumbents will face primary challengers, though they are expected to win reelection easily:
In District 5, which is located largely in Queens, incumbent Rep. Gregory Meeks will face Ali Mirza, a businessman and advocate for immigrants, according to his campaign website.
In District 7, which is mostly located in Brooklyn, incumbent Rep. Nydia Valázquez will face two Democratic challengers: Jeff Kurzon and Yungman Lee. Kurzon, an attorney, challenged Valázquez in 2014, but lost to the 24 year-incumbent. Lee is a community banker, who has worked as an attorney and a bank regulator, according to his campaign website.
In District 10, mostly in Manhattan, incumbent Rep. Jerrold Nadler will take on his first Democratic primary challenger in 20 years - Oliver Rosenberg. Rosenberg is a businessman, a banker, and advocate for the LGBTQ Jewish community, according to his campaign website.
In District 12, which includes parts of Manhattan and Queens, incumbent Rep. Carolyn Maloney is being challenged by Pete Lindner, who, according to his campaign website, is a statistical analyst and advocate for the national legalization of marijuana.
In District 15, in the Bronx, José Serrano, the incumbent, has served the district for 26 years. Democratic challenger Leonel Baez will also be on the ballot; however, it does not seem that Baez has made a strong effort to campaign (his official campaign website is limited).
Meanwhile, several city-based races appear that they will see incumbents unopposed in the primary. This will also be the case outside New York City. However, there will also be a number of contested races leading to November's Election Day, especially in places considered swing districts, where Republicans and Democrats have recently held the same seat or where party registration numbers are closer than they are in many heavily-Democratic New York City districts.
Within the bounds of New York City, only one congressional seat appears open to party oscillation - the eleventh congressional district, which includes Staten Island and part of Southern Brooklyn. That congressional seat is currently held by Daniel Donovan, a Republican, who succeeded his predecessor Michael Grimm in a 2015 special election called after Grimm pleaded guilty to tax fraud. Even while facing charges in 2014, Grimm had kept his seat in a reelection bid.
Donovan, formerly the Staten Island District Attorney, is heavily favored to keep the seat, though Richard Reichard, the Democratic challenger, and his supporters are looking to see how a likely Hillary Clinton-Donald Trump presidential matchup could help lift down-ballot Democrats.
David Birdsell, a professor and dean at Baruch College, doubts that the race will be competitive.
"This seat has seen a good deal of turnover in recent years, owing to redistricting and to incumbents' personal and legal troubles. Donovan won the special election handily against a Democrat and a Green Party candidate; he's drawing the same mix in the fall," said Birdsell.
Despite believing that there won't be much of a district 11 contest in November, Birdsell concedes that Trump's candidacy could potentially boost Democratic voter turnout. "[Trump's candidacy] could help Reichard in the eleventh, irrespective of what Republican voters think of Donovan's willingness to campaign on Trump's behalf. There isn't compelling evidence as yet that Trump has expanded GOP appeal, but he could yet deliver on the promise of lots of independent votes, and that could make a major difference in the other direction. Probably not enough so to make a difference in any city races with the possible exception of the eleventh."
While New Yorkers will vote for their congressional representatives in the House and for President come November, there will also be one New York Senate seat on the ballot as well as all 213 seats of the state Legislature. Incumbent Democratic Senator Chuck Schumer will be running for reelection against Republican candidate Wendy Long and Libertarian candidate Alex Merced. If Schumer wins, he would enter his fourth six-year term serving as a senator.
As of now, New York's two Senators are Democrats, as are 18 of its 27 congressional representatives. However, the U.S. Senate and U.S. House are both controlled by Republicans. November's elections will determine control of both houses, as well as the presidency.
Within New York, Democrats hold an overwhelming majority in the state Assembly, with more than 100 of the Assembly's 150 seats. The state Senate has a much more complicated picture, with its 63 seats split in somewhat strange fashion and control of the chamber on the line in November. Republicans currently hold 31 seats, not quite a majority, but one Democrat, Simcha Felder of Brooklyn, continues to caucus with them. There are also five members of the Independent Democratic Conference, which has a governing coalition with Republicans through this year. Democrats recently flipped one seat in a special election, that for the Long Island seat vacated by former Republican Majority Leader Dean Skelos, who was convicted on federal corruption charges.
In terms of party control of government and the policy ramifications thereof, there is a great deal at stake for New York and the country come November 8.
For the upcoming New York congressional primaries June 28, only voters registered with a party can vote - voters can check their registration through the state Board of Elections. New voters had to register several weeks ago to be eligible for this vote, while anyone changing party registration had to do so more than a year ago.
***
by Rebecca Oh, Gotham Gazette
@GothamGazette