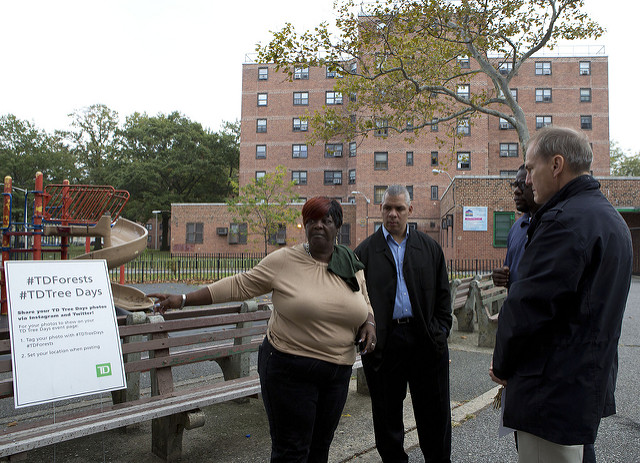 photo via NYCHA on Flickr
---
City Council Member Ritchie Torres and colleagues are introducing two new bills aimed at improving conditions and outcomes for residents of the city's public housing. About half a million people live in New York City Housing Authority (NYCHA) buildings.
Torres, a Bronx Democrat and chair of the Council's Committee on Public Housing, is hoping to spearhead a citywide expansion of a jobs program offered to residents of NYCHA and also proposing that the city track the health and effects of services provided to those residents.
On Wednesday, Torres and co-sponsors Council Members Rafael Salamanca Jr., Laurie Cumbo, Donovan Richards and Mark Treyger will introduce the two bills at the Council's full-body Stated Meeting. The first proposes an expansion of JobsPlus, a federal-local partnership program that works with nonprofits to provide site-based career services and ancillary supports to NYCHA residents. Besides job placement and training, the program also provides financial counseling, education, childcare, and transportation services, all aimed at ensuring stable career pathways for residents.
Under the bill, the city's Center for Economic Opportunity (CEO) would have a year to create a plan that expands JobsPlus from the nine current sites serving specific developments to the entire city. There would be one facility for each geographical zone identified by NYCHA. The plan would include estimated costs and a timeline for implementation and would be submitted to the Council Speaker, the Comptroller, and the Mayor.
"JobsPlus is the most successful workforce development program, the most successful jobs program that you've never heard of," Torres said in a phone interview with Gotham Gazette. "It's the best kept secret in public housing."
Torres cited the challenges that public housing residents face and the successes of the JobsPlus program in helping boost opportunity. According to CEO, about 46 percent of working-age residents in the city's 334 NYCHA developments do not report employment income and about 84 percent of households earn below the city's median income. A 2010 report by the MDRC found that average earnings for residents in developments targeted with a JobsPlus program increased by 16 percent and those effects stayed strong for three years after the program ended.
The program was first implemented in New York City in 2009 and then expanded to seven additional sites in 2013.
"My goal is to shine a light on the lack of opportunity in public housing and to offer what I believe is the most empirically proven workforce development program in public housing," Torres said. Comparing it to other such programs, he said JobsPlus is easier to gauge, owing to the division into geographical zones, and it provides the "missing ingredient" of financial empowerment that goes beyond wage increases.
Nonprofit providers who implement the program are, expectedly, excited about Torres' bill. "It's an ambitious and commendable aspiration," said David Garza, executive director of Henry Street Settlement, which implements the program on the Lower East Side.
Garza emphasized that JobsPlus enhances accessibility and the organization's ability to serve residents. "The 'Jobs' is all about employment. The 'Plus' is about vital support services to help individuals and families get stable," he said. These support services can include tax preparation, legal aid, financial advice, among other services.
The key aspect is that it meets needs on-site, at the developments. "JobsPlus in concept and in practice reflects that core element in our program design" of location-based services, Garza added.
"It's academic, it's practical, it's social," said Bishop Mitchell Taylor, CEO of Urban Upbound, another organization that implements JobsPlus in Astoria, Queens. Taylor said Urban Upbound was an early adopter, informally implementing the program since 2005 before eventually partnering with the city. "It's a great bite-sized way to get at unemployment in public housing neighborhoods," he said.
He called Torres a "visionary" and said the bill would be a "great opportunity for people that have been underserved and overlooked for a very long time." He pointed out that an important aspect of success in the program is neighbor-to-neighbor networking and community relationships.
Kizzie Brown-Duah, program director of JobsPlus at Bedford Stuyvesant Restoration, echoed the sentiment. "It's about connecting residents with the community and getting the word out," she said. Her organization has enrolled about 1,600 people in the program since it started three years ago and of those about 580 have received employment. "It's not just about getting them a job but helping them develop a career pathway and financial stability," Brown-Duah added. "It's a model that works."
The' second bill Torres and others are introducing would help measure the successes of the program. It requires the city to provide annual reports on the effects of services provides to NYCHA residents, including employment-related services (the number of residents placed into full-time or part-time jobs, for instance), outcomes of educational services and effects of financial assistance. The bill also mandates a survey of the health of public housing residents, determining whether they have access to health insurance and the approximate number of residents suffering from asthma, diabetes, obesity and HIV/AIDS.
[Listen: NYCHA's 'Core Challenge' - a conversation with Council Member Torres]