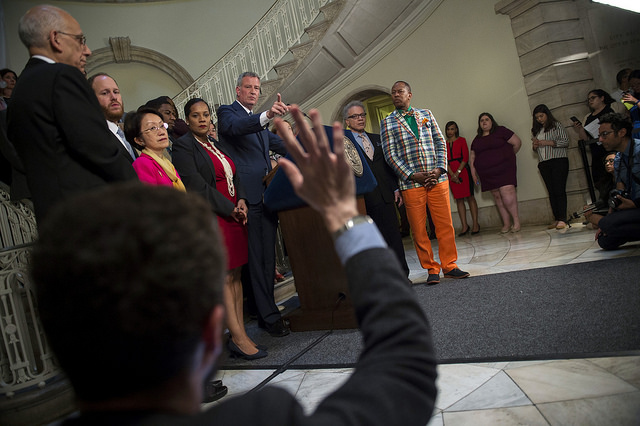 Mayor & Council members announce budget deal (photo: Ed Reed, Mayor's Office)
---
In the weeks leading up to Wednesday's budget agreement between Mayor Bill de Blasio and the City Council, a number of Council members decried what they said was underfunding of top Council priorities including summer youth employment, cultural institutions, libraries, senior services, and more. Consequently, the mayor conceded to most of those funding requests in the final deal.
Most, but not all. Two major issues -- additional funding for human services nonprofits contracted by the city and funding to ensure pay parity for pre-kindergarten providers -- were absent from the deal, leaving Council members, advocates, and those at relevant organizations reeling.
"I'm extremely disappointed," said Council Member Helen Rosenthal of the lack of additional nonprofit funding. "We ask these providers to do serious work for 2.5 million New Yorkers. When we underfund them, we're shortchanging New Yorkers."
The city contracts with nonprofits to provide a range of services including after-school programs, mental health services, food pantries, and senior care. Nonprofit providers have been warning of a crisis in the sector if the government does not step in to increase funding - they say that the city is not paying them for the full costs of their services. In January this year, Mayor Bill de Blasio took one big step in announcing a $15 an hour minimum wage for employees of nonprofits contracted by the city, but the contracts that the city awards must reflect these added compensation costs, along with rising rent and other operational fees, those who run these organizations say.
Rosenthal, who chairs the Council's committee on contracts, has been stressing the issue throughout the budget season. Last month, she led 46 other Council members in signing a letter to the mayor pushing him to baseline the additional funding, which would amount to about $25 million or a 2.5 percent increase. This funding would go to Other Than Personal Services (OTPS) costs, such as rent, supplies, maintenance and technology. If the city doesn't help nonprofits cover those costs, Rosenthal said, "We're going to have fewer staff and dirtier conditions."
Nonprofit closures, the worst case scenario, are also not that unlikely. About 18 percent of the city's roughly 3,700 nonprofits faced insolvency in 2013 and 27 percent operated on a deficit in 2014, according to a report by the Human Services Council (HSC), a coalition of nonprofit providers.
"The human services sector is in crisis that has a lot to do with government underfunding of contracts," said Allison Sesso, executive director of HSC. "We're relying on these nonprofits to address some of the city's most pressing issues like homelessness. How can they help struggling families if they're struggling themselves?" Sesso said the city missed an opportunity to "turn the tide in the right direction," but she was hopeful that efforts by advocates would yield results in the November modification to the budget.
Mayoral spokesperson Freddi Goldstein confirmed in an email that the funding was not included but said that "the administration is committed to the city's nonprofit sector and the New Yorkers it serves, including many of our most vulnerable. That is why we have made unprecedented investments in human services, including securing our contractors on the road to $15 an hour. We are always looking for ways to strengthen nonprofits and will continue to do so moving forward."
Another significant funding demand the administration did not meet in the budget is ensuring pay parity for pre-kindergarten providers, a long-running gripe for employees of Community Based Organizations (CBOs) who administer the city's universal pre-kindergarten mandate but whose employees receive lower pay and benefits than Department of Education employees doing the same work. A number of elected officials have supported the cause, including multiple City Council members and Public Advocate Letitia James. A spokesperson for the Council Speaker's office said though the funding wasn't in the budget for both pre-k pay parity and nonprofits, conversations on both issues are ongoing.
"If they want community-based programs to survive then they need to put the money forward," said Andrea Anthony, executive director of the Day Care Council of New York, which represents nonprofits that provide childcare services at city-funded centers. "You can't have the DOE competing with small nonprofits for the same pot of professionals and children."
Currently, the Day Care Council is engaged in union contract negotiations with the Council of School Supervisors and Administrators (CSA), which is one reason the administration stated it hadn't included funding for pay parity in the budget. "The City is engaged in those discussions and supportive of the negotiations underway – but it's a collective bargaining process between the providers and the unions," said Goldstein, the mayoral spokesperson, by email.
Several Council members who have been vocal on the issue did not comment for this article. Council Member Rosenthal said she wasn't familiar with progress on the contract negotiations. A spokesperson for Council Member Stephen Levin said they were waiting for final budget documents to be posted and Council Member Elizabeth Crowley was unavailable for comment.
Anthony of the Day Care Council said union negotiations over salary and benefits would likely be concluded within a month and the union has been supportive of reaching parity levels for pre-k teachers. "They understand that without certified teachers, these organizations cannot function," she said.
CSA Director of Communications Clem Richardson said the union wasn't averse to raises for teachers but that their primary concern was the directors at CBOs who often make less than pre-kindergarten teachers. "We believe everyone who takes care of children deserve a living wage in this very expensive city that we live in," he said in a phone interview. He said there had been no progress at a negotiation meeting on Monday but another meeting was scheduled for later this month. He was also optimistic that the final 2017 budget would include funding to accommodate these raises. The City Council is set to vote the budget through on Tuesday, though there is always the November budget modification. The fiscal year begins July 1.
Richardson's optimism was echoed by Stephanie Gendell, associate executive director of the Citizens Committee for Children, an advocacy group. "We remain hopeful as labor negotiations continue," she said, "that the city will come to an agreement that includes salary parity for the early childhood education workforce."