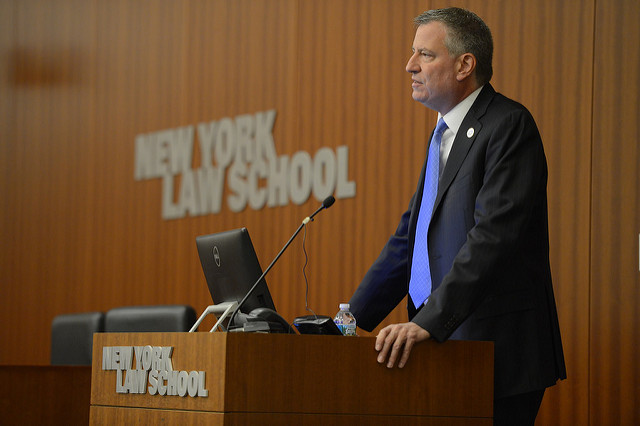 Mayor de Blasio, 2014 (photo: Rob Bennett/Mayor's Office)
---
In the early stages of Mayor Bill de Blasio's run for office in 2013, thousands of small donations flooded in but big donors were rare. "I will admit to you there was a time early in the mayoral campaign when a maximum donation was a very unusual thing in our campaign, so it certainly got attention then," the mayor said, at a June 15 news conference.
As the situation changed and bigger donations became more "typical," the mayor said his campaign was careful about vetting big donors. His instructions were "to look carefully at every donation, and there was a thorough vetting process, and whenever there was a feeling on behalf of the lawyers and others who looked at it that a donation did not make sense to accept, it was returned," he said.
Even then, however, questionable donors, some of whom may have flouted the rules, slipped through the cracks.There were the two businessmen, Jona Rechnitz and Jeremy Reichberg, who donated and raised large sums of money for the mayor and are now at the center of a federal investigation into the bribery of top NYPD officers. Just last month, Reichberg and three high-ranking police officers were arrested in connection with the case.
In a June 10 radio interview with WNYC's Brian Lehrer, when asked about Rechnitz, the mayor said, "We try to vet things very, very carefully but even with careful vetting you can't always pick up what someone's intentions are." Earlier, in April, a spokesperson for the mayor's 2013 campaign said that they would return the $9,900 donated by Rechnitz and his wife. Following that, in May, DNAinfo found cases of possible straw donations -- in which a person illegally contributes another individual's money under their own name -- made to the mayor in 2013, which prompted the mayor's campaign to refund $32,200 to seven donors. Individuals can donate a maximum of $4,950 to a citywide candidate in an election and can only donate from personal funds.
Experts agree that the size and volume of donations in most modern day elections makes donor vetting a daunting but necessary task. It'll be particularly important for de Blasio as his 2017 re-election operation ramps up amid scrutiny at multiple levels around his fundraising practices, which originally stemmed from the probe into the NYPD and expanded to include allegations of pay-to-play relationships with top donors.
At the June 15 conference, de Blasio also told reporters that his lawyers have clear instructions for campaign staff ahead of 2017 and "the bottom-line, which I'm certainly aware of, is vet before you deposit," he said. "So a check can come in, and you have no idea it's coming in. It can come in the mail, it can come in at an event, but you have to vet it before depositing and be very careful and make sure that everything is proper."
That's a rule that former political consultant Cynthia Darrison lived by. Darrison, who now teaches campaign fundraising at New York University, has worked for campaigns at the city, state and federal level. "If we got a check from someone we don't know, we wanted to know - why is this person giving to us? Who is this person?," said Darrison, in a phone interview, referring to her time working for late Senator Daniel Patrick Moynihan's campaign. "My basic motto is: paranoia is usually good and warranted," she added.
She pointed out some clear red flags that campaigns should look for to avoid what she calls "dicey spicy" contributions. For instance, when a campaign receives sequential money orders at a fundraiser, in multiples of the admission price.
She laid out the dos and don'ts of fundraising. The first step is a simple online search of the donor to check for any possible news stories or negative headlines. Another resource, she said, is LexisNexis, a massive online database for public records often used by journalists and legal researchers. For citywide candidates, she collected employee and employer information and ran names against the city's vendor tracking system, VENDEX, and against the Doing Business Database which lists companies and individuals with business before the city. She also checked for any possible investigations of a donor by the Department of Investigation. Online contributions are trickier, however, since they're automatically accepted and deposited. "You still need to vet them and refund if necessary," she said.
Daniel Bright, a lawyer who worked for President Obama's New York campaign in 2008, doesn't think there's any one standard practice for vetting donors. "It's almost impossible to have a foolproof system," he said, especially considering some campaigns, like de Blasio's, can get thousands of donations. "When you run for citywide office, lots of people come to fundraisers and you don't know who they are," he said. "I don't really know how you could vet everybody who writes you a check…. Everyone wants to be friends with the mayor and other public elected officials."
He said campaigns should be wary of suspicious behavior and patterns that suggest impropriety, such as the same handwriting on multiple checks. "One obvious flag is large checks from people with jobs who don't usually write large checks," he said. Darrison raised the same concern. "If you see that they're a factory worker or a beautician and they're giving a $10,000 donation, you have to wonder, what's going on here?" she said, "Is this credible?" This was apparent in the donations exposed by DNAinfo, where they found that two commercial drivers who were employed by a wholesaler donated about $10,000 each to Mayor de Blasio's campaign and transition team.
It's unclear whether the mayor has dedicated more resources to vetting donations for his 2017 campaign. Multiple requests for comment to a campaign spokesperson went unanswered. Last week, the mayor's senior advisor Phil Walzak, appearing on NY1, gave host Errol Louis a sense of the process. Walzak said, "We look at people. We look at their backgrounds. We look at the public documents and records that's available about someone's past and we try as hard as we can to intercept any potential problem at its core. If there are circumstances where someone may have gotten through the screen, we move swiftly to repair that."
Costas Panagopoulos, director of the Center for Electoral Politics and Democracy at Fordham University, said, "My sense is that campaigns take the money first and then ask questions later. There's no specific vetting process that happens systematically in most campaigns and if campaigns discover that a donor is problematic or a contribution is problematic for any reason they'll usually send it back." He also stressed that campaigns have to work quickly to raise significant sums of money in a short period of time, making it difficult to vet every contribution. Sometimes, he said, the monitoring happens "after the fact, after they've already accepted the contributions."
Often, that monitoring is done by the media or by political opponents, said Bright. He said contributions are usually returned either in response to a news article or revealed through opposition research done by the person running against a candidate. "That's a standard practice," he added.