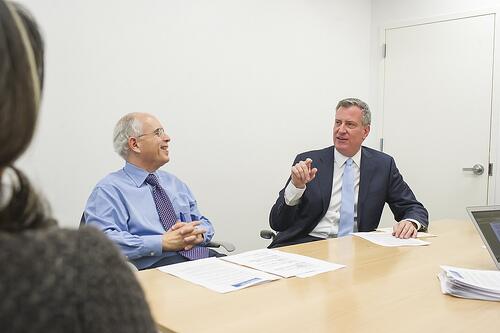 Mayor de Blasio & First Deputy Mayor Shorris in 2013 (photo: @NYCTransition)
---
Two recent reports on City Hall's role in the questionable lifting of deed restrictions on a nursing home property issued scathing indictments of both process and personnel in the de Blasio administration. They revealed mismanagement and miscommunication that belies Mayor Bill de Blasio's own attempts to portray City Hall and its agencies as well-oiled machines that deliver swift and efficient services to the people of New York.
The reports, one by the Department of Investigation and one by Comptroller Scott Stringer, paint a picture of dysfunction and raise significant questions about oversight by First Deputy Mayor Tony Shorris. De Blasio has acknowledged gaps in communication while defending Shorris unequivocally.
The Department of Investigation report, released July 14, found "a complete lack of accountability within City government regarding deed restriction removals and significant communication failures between and within City Hall and DCAS."
Comptroller Stringer's report, released August 1, stated that Rivington House, the nursing home property, "was allowed to slip away not so much because of poor City processes, but because of poor execution of those processes in a manner that undermined both public input and the interests of the City…[S]enior City officials required agency commissioners to prepare weekly reports but then chose not to read them...decisions were made but never communicated to subordinates, and...a lack of vigilance allowed a single individual to gain control of a valued community resource."
The deal in question involved Rivington House, a nursing home on the Lower East Side that was restricted to use as a non-profit health care facility until last year when the Department of Citywide Administrative Services (DCAS) allowed two deed restrictions on the property to be lifted. The owner, the Allure Group, paid the city $16 million to lift the deed restrictions, and then quickly sold the property to a luxury condominium developer for a $72 million profit.
In March, after the Wall Street Journal first reported that Stringer was looking into the Rivington House deal, the mayor said in a subsequent news conference that it was the first time he had heard of the problematic deal. Acknowledging that agency officials had made mistakes, the mayor promised to overhaul procedures at DCAS and at City Hall. He said that if he had been notified of what was going on he would have put a stop to it and that the moves did not represent the values of his administration. He also laid blame on the Allure Group for misleading city officials.
It later emerged that the Department of Investigation (DOI) was already looking into the transaction, referred to it by DCAS Commissioner Lisette Camilo in consultation with the Mayor's Office. The deal also drew the attention of the state Attorney General, Eric Schneiderman, whose office has yet to conclude its investigation.
On July 14, DOI issued its investigative report, which was critical of the role that DCAS, the Law Department, and the Mayor's Office of Contract Services (MOCS) played in letting the deal go through without adequate analysis of whether it was in the best interests of the city. The investigation found that top officials at City Hall and DCAS were well aware of the deal and did not raise any objections or attempt to ensure the property would continue to serve a purpose for the community. It also pointed out that DCAS employees were aware that the Allure Group was considering selling the property to a private developer.
The investigation was also clouded by controversy. DOI revealed that the mayor's office had withheld information from investigators, ultimately hampering their findings. De Blasio has persistently denied these allegations, while admitting that some paperwork had been redacted and pointing to natural tension between the Law Department and DOI.
In his report, Comptroller Stringer echoed many DOI findings. He pointed to failures of communication at multiple points between City Hall and DCAS and said the officials involved were at fault, not the process itself. This contradicted most of de Blasio's focus on the need to update the deed restriction removal process as a result of the incident. While Stringer said updated procedures area good idea, it was poor management and "information flow" that led to the mistaken deal on Rivington House.
Stringer's report notes that more than 40 officials were involved in the deal, including three agency heads and three deputy mayors, but no red flags were raised. It also criticizes DCAS for undervaluing the property in its appraisal and stated that the efforts to solicit public input on the deal were inadequate.
Neither report directly faults Mayor Bill de Blasio, who maintains he had no knowledge of the proceedings until after the fact. There is one key email that was sent to de Blasio that the mayor says he did not read.
The comptroller's report also placed individual blame; first on Joel Landau, Allure Group principal, for exploiting the system and misrepresenting the company's intentions; and secondly, but more importantly, on First Deputy Mayor Shorris for ignoring memos about the Rivington deal sent to him by the DCAS commissioner and not ensuring adequate internal systems.
Despite the clear failings of his top functionaries, the mayor has presented a full-throated defense of his administration, blaming flawed procedures inherited from earlier administrations and the bad actor that deceived the city in this particular case. De Blasio has admitted that mistakes were made by his administration, but has been loathe to hold anyone to account.
At an unrelated news conference on July 25, in response to a question from Gotham Gazette about Shorris' role in the deed change, the mayor said, "I don't have a concern. I think Tony Shorris is one of the finest public servants I've ever worked with, and he has an immense amount of material he has to deal with. I think he deals with it very well in a very organized fashion."
The mayor reiterated that the city's policies on deed restrictions needed to be reevaluated and, taking full responsibility, he said, "[W]e should've understood that the underlying policy did not represent our values."
Later that week, on WNYC's The Brian Lehrer Show, the mayor said he had "total confidence" in Shorris, who "probably has the most on his plate" of anyone in the administration. "A deed restriction change – you can understand – might not be on the top of anyone's list on a given day," he added. Both investigative reports noted that Shorris was given updates of the Rivington deal at multiple occasions, receiving weekly memos which he did not read. Neither Shorris nor other top city officials thought that Rivington House was an important matter.
This was an unsatisfactory explanation for Doug Muzzio, political science professor at Baruch College's School of Public and International Affairs, who believes Shorris dropped the ball. "He's doing a million things," Muzzio said of Shorris, "but that doesn't absolve him of a management and communications error."
What irks Muzzio most about the Rivington House situation was how the administration dealt with the fallout. "In and of itself, the Rivington case isn't a major deal," said Muzzio. "It's the sidestepping and stonewalling, the half-truths, untruths, and sophistry," which are. "It's part of this administration's DNA," he added.
"One could argue it was a minor deal and people gave it perfunctory attention," he said, "but it shows that, after the fact, communication was lousy."
At the July 25 news conference, de Blasio said of Shorris, "I think if you look across the whole range of issues he deals with…this is one of the only things you can say like this. It's a pretty damn good batting average on his part."
Kenneth Sherrill, professor emeritus of political science at Hunter College, called the selling of Rivington House to a condo developer a "civic tragedy" considering the historical importance of the building as a home for HIV/AIDS patients. But Sherrill doesn't believe there was any intentional wrongdoing or gross incompetence. "What ended up seeming to be massive incompetence could've been the cumulative effect of a lot of small mistakes," he said in phone interview.
Sherrill said the administration was on its back foot once the news broke that the deal was being scrutinized. "It's very difficult to get ahead of this kind of story once it's broken so City Hall was playing catch up," he said.