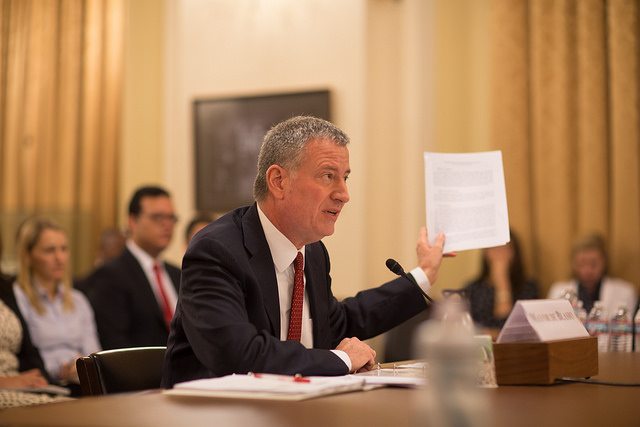 Mayor de Blasio (photo: Michael Appleton/Mayoral Photography Office)
---
A bureaucratic procedure gone wrong has turned out to be a major headache for Mayor Bill de Blasio that refuses to go away. Even after two recent and damning investigative reports, one city agency maintains its investigation is "ongoing" given newly turned over information and the state Attorney General is still looking into the matter.
The lifting of deed restrictions on Rivington House, a nursing home on the Lower East Side of Manhattan, which allowed the property owner to sell to a luxury condo developer at massive profit, has been scrutinized and criticized over the past several months. Mayor Bill de Blasio has admitted that his administration made a significant mistake, but there have been more questions than answers.
With allegations of impropriety swirling, de Blasio insisted that there was no inappropriate intent, only poor communication and an outdated deed restriction removal process. Two reports on the matter - one each from the city's Department of Investigation and Comptroller Scott Stringer's office - sought to answers some of the lingering questions and both painted a picture of City Hall mismanagement, though not criminality. A third investigation, by Attorney General Eric Schneiderman's office, continues.
But while the DOI did release a report on the Rivington matter, that investigation featured condemnation of City Hall for redacting information and limiting access to computers. Now, after DOI threatened to sue and City Hall granted more access, DOI has indicated that it still has "an ongoing investigation," according to a spokesperson for DOI, who declined to comment further.
The watchdog agency could issue a follow-up to its report given new information, which, it said in a press release upon receiving the unredacted documents, includes an essential de Blasio administration memo on the Rivington matter.
While DOI continues its Rivington investigation, the Comptroller's office confirmed to Gotham Gazette that its report on the deal is final and that Comptroller Stringer has nothing else to add at this time.
The two reports mainly criticized City Hall for poor communication with city agencies and allowing the Rivington deal to go through without the proper checks and oversight that would have stopped such a transaction.
The DOI report, released July 14, found a stark absence of accountability in how the city deals with deed changes and a lack of vigilance among city officials who knew of the deal yet did little to ensure adequate public benefit. It stated that City Hall pleaded ignorance of the details despite having been informed at multiple occasions by agency subordinates.
The Comptroller's report from August 1 was more pointed in assigning blame, stating that though the process could be improved, the problem largely stemmed from failure in execution and communication by city officials.
Both reports showed that First Deputy Mayor Tony Shorris was not overseeing the related deliberations and processes with clarity, and no one from his office was reading reports that contained key information. Neither the DOI report nor Stringer's report found that Mayor de Blasio was at fault or even aware of the deal.
That the DOI should consider the matter still open is not surprising. Its report pointed out that it did not receive all the information and documents requested and that the Law Department denied access to computers at City Hall. DOI claimed that "a substantial number of documents" that it did receive were redacted by the Law Department. The report concluded, "Because DOI did not receive a full production of what it requested, it is unclear what Rivington-related information remains on the City Hall servers and computers, to which DOI was denied access."
A tense back and forth followed, with Mayor de Blasio and the Law Department, led by Corporation Counsel Zachary Carter, at first denying claims that DOI's investigation was hindered in any way. "There's been a huge effort made by various elements of the administration to be cooperative and helpful to DOI and obviously the other entities that are investigating," the mayor said following the release of the report.
"A huge amount of material was provided," he said. "There was a lot of transparency. The Law Department has a job to do, to make sure things are done the right way. And there's a natural institutional tension between the two agencies...I'm very convinced that everything was provided that was necessary, and clearly [DOI was] able to come up with a comprehensive report."
The apparent attempts to obfuscate the investigation have been a separate but related source of criticism to the issues that led to the Rivington mishap, the likes of which de Blasio has pledged will never happen again. In part, he says, because all deed restriction lifts will go through the Mayor's desk.
A week after DOI's report, Inspector General Jodi Franzese wrote to Carter asking that the Law Department give them the information and access they were denied in the investigation. "DOI has the exclusive prerogative to determine how it conducts its investigations and what information is relevant to its investigations," Franzese wrote. "Neither City Hall, Law, nor any other City agency or official is entitled to interfere or refuse to cooperate with a DOI investigation or determine what material is relevant to that investigation."
Five days later, under DOI's threat of legal action, Carter released thousands of pages of documents and gave DOI access to City Hall computers. One of the crucial pieces of documentation to emerge was a July 2014 memo that showed city officials had reviewed the benefits and possible drawbacks of converting Rivington House to condominiums. (Carter had also redacted a deed restriction waiver for the Harlem Dance Theater in a separate transaction.)
The newly unredacted memo shows detailed consideration of the deed restriction removal and various options for the Rivington property, indicating a good deal of attention from administration officials about the situation. It is the type of deliberation that de Blasio had indicated did not go into the decision to lift the deed restrictions, which he assigned to miscommunication and bad process, which left a lack of scrutiny over whether lifting deed restrictions on any property advance the city's interests.
While DOI says the investigation continues, that does not necessarily mean that it will release additional findings, a new report, or an addendum to its prior report. A DOI spokesperson declined to give indication about what the public could anticipate may come from examination of new information.
Dick Dadey, executive director of Citizens Union, a government reform group, criticized the mayor and the Law Department about their cooperation - or lack thereof - with DOI, insisting that the response to the investigations was the "exact opposite" of what should have happened.
Zachary Carter's obligation is to the people of New York City rather than the mayor, Dadey said, and that his actions came across as an attempt to protect de Blasio. "There are a lot of questions about this whole process and who is going to be held accountable for the mistakes that were made along the way," Dadey told Gotham Gazette. "That the corporation counsel's office now seems to have attempted to conceal needed information from the DOI raises even more questions about the integrity of this investigation and whether or not we will get to the truth about what happened."
Note: Gotham Gazette is an independent publication of Citizens Union Foundation, sister organization of Citizens Union.