Â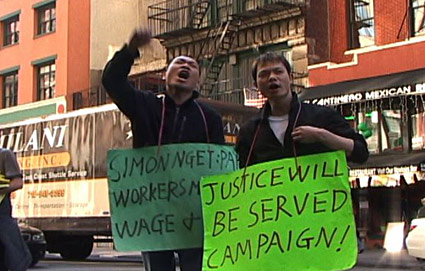 Republic, a popular restaurant that serves Asian noodle by Union Square, is not your typical Asian restaurant with fluorescent lighting and $2 hot and sour soup. The chic lounge-like restaurant features a full bar where a lychee martini can cost $10, and the average wait on a Friday night is 30 to 40 minutes.
However, under the trendy façade, the restaurant owners treat their deliverymen differs basically the same way as the proprietors of many Chinatown restaurants where employees work for little pay under harsh conditions, according to some deliverymen who worked at Republic. They said they often work as many as six days a week, and more than 65 hours a week, for wages as low as $175 per week and without overtime pay. In other words, they make less than $2.70 per hour.
Eight deliverymen decided to take actions against the restaurant, which is a part of restaurateur Jonathan Morr's restaurant empire, the Jonathan Morr Group. The company owns several trendy restaurants in New York, including Bond Street, Indochine, Kittichai and Town.
In May 2007, the Asian American Legal Defense and Education Fund and a New York law firm, Davis Polk & Wardwell, filed suit on the men's on their behalf by. After the filing of the complaint, the restaurant retaliated by cutting the worker's hours, fining them for minor infractions and serving rotten food for their free meals, the men told the New York Post.
This was the latest in a round of lawsuits involving restaurant deliveries brought in a city where many residents reply heavily on take-out food, the lawsuit attracted widespread attention. In a previous case, Saigon Grill restaurants had to pay some of its former deliverymen a total of $4.6 million for back pay and compensation.
"It's really about dignity. End the retaliation, and respect the workers for asking what they are entitled to," said Mika Nagasaki, an organizer for Justice Will Be Served! Campaign, which held a protest outside Republic last month.
"The mistreatment of delivery workers is a widespread problem throughout New York City," said Ken Kimerling, legal director of the Asian American Legal Defense and Education Fund. "Restaurants make millions of dollars from the take-out and delivery of meals, yet they often pay less than the minimum wage and rarely pay overtime to the workers who provide these services."
The Saigon Grill Case
The Saigon Grill case, a landmark case in New York City's recent labor movement, could set the precedent for deliverymen in the city. It also was organized by Justice Will Be Served, an umbrella group consisting of 318 Restaurant Workers Union, Chinese Staff and Workers Association and National Mobilization Against Sweatshops.
According to papers filed on behalf of 36 deliverymen in 2007, Saigon Grill, a popular chain with restaurants in Upper West Side and Greenwich Village, paid only $520 a month to many deliverymen who worked more than 260 hours each month. This averaged out to under $2 an hour, far less than the legal minimum wage.
On Oct, 20, Judge Michael Dolinger of U.S. District Court in Manhattan ruled against Saigon Grill and its owners, Simon and Michelle Nget, saying, "At a minimum, Simon Nget and Michelle Nget showed no regard whatsoever for legal requirements in connection with their wage policies."
He also found that the company had illegally retaliated against 23 delivery workers by firing them after they filed the complaint, but he has not rendered a judgment on that issue.
"I believe in united power. All of the workers need to come together, " said Jerry Weng, a worker at Ollie's, a popular noodle shop chain which was sued by its employees in 2007. He told Gothamist that the Saigon Grill victory is inspiring him and his coworkers to demand just pay.
Josephine Lee of Justice Will Be Served told the New York Times that as a result of the Saigon Grill case. "Many restaurants have already started to pay their deliverymen much better," she said, adding that seven of the workers have been rehired.
Meanwhile, on Dec. 2, Saigon Grill owners, Simon Nget and Michelle Nget were arrested on more than 400 criminal charges, including violating minimum-wage laws, falsifying business records and defrauding the state's unemployment insurance system.
According to state Attorney General Andrew Cuomo those charges arose from allegedly fake payroll records that the Ngets submitted to the State Department of Labor during an investigation. Cuomo's office said the couple had tried to reduce their unemployment insurance taxes by not reporting the employment of more than 65 people. The Ngets face charges that might lead to up to four years in prison.
Pay for Immigrants
While the courts appear to be siding with the deliverymen, the Saigon Grill and Republic cases have generated heated debate over compensation for the restaurant workers. Some bloggers said these deliverymen are undocumented immigrants and should be rounded by the authorities.
"They come here illegally, make money to send back to their countries so it's not even going back into the economy, pay no taxes yet use our services," wrote Lisa L. in a post on the New York Post's website.
"These are clearly illegal immigrants…It is their presence in this country that allows an employer to get away with those kinds of wages. Legal immigrants and citizens would never stand for it," wrote Michael F. in a post on nytimes.com.
But Naomi, also on nytimes.com, argued that immigration status should not be the issue. "I believe the point is that minimum wage is law in the U.S., and thus, it should be enforced, judgments on the legality of the immigrants' status not an issue in this case - rather that the employers are breaking the law," she wrote.
Changingfaces on Washingtonpost.com shared Naomi's opinion: "I think all immigrants should have the right to protest unfair labor conditions. Teach those businesses a lesson: people aren't slaves and just because they come from a different country and are trying to make a better life for themselves, doesn't mean you can take advantage of them."
Meanwhile, some bloggers said the restaurant has to exploit their workers in order to keep the prices low.
"If they pay the workers a fair wage, then Republic will have no choice but to charge 50 bucks for noodles!" wrote Babyhitler on Gothamist.com.
"So the result of the strikes would probably be higher prices for the consumer. …And they keep telling us that illegal immigrants keep our prices down. I say raise the wages where Americans workers will work at them, then you wouldn't have half the illegal immigrants that we do now," wrote Ednafreeman1 on Washingtonpost.com.
Larry Tung, a native of Taiwan, teaches media and film courses at Kean University in Union, New Jersey. He is also a documentary filmmaker whose work focuses on immigrant and Asian American issues.