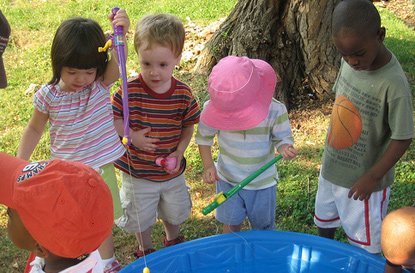 Many parents in New York, particularly lower-income ones, struggle to find safe, affordable childcare. Although New York City offers low-cost or free childcare, there are not enough places for every child. And even when a program is available, many immigrant families do not know how to navigate the complicated system to receive this service.
A new study by the Coalition for Asian American Children and Families makes it clear that the needs of many immigrant children are not being met. According to the 2000 Census, more than 54 percent of children in New York City live in immigrant families. The study focused on six immigrant communities in the city: Bangladeshi, Chinese, Dominican, Haitian, Korean and Russian.
More than 345,500 children under age six from low-income families qualify for city childcare programs, but the city has space for less than 100,000 youngsters. This places a particular burden on families who cannot afford private childcare, which costs $180 per week for preschool and $267 for infant care, the Coalition for Asian American Children study found.
"We want to figure out what kind of political, policy or implementation barriers are keeping immigrant families from accessing these programs," Wayne Ho, executive director of the coalition. "We want to provide a voice for immigrant parents so that they can share what their perspectives, preferences and expectations are for early childhood education."
Faced with a shortage of places, many families resort to informal care, such as unlicensed family members or someone they know socially. However, many immigrants do not even have that option since they work irregular hours. So some immigrant families send their children back to their native countries to be raised by the grandparents. In the Fujianese community, this arrangement is so common that services are available to transport babies between the U.S. and China. Most Fujianese children, though, remain here.
"About 80 percent of our children are Fujianese," said Sandy Kwok Lo, assistant director of the Childhood Henry Street Settlement Day Care Center on the Lower East Side. "Many of their parents work out of state so they entrusted their kids to the grandparents or babysitters. Their communication skills are so low and they are not well versed in American culture. ... They simply have no time or skill to monitor the children."
"Many of these children have developmental, social, and emotional issues," added Lo. "So we are starting to notice the need to refer them to special services."
Lack of Affordable Childcare
Currently there are three types of early childhood education available in the city, including the Child Care and Head Start programs, administered by the New York City Administration for Children's Service. Child Care is a subsidized program that aims to support working families and is for children up to age 13. Head Start seeks to promote school readiness and child development and is free for children ages 3 to 5 from very low-income families.
The third program is the universal pre-kindergarten program for all 4-year-olds in the city. It is offered as a half-day or full day program in local elementary schools and community-based sites, and there is no eligibility requirement or fees. However, many parents complain that their children did not get into the school of their choice -- or even a school nearby -- and that there are not enough full-day programs.
Meanwhile, according to the coalition study, from 1995 to 2005, New York City has witnessed a major increase in the use of informal care, in which an unregulated caregiver watches up to two children at home. This accompanies a decrease in enrollment in daycare centers and in family and group childcare, where licensed care providers, with an assistant, can take care of up to 12 children at their residence.
To address this, the Administration for Children's Services is launching an ambitious plan called "Project Full Enrollment" to fills all the spaces in the city's childcare programs. The average cost per child including administrative expenses is $13,000 per year. According to this plan, childcare providers will be reimbursed for the actual number of children enrolled rather than the projected budget.
Training Providers
Once enrolled in daycare, an immigrant child may confront special issues. The Coalition for Asian American Children and Families study points to a growing need for bilingual teachers and for training to help providers reach and serve the diverse immigrant communities in New York City.
"The greatest need is to hire more bilingual staff," said one of the program directors interviewed. "We saw a dramatic increase in enrollment when bilingual staff was hired, material translated and staff represented the community."
In the Henry Street Settlement Day Care Center, which serves 97 children at full capacity, Lo said she makes sure that at least there is one Chinese-speaking staff in each classroom.
Many providers, though, complain that funding from the city is not adequate to provide the kind of staff and training to better respond to the needs of immigrant families -- particularly given the high cost of real estate in the five borough. Many of them said they need more money to offer translation services.
"The biggest challenge for my program is to ensure that the materials that the parents should be reviewing are available in Chinese," said Nina Piros, director of early childhood programs at the University Settlement on the Lower East Side, which serves 149 children, most of them Chinese. "It is not something that is budgeted in terms of cost for translation. Most programs don't have it covered."
Another problem, Piros pointed out, is finding qualified staff, other than paraprofessional and entry-level employees, who are bilingual Chinese speakers.
"We had openings for a daycare center director and social worker with a MSW (Master of Social Work) last year, and we were hoping to hire bilingual Chinese speakers to reflect our community," said Piros. "But we did not get even one applicant with that kind of background."
Families' Knowledge and Awareness
Many parents, the coalition's report found, experience difficulties obtaining services because of lack of knowledge and language skills. Literacy Assistance Center's Referral Hotline, funded by New York State and New York City, was recently terminated. Now parents have to call 311, the city's official information line. To better reach the immigrant communities, the coalition study calls for more direct outreach in ethnic media. It also advocates a partnership between higher education institutions and communities to research the needs of immigrant communities and provide training for childcare providers.
"I think the biggest challenge really comes down to outreach and education," said Ho, the coalition's executive director. "Immigrant families just don't know what resources are out there. The communications that they get about services are either incorrect regarding whether undocumented immigrants or legal permanent residents can access these programs. These communications are not translated, and if they are translated, the translations are often wrong or incorrect."
That leaves many parents unsure about what to do.
"It is crazy and hard," said a Haitian parent interviewed in the report. "It would be hard to access childcare as a new immigrant even if you speak the language. It is a difficult process anyway."
Many immigrants are reluctant to take advantage of the subsidized childcare because they believe it will hurt their chances for citizenship.
"I think I would prefer to use a private Korean childcare center because it is an easier process and I don't feel comfortable disclosing personal information," said a Korean parent. "If I use any public assistance it could jeopardize my citizenship."
Clearly, though, the demand for childcare remains huge.
"I have people coming from all boroughs to ask me to help them with their applications," said Lo. "Many parents call every week. I must have 10 or 15 pages of waiting list. I don't even know how to return their calls."
Larry Tung, a native of Taiwan, teaches media and film courses at Kean University in Union, New Jersey. He is also a documentary filmmaker whose work focuses on immigrant and Asian American issues. Â