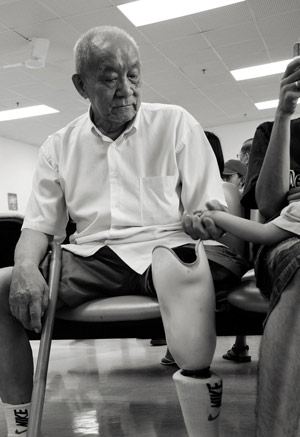 A trip to the hospital poses challenges for everyone -- stressful conditions, baffling paperwork, unfamiliar terms and frightening circumstances. People with limited English proficiency often find the situation even more daunting. For years, New Yorkers who did not speak English well often had to enlist family members or friends as interpreters, sometimes requiring them to miss a day of school or work.
Now, though, that may be starting to change, according to a recent study. Since the New York State Department of Health adopted new regulations on language access and patient rights more than a year ago, hospitals have improved their communications with patients who speak limited or no English, particularly those who speak Spanish.
For the study, Make the Road New York, the New York Immigration Coalition and Korean Community Services of Metropolitan New York monitored 10 private and public hospitals in New York City in late 2007 and early 2008. They focused on Spanish and Korean-speaking patients. The study found that there is significant progress with Spanish-speaking patients but communications with Korean-speaking patients remain a problem.
"It's impossible to provide quality health care unless patients can communicate their symptoms clearly, understand their diagnosis and knowingly consent to medical procedures," said Andrew Friedman, co-executive director of Make the Road New York, a citywide civil rights organization, in a press release. "We are impressed by the improvements at these hospitals for Spanish speakers, and we applaud them."
Researchers found that 79 percent of the patients interviewed in four hospitals had received assistance in their language from a bilingual doctor, nurse, other staff member, interpreter or telephonic interpreting service. It was a significant improvement from two years ago when only 29 percent of the patients received assistance in their native languages.
About 31 percent of all patients reported knowing they had the right to language assistance services, although that figure reached 76 percent among Spanish speakers at Woodhull Medical and Mental Health Center. Half of the patients at Flushing Hospital Medical Center also reported being told about the availability of free language assistance.
Services for Spanish Speakers...
The study found many language assistance services for the Spanish-speaking community. At Woodhull and Wyckoff Heights hospitals in Brooklyn, nearly nine of out 10 Spanish-speaking patients said that they were helped by Spanish-speaking staff.
At Queens Hospital Center, 84 percent of Spanish-speaking patients said they saw signs about free language assistance services. More than 50 percent reported receiving translated written materials at Elmhurst Hospital Center, while at Woodhull, 45 percent received telephonic interpretation, a service to meet the need for spontaneous, unscheduled access to an interpreter over the phone.
...But Not Koreans
The findings were not so positive for the Korean speakers. In Queens, where Koreans make up about 3 percent of the population, the two monitored hospitals -- Flushing Hospital Medical Center and Queens Hospital Center -- failed to provide sufficient language assistance. Only 25 percent of the patients interviewed received some form of hospital-based interpretation, and none received general translated written materials.
As few as 35 percent of Korean-speaking patients said they understand hospital forms and many of them rely on family members and friends to translate for them. About a third of them bring their own interpreters to hospitals.
"We found some improvements at the hospitals compared to the past, but it's not nearly enough," said Grace Lee, health advocate for Korean Community Services. "There are 80,000 Korean speakers in the city, and hospitals need to be prepared to find an interpreter."
Dozens of Languages
The New York Health and Hospitals Corp., which administers all public hospitals in New York City including Queens, Elmhurst and Woodhull, provides many hospital forms and instructions printed in 12 languages, including Korean, Chinese, French, and Russian.
According to Stefanie Trice, HHC's senior director of the Office of Culturally and Linguistically Appropriate Services, all the corporation's employees have access to an online database providing those forms and are trained to use them.
"It meets 98 percent of our needs but we would translate any language that is needed by request," said Trice. "Last year we had requests for interpretation in 118 languages." She added that signs offering free language assistance are printed in 16 languages and are posted everywhere in all HHC hospitals.
Public vs. Private Hospitals
Among the 10 hospitals in the study, public hospitals appear to out-perform the private ones. While 31 percent of the patients said they are informed of the free language services in public hospitals, only 23 percent of private hospital patients said they had received this information. In addition, 53 percent of the patients reported seeing signs about free language service in public hospitals, but only 39 percent saw the signs in private hospitals. Patients in public hospitals also were less likely to say they had problems making appointments and understanding their medical bills than those at private hospitals.
Some private hospitals have established special programs to serve people from immigrant communities. Beth Israel Medical Center, which was surveyed in the study, established its Asian Services Program and Latino Health Institute to address the needs of those two groups. Flushing Hospital Medical Center's psychiatry department offers Asian and South Asian behavioral programs and a Spanish-speaking program.
Despite the positive findings, the study found persistent problems. Almost half -- 48 percent -- of patients surveyed said they wanted to ask questions but could not because of language barriers. In addition, 28 percent said they did not understand follow-up instructions, and 21 percent believe that their medical care was affected by the language they speak.
What the New Rules Are
The new regulations, adopted in September, 2006, require all hospitals to develop a language assistance program to ensure all patient have access to the hospital's services.
Under the rules, hospitals must:
* Provide ongoing education and training for administrative, clinical and other employees who have direct contact with patents on providing service with regard for cultural and language differences;
* Identify the language of preference and needs of each patient upon initial visit to the hospital;
* Post signs in public locations, including at entrances, informing visitors that free language assistance is available;
* Document patient's language of preference, language needs and the acceptance or refusal of language assistance.
The language assistance should be available to patients needing emergency services within 10 minutes of when they request it and to other patients within 20 minutes. The new regulations also forbid the use of family members or friends as interpreters, unless the patient agrees to it or refuses to use the free service offered by the hospital. Hospitals should also provide translations and transcriptions of important hospital forms and instructions in any language spoken by more than 1 percent of people in the medical center's service area.
Larry Tung, a native of Taiwan, teaches media and film courses at Kean University in Union, New Jersey. He is also a documentary filmmaker whose work focuses on immigrant and Asian American issues.Â