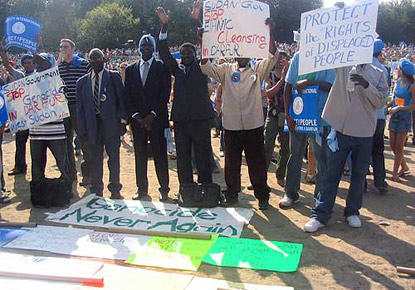 Central Park holds a special place in the history of civil liberties and protest in New York. The Great Lawn saw many demonstrations until 2004 when the Bloomberg administration would not allow a protest against the Republican National Convention there. Mass political rallies have not been permitted on the Great Lawn since. The city, though, did encourage a Bon Jovi concert on the lawn earlier this month.
"Civil liberties are in trouble in New York," civil liberties lawyer Norman Siegel said early in July. "Jon Bon Jovi is going to perform in Central Park [which he did on July 12], but when the Republican Convention was here, we were told we'd damage the grass. That's wrong. That's unconstitutional."
Protests and the Park
In 2005, the city agreed to permit to six "limited gatherings" of up to 50,000 people each year and said that during a "study period" it would allow gatherings of up to 75,000 to see how the turf fared. The city limited the Bon Jovi crowd to less than 50,000. "The settlement doesn't mean we have to have 75,000 for an event. It means that's the limit, " Parks Commissioner Adrian Benepe told the New York Times
But Mara Verheyden Hilliard of the Partnership for Civil Justice, one of the groups that challenged the ban on demonstrations in the park, told the paper that it has been the gathering by over half a million people and that the city has "provided no basis to show why it should be so heavily restricted."
In a footnote to this controversy, a former parks administrator told Jim Dwyer of the Times that the city had arbitrarily inflated crowd estimates for past park gatherings. Doug Blonsky, now president of the Central Park Conservancy said, "You would get in a room with a producer, with a police official and a person from park, and someone would say, 'What does it look like to you?' The producer would say, 'I need it to be higher that the last one.' That's the kind of science that went into it."
The conservancy has fought hard to keep demonstrators from using the Great Lawn, but Dwyer did not question the validity of Blonsky's supposed revelation.
The Origins of Our Liberties
The controversy over Central Park served as a backdrop to an Independence Day observance in Central Park's Strawberry Fields, featuring readings of the Declaration of Independence and the U.S. Constitution. The group of fifty to a hundred people gathered where John Lennon is more celebrated than the Spirit of '76 to reflect on the state of civil liberties in the nation and the city.
Led by Siegel, who is running for public advocate, the left-leaning crowd commiserated about the diminution of civil rights and civil liberties but also thrilled as the familiar phrases of our founding documents were proclaimed aloud. Many in the crowd-most of whom were from groups protesting America's current war, president and Supreme Court-recited along from memory.
"We hold these truths to be self evident," Siegel read, "that all men ["and women," he added] are created equal, that they are endowed by their Creator with certain unalienable Rights, that among these are Life, Liberty and the pursuit of Happiness."
"The declaration is a bold statement of freedom, equality and justice," Siegel said on the 232nd birthday of the United States. But, he added, "It has serious flaws. African Americans were only counted as three fifths of a person. Native Americans did not count at all. It took until 1920 for women to be able to vote and 1972 for 18-year olds. We're able to remedy injustices and correct them."
Tory Town
New York has always been somewhat ambivalent toward the American Revolution. When the Continental Congress decided to break from Britain in June 1776, the New York delegation abstained because it did not feel it had clear instructions from the colony's legislature. When the Declaration of Independence was adopted and then read in public in New York City by George Washington himself on July 6, 1776, a mob did pull down the statue of King George III in Bowling Green and melted it down to make bullets. But the early battles went so badly in this Tory stronghold that the British chased the rebels into New Jersey and occupied New York City until 1783.
New York did have the distinction of being the first capital of the United States and George Washington was inaugurated as the first President at Federal Hall in lower Manhattan on April 30, 1789. We are the home of the Statue of Liberty, and for many years New Yorkers marked Independence Day in a quasi-religious way with public readings of the Declaration and stirring patriotic oratory.
232 Years Later
With the reading in Central Park, Siegel and his allies were trying to get back to these roots. I asked the people there how they felt their civil rights and liberties were faring in New York today.
"Dreadfully," said Susan Nickerson, an artist involved with Peace Action, a grassroots anti-war group, "but we're always fostering freedom of speech. We're trying to highlight the Constitution, which is being ignored by our president."
"A bit threatened," said Dr. Herbert Cohen, a former board member of SAGE, a group serving and advocating for older gays and lesbians. Cohen, who has been together with his partner, Daniel Cook, a retired librarian, for almost 47 years, said, "I have to write my will peculiarly because we can't get married in New York." He said that Mayor Michael Bloomberg, who successfully appealed a court order that would have let gay couples obtain marriage licenses "has not been helpful with that, though I like other things he's done."
Actor Curzon Dobell of Brooklyn expressed qualified support for Bloomberg. I haven't sensed civil liberties challenged on a daily basis," Dobell said. "At a local level, I'm more comfortable with Bloomberg in charge that I was with Giuliani when I felt infringed upon by his obsession with managing the most minute details like hot dog vendors. I felt my personal space threatened."
Calling the Constitution "a living guide to how we should run our government," State Senator Bill Perkins, Democrat of Harlem, cited a number of civil rights concerns from Columbia University's threatened use of eminent domain in West Harlem to the plight of the undocumented immigrants. "We need an active citizenry so we don't let 'them' do what they do in our name," he said.
Joe Friendly, who does the "Truth for a Change" cable show on Manhattan Neighborhood Network, applauded his freedom here. "It's amazing that I've been left alone by the government," he said.
Reverend Billy (a.k.a. Bill Talen) of the Church of Stop Shopping a fixture at civil rights demonstrations, said he is not left alone. He said he has been arrested 50 or 60 times for preaching his anti-materialist message inside big box stores such as Wall-Mart. At a recent rally in Union Square, he had his bullhorn confiscated "even though it has one-tenth the decibels of the average screech of a garbage truck," he said.
"These laws [restricting demonstrations] are not passed by the City Council or the courts," Reverend Billy said. "They're written by the police and they should be challenged." He is trying to set up a defense fund for people whose civil liberties are violated.
For the record, Siegel and the other readers used Reverend Billy's bullhorn at Central Park. Even though they did not have a permit, their transgression did not attract the attention of the police, who were not visible at the gathering, or objections from passersby.
The definition of civil liberties constantly evolves. Norris Moore, is a trained alcohol and substance abuse counselor who expressed concern for "those who are 'civilly disabled' by prison records." "They have no voice and become the forgotten people. I've counseled kids in this category and they get records before they know how to make good judgments for themselves," he said a few days after the Central Park gathering. "Then they're not allowed to get back in the mainstream," Moore said citing bans that keep people with drug convictions from doing things "most of us take for granted."
"When you're trying to help people with their problems and can't meet their basic needs like housing and a job," he said, "what can you do to alleviate the situation?"
Reflecting on the Central Park reading, Siegel concluded, "Every year new words jump off the page. This year, it was the Fourteenth Amendment," about not depriving people of "life, liberty or property without due process of law," a precept he applied in decrying both city cuts in AIDS funding and the possible use of use of eminent domain by Columbia University.
"The Bloomberg administration deals with these issues differently from Giuliani," Siegel said, "but some of the results are similar in restricting our civil liberties. We have to speak out."
CIVIL RIGHTS ON BROADWAY
On the Stage
Lawrence Fishburne is winding up his one-man portrayal on Broadway of Thurgood Marshall "Thurgood," by George Stevens, Jr. It is an entertaining, enlightening and ennobling evening of storytelling as one of our leading actors interprets the great civil rights leaders who did most of his advocacy in courtrooms. Marshall successfully argued Brown v. Board of Education in the 1950s, ending the constitutionality of "separate but equal," and served on the United States Supreme Court from 1967 to 1991.
Fishburne himself has acknowledged not knowing much more about Marshall than the fact that he was the first African American Supreme Court Justice, but with what he has learned the actor takes us on a journey through almost the entire 20th century marking the trials and triumphs of a man, a movement and a nation.
It's at the Booth Theater, 222 West 45th Street, through August 17.
And in the Community
New York Civil Liberties Union's "Broadway Stands Up for Freedom" benefit at New York University on July 21 provided another good place to take the temperature of how New Yorkers are feeling about their civil rights and liberties these days.
The event consisted mostly of the group's staunch supporters in the theatre community from Cheyenne Jackson of "Xanadu" to the cast of the upcoming revival of "Godspell" -- accompanied by composer Stephen Schwartz -- singing their best stuff.
Donna Lieberman, the longtime executive director of the group, first said, "New York is a great town for civil liberties," but then called that "a civil liberties joke because New York is anything but." Lieberman cited the police presence in city public schools -- "the fifth largest police force in the country" -- the woman left to die on the floor of King's County Hospital, the inability of gay couples to marry in this state, and the massive increase in arrests for marijuana possession that fall disproportionately on young men of color.
The good news, Lieberman said, was that the Bush administration had only 182 days left, but she then took a swipe at the Democrats, saying, "We can't trust any political party to do our thinking for us."
Actress Kathleen Chalfant read an epistle from playwright Tony Kushner. In it, he said, the affinity that show people have for civil liberties "has to do with a shared understanding of the tireless work it takes to make both art and a decent world, which is itself a work of art; ... it has to do with a common capacity for going forth into the world with joy rather than fear."
'Hair' in Central Park
The Public Theater production of "Hair" in Central Park's Delacorte Theater is a trip 41 years down memory lane to when its counter-cultural anti-war and sexual liberation messages were revolutionary. The fine cast gathered for this revival is in good voice and high (literally and figuratively) spirits, led by Jonathan Groff of "Spring Awakening" fame as Claude, the hippie from Queens who gets drafted during the Vietnam War.
But despite some brief nudity in low lighting-as opposed to the exuberant stripping that marked the original-and a few four-letter words, there is an innocence to this production. It evokes nostalgia more than anger at a nation waging unprovoked wars and sacrificing its youth, even though it inevitably calls to mind the current Iraq conflict.
The burning of draft cards, the simulated sex and the attacks on religion and government did not get a rise out of the audience-in fact the largely white, middle class and older crowd virtually all rose to applaud the show wildly at the end. Of course, nothing as risky as burning an American flag was attempted. It made me wonder what it would take to upset an audience these days.
It also made me long for the Public to take on the American crises of today the way they did with "Hair" four decades ago, only now it might have to deal with a crumbling economy and the indifference most Americans show the loss of civil liberties, not to mention the lack of theatrical imagination that leaves us entertained with revivals instead of challenged with new work.
You can see "Hair" through August 31 by getting on line outside the Delacorte early in the morning for free tickets that are distributed at 1 p.m. or going on line to enter a daily lottery for free tickets. For more information, click here.
Andy Humm, a former member of the City Commission on Human Rights, has been in charge of the civil rights topic page since its inception in 2001. He is co-host of the weekly "Gay USA" on Manhattan Neighborhood Network (34 on Time-Warner; 107 on RCN) on Thursdays at 11 PM. Â