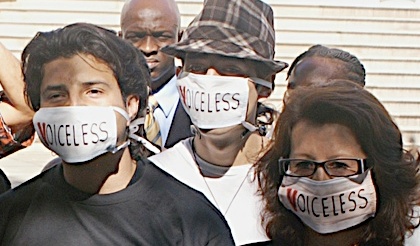 Photo Jean Marc Grambert / ivotenyc.org.
Earlier this month, dozens of protesters, many wearing facemasks emblazoned with the word "Voiceless," gathered on the steps of City Hall. Organized by the New York Coalition to Expand Voting Rights, they demanded that non-citizens who are legal residents be allowed to vote in municipal elections. They said they deserve political representation because they are law-abiding New Yorkers.
This is hardly a new subject in the New York City public debate. For many years, pro-immigrant groups here have called for allowing non-citizens to vote but to no avail. Now, with candidates prepared for the 2009 mayoral and City Council elections, the campaign for non-citizen voting right has gotten a new burst of energy and is making a comeback. This time, the advocates are hopeful.
"There are going to be big elections in New York City in 2009, so we are latching on this big event to bring more attention to this issue," said David Andersson, the rally's main organizer. "It is a fantastic time for us." He added that many City Council members will have to leave office at the end of next year, and if non-=citizen voting is not a reality by then, he hopes to garner more support from the new members.
Abut half a dozen candidates running for City Council, have expressed support for the bill, including Julissa Ferreras of District 21 in Queens, Mark Levine of District 7 in Manhattan, Brad Lander of District 39 in Brooklyn, Ydanis Rodriguez of District 10 in Manhattan and Daniel Dromm of District 25 in Queens.
"I believe anyone who pays taxes should be able to vote," said Dromm, a Democrat. "That's the principal our country was founded on. It's a basic civil right. Voter participation is the basis for our democracy."
Taxation without Representation
According to the coalition, New York City is now home to more than 1.3 million immigrants of voting age who are not yet citizens. The organizers said these city residents have no political representation but remain subject to all the laws that citizens must observe, pay taxes and make substantial contributions to New York's economic and cultural life.
The coalition also cited the old "No taxation without representation" rationale. "Why should immigrants pay taxes when they have no say in how their hard-earned money is spent?" read one of the signs held by protestors. According to a 2007 report by Fiscal Policy Institute, immigrants are responsible for $229 billion in economic output in New York State and account for 22.4 percent of the state's gross domestic product, a share slightly larger than their percentage of the population.
Similar bills that would allow non-citizens to vote in local elections have been introduced in Washington D.C. and San Francisco. Many states, including California, Massachusetts, Connecticut and Colorado, also are reviewing legislation that would allow long-term residents to vote.
Passing a Bill
The subject was officially brought into the public debate in 2005 when Brooklyn City Councilmember Charles Barron and nine other members introduced a bill to allow all legal residents who have lived in New York City for at least six months to vote in local and municipal elections. The bill, the Voting Rights Restoration Act or Intro 628, fell through at the end of that year.
In 2006, Barron, along with 13 other City Council members reintroduced the bill, also known as Intro 245. It is still pending in the Committee of Governmental Operations.
"They used to have legal residents who are non-citizens voting many years ago when immigrants were predominantly white," said Barron, an outspoken advocate for the African American community. "And when the complexions of the immigrants change, the policy change."
Noting legal residents can fight and die in wars for the country but cannot vote in local elections, Barron added, "I think it is racist that they can't vote. I think it is unjust that they can give up their life and they can pay taxes, but they cannot have a say in major quality-of-life issues."
A spokesperson for City Council Speaker Christine Quinn said she does not support allowing non-citizens to vote.
Barron said this will make it hard to get the bill through City Council. "It is very difficult when the speaker doesn't support something," said Barron. "She would tell her chair that she appoints to not even have a hearing on it. And then she can kill it in the committee by getting that committee to not vote on it or vote favorably for it. .... So we got a little struggle ahead of us, but we are used to that kind of struggle."
An Old Idea
Until Mayor Michael Bloomberg dismantled the Board of Education in 2003, non-citizens were allowed to vote in community school board elections for more than three decades. Barron said even some parents who were undocumented immigrants voted in those elections.
In fact, non-citizens voted in local and national elections in many states and territories from the founding of the country until 1926. Currently, resident non-citizens can vote in several townships in Maryland and in Chicago school board elections. Globally, more than 40 countries allow their legal residents to vote in local and/or national elections, including many countries in the European Union and some in Latin America.
The Debate
Allowing non-citizens to vote in local elections could lead to greater immigrant integration and participation, according to Ron Hayduk, a professor at the Borough of Manhattan Community College and a co-director of the Immigrant Voting Project, said non-citizen participation.
He cited the story of Guillermo Linares, the commissioner of the Mayor's Office of Immigrant Affairs. An immigrant from the Dominican Republic, Linares first gained a spot as a parent representative on the school board in Washington Heights before he became a citizen. He went on to become the first Dominican elected to the City Council in 1991 and was later appointed by President Bill Clinton to lead the White House Initiative for Educational Excellence for Hispanic Americans.
"Our policy process and outcomes would be more representative if non-citizens have access to the ballot," said Hayduk. "Elected officials would be attuned to making sure they are aware of all of their constituents' needs, and be more responsive to those and be more representative of them."
Bloomberg disagrees. He has repeatedly stated his view on this issue, saying that only citizens should be able to vote. In an e-mail message from his spokesman, Stu Loeser, the mayor affirmed his pro-immigration stance but at the same time insisted that the "right to vote is a privilege and responsibility for citizens only."
Meanwhile, a report released this month by Dr. Stanley Renshon for the Center for Immigration Studies, a think tank that supports immigration control, cites statistics that it say show that, even when non-citizens can register and vote, they don't. The report also emphasizes the importance of the process of naturalization because its standard five-year wait allows the immigrants to immerse themselves in the language and culture, and develop attachment to the country.
"Each of the five elements of the naturalization process -- residency, good character, language facility, civics knowledge, and affirmation - are essential elements," wrote Renshon. "Naturalization as a requirement of citizenship and voting is not so much a series of hurdles to surmount, but an essential part of becoming American."
Larry Tung, a native of Taiwan, teaches media and film courses at Kean University in Union, New Jersey. He is also a documentary filmmaker whose work focuses on immigrant and Asian American issues.
Â