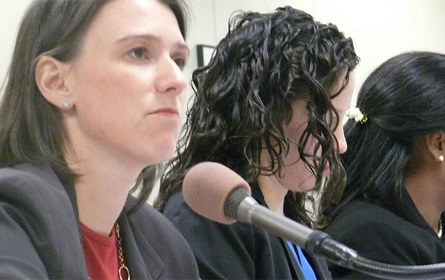 The City Council is considering legislation that would require crisis pregnancy centers run by anti-abortion groups to disclose that the facilities do not have medical licenses.
The city has about two dozen of these centers, many of them located in low-income neighborhoods and often near an actual abortion clinic (in at least one case, in the same building). They might have innocuous sounding names and even be listed in the phone book under "abortion services."
The intent of the centers, though, is clearly to encourage women to bear the child and then either keep it or give it up for adoption. Crisis Pregnancy Center of New York, for example, cites the so-called risks of abortion on its web site and argues: "When you choose to continue your pregnancy and keep your baby, you are about to undertake one of the most challenging and exciting journeys in life."
In some of the centers, personnel who have no medical background or license walk around in scrubs and perform pregnancy tests with store-bought kits, giving the impression that somehow they are health care professionals.
Dangers of Misinformation
While the crisis pregnancy centers take a variety of approaches, a few give women who fear they are pregnant misinformation regarding the consequences of abortion, according to the New York Civil Liberties Union. These deceptive tactics, pro-choice groups argue, have drastic consequences.
"It is critical that women have accurate information when they make important decisions about their health," New York Civil Liberties Union Executive Director Donna Lieberman testified during a City Council hearing on the issue in November. "Relying on false and misleading information or delaying medical care can have particularly detrimental effects for pregnant women. Both are more likely when a woman does not seek out a licensed medical provider because she believes she is already receiving care from medical professionals."
She continued, "If the woman chooses to carry her pregnancy to term, prenatal care is vital to ensure both the health of the prospective mother and the fetus. If a woman chooses to have an abortion, doing so within the first trimester is far safer and less expensive. ... Thus, tactics that delay or mislead women about the care they are receiving or discourage them from seeking care from licensed medical providers pose serious health risks."
In 2006, according to a report by NARAL Pro-Choice America, Rep. Henry Waxman of California released a study that found crisis pregnancy centers "often mislead and misinform teenagers about the medical risks of abortion." Investigators posing as pregnant 17-year-olds called more than two dozen centers and found that 87 percent of them provided either false or misleading information about the health effects of abortion.
"Specifically," the NARAL report said, "several center employees told the women that abortion increases the risk of breast cancer, despite the overwhelming medical consensus that no such link exists. In addition, callers were incorrectly told that abortion could cause 'permanent damage' that would affect their future ability to bear children."
Chris Slattery, president of one of the local groups under scrutiny by pro-choice activists, EMC Frontline Pregnancy Centers, confirmed to reporters that visitors to his centers would be advised that abortion causes breast cancer, an assertion pro-choice groups dispute. "Yes they would" be told, Slattery said, adding that the breast cancer link "is backed up by scientific evidence, a massive amount of scientific evidence that's being squashed, squelched and suppressed."
In City Council and Beyond
The City Council bill (Intro 0371), sponsored by Speaker Christine Quinn and Councilmember Jessica Lappin, draws from laws in Austin, Texas, Baltimore and Montgomery County, Md. It would require the centers to disclose they do not provide actual abortion services (some already do this voluntarily). If the centers do not have any licensed medical personnel on staff, they would have to state that as well both at their facility and on their website. And the center would have to keep client information confidential.
The Civil Liberties Union has suggested the city law also require centers to disclose that they are not actual medical facilities.
New York Rep. Carolyn Maloney is introducing federal legislation on the matter. Her bill would have the Federal Trade Commission bar these groups from advertising under the "abortion services" listing.
Required Speech?
While pro-choice groups tend to see regulation of the crisis pregnancy centers as a simple matter, the issue presents an ethical quandary for the Civil Liberties Union -- posing a possible conflict between women's rights and the right to free speech. In the city, the pregnancy centers do not receive any government money, which makes it harder for officials to put restrictions on the facilities.
Slattery of EMC Pregnancy Centers, told reporters, that the bill "is an outrageous attack on the First Amendment rights of law-abiding, helpful resource centers."
In an email alert, Slattery, who operates 10 centers in New York City, said the measure could bring "staggering fines, and probable shutdowns of our offices aimed at crippling our work."
Civil Liberties Union lawyers have made it clear that they do not want to infringe on anyone's right to actively oppose abortion. Instead, the group says, it has stepped into the City Council debate in an effort to balance reproductive rights with protecting the First Amendment.
Regardless of such attempts, if the bill passes, the groups that run the centers and their backers will likely take the issue to court on First Amendment grounds. And because anything involving abortion immediately becomes politically charged, courts would almost certainly apply strict scrutiny to the new requirements.
Meanwhile, NARAL plans to pamphlet outside some of the centers. The effect of direct action is two-fold: it informs the women who walk into the place that they were not entering a medical facility and is likely to spark debate on the issue.
"The pro-choice movement does not use that tactic enough," NYCLU staff attorney Katharine Bodde said during a meeting with activists in December. "I think part of the solution [to the issues of the centers] is to combat it with more speech."