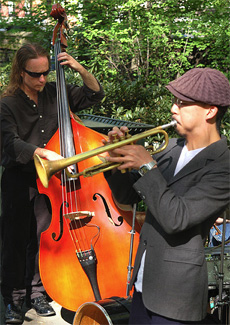 For New Yorkers, parks are not simply aesthetically pleasing. In a city where people live in cramped spaces, parks offer a place -- an oasis -- to retreat from the chaos of the bustling sidewalks and colossal buildings. People go to these public spaces to read the paper on their lunch break, walk their dogs in the wee hours of the morning or sun bathe on a Sunday afternoon. Despite being public, parks provide New Yorkers with a kind of backyard -- a free space to enjoy a wide range of activities.
Lately, though, some New Yorkers have come to feel less free in their parks. In the past month, the New York City Parks and Recreation Department has started to enforce some highly contentious regulations. The city-wide smoking ban and the recent enforcement of quiet zones in designated areas of Central Park have garnered criticism from many New Yorkers. And the never-ending battle continues between artist vendors and the city government regarding sale of "expressive matter" in public parks.
While the administration maintains such controls make parks more enjoyable for all New Yorkers, some in the city wonder whether the government has over-regulated the parks, eroding their cherish role as a "free space."
Smokers Not Allowed
On May 23, New York City instituted a ban on smoking in its 1,700 parks, 14 miles of city beach and on pedestrian malls such as Times and Herald Square. If caught with a cigarette, violators can face a fine of $50. Although this new law will be enforced by park officials -- not police -- the parks department "expects that New Yorkers will ask people to follow the law and stop smoking." This ban expands Mayor Michael Bloomberg's 2002 anti-smoking regulation, which outlawed smoking in restaurants and bars.
Many New Yorkers have lauded this new regulation and believe it will contribute to a healthier environment.
"There is a demonstrated health and maintenance management issues around smoking. Cigarette butts present a real problem to the parks department. We are supportive of that policy," said Alyson Beha, director of research, planning, and programs at New Yorkers for Parks.
Although many New Yorkers agree with Beha, others argue that banning cigarette smoking violates the civil liberties of smokers.
In a phone interview, Audrey Silk, the founder of the smokers advocacy group CLASH (Citizens Lobbying Against Smoker Harassment said, "This isn't about public health; it's about control. It's a slippery slope." Silk believes that this issue is "not just about defending smoking" but a "matter of civil liberties that we are defending."
Silk and fellow CLASH supporters organized a "Smoke In The Park" protest on Brighton Beach, Brooklyn, on May 28 to express their contempt for the new smoking ban.
"There is no more trying to reason with the City Council and Mayor Bloomberg," said Silk, but her group plans to continue to press the issue. "We will never stop trying to get this done," she said.
Since the smoking ban went into effect on May 23, only one ticket has been issued by park officials. It went to a Daily News photographer who, for the benefit of a story, was hanging out on the High Line trying to get a ticket. She finally did, but not before, in the News' words, she and her colleague got " a first-hand look at the lax enforcement."
The Artists' Plight
The fight over vendors goes back far longer. For years, New York's parks have served as a bastion for artists and vendors whose livelihood rests on sales to tourists and other park-goers. Artists from all over the city go to Manhattan's most celebrated parks to display their works --whether glorified paintings of New York or quirky souvenirs.
In the past year the city government has started to crack down on artists and other vendors who sell what is referred to as expressive matter in parks. In June 2010, the parks department proposed new limits, which designated where artist vendors could sell their artwork. They also limited the number of artists who could be present in one area (only one artist per spot). According to the department website, "expressive matter vendors may only vend expressive matter at the specifically designated spots identified by the commissioner."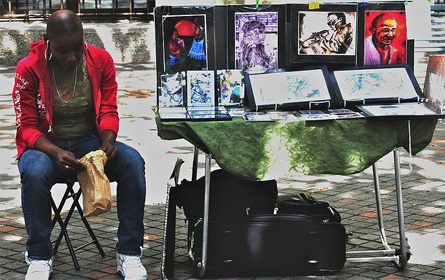 The city wanted to enforce these new regulations in Central Park, the High Line, Battery Park and Union Square -- the four parks with the highest concentration of artist vendors. The city hoped that these new limits would decrease congestion on park sidewalks and pathways and allow for park-goers to enjoy the verdant scenery without the hustle and bustle of vendors.
This restriction spurred an uproar from parts of the artist community and others who felt it represented yet another curtailment of New Yorkers' civil liberties. Several artists sued the parks department, charging the rules infringed on their first amendment rights. The lawsuits have been going on for over a year within the state and federal courts. However, in May an appeals court ordered that a temporary restraining order be removed, allowing the city to proceed with enforcement of the limits.
Robert Lederman, the president of A.R.T.I.S.T. has been fighting the city government on this matter for years. "The whole idea of the first amendment is that the government cannot make laws that limit people's freedom of speech," he said. "If you can have giant advertisement banners in a park then why can't an artist show a picture?"
How Loud is Too Loud?
In the past few weeks, musicians also have come to feel they are a target of parks department rules as the city has started enforcement of "quiet zones" in Central Park. Eight of the park's most frequented spots, including Strawberry Fields and Bethesda Fountain, are now dotted with green signs officially designating them as "quiet zones" and prohibiting any musical instrument or amplified sounds. The signs have only been put up in Central Park so far.
"Quiet zones have been in place for decades. It's a new season. The parks are crowded. A lot park visitors want quiet zones. We are responding to all park users," said Vickie Karp, a spokeswoman for parks department.
But for the many musicians who make their living playing in Central Park, these new quiet zones may end up costing them money. Tickets have been issued to musicians who have violated the rule, and there was even one arrest.
Vasyl Fomytskyi is a Urkainian cellist who has been playing in the hall of Bethesda Terrace for three and a half years. When asked about the new enforcement of quiet zones, he said, "I think it is very stupid. This spot has wonderful acoustics, and it makes our music sound even better. It is our right to play here."
Civil liberties and street artist advocates agree with Fomytskyi and the coterie of musicians who have practically become permanent fixtures in certain areas of Central Park.
Susie Tanenbum, cofounder of the Street Performer's Advocacy Projectbelieves, "Current policies framing artistic performances in New York's streets and parks make it increasingly difficult for street musicians and dancers to exercise their First Amendment right to express themselves in public space,"
"And yet, for centuries, street performing has helped to make New York the vibrant cultural center that it is," she added.
Will the Battle Ever End?
Many New Yorkers feel that all these park restrictions constitute a clear breach of our first amendment rights.
James Keller immigrated to New York when he was in his early 20s and has lived here for 41 years. Keller believes that these regulations are yet another sign of governments trampling on our civil liberties.
"We are gradually starting to lose our freedom," he said.