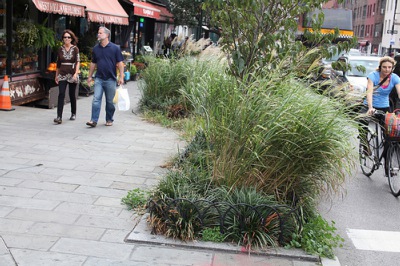 NEW YORK — Outside a 24-hour deli a block away from the 169th Street F train station in Jamaica, Queens, a brushed metal subway grate that wouldn't look out of place at the Museum of Modern Art juts from the ground.
It's about 10 feet long and slopes upward in undulating waves from six inches on one side to a few feet tall on the other.
As Hurricane Sandy drenches the city, the grate is one tool in the Metropolitan Transportation Authority's arsenal for reducing flooding in the subway system, which was shut down last night ahead of the storm.
The agency has spent $117 million to deal with floodwaters, including infrastructure changes less visible to the public, such as flood barriers around train yards and new pumps.
With a warmer, wetter future caused by global warming all but certain, city developers in the public and private sectors have been making investments in infrastructure that can lessen the impact of extreme weather.
But some policymakers and analysts say there's simply not enough financial incentive to prepare New York for whatever climate change may bring.
The grate, for instance, was built with money from the MTA's capital budget, which is typically used to buy things like buses and track signals. "You are stealing money from the core mandate of public transportation, and raising grates," said Projjal Dutta, the director of sustainability for the MTA.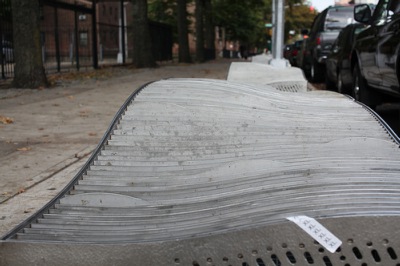 "There could be cheaper solutions to this, but people wouldn't deal with them being plunked down because sidewalks are precious commodities in New York City," said Guido Hartray, who helped design the grates. All images by Peter Moskowitz.
The private sector is also struggling to meet the challenge, with developers skeptical about higher costs that can come about from sustainable buildings.
Stephen DelPercio, who works at Green Buildings NYC, a real estate company with a focus on eco-friendly leasing, said that developers of private real estate usually build with the idea that they will sell the building in 10 years, at most.
He said that short time scale doesn't give anyone incentive to build with things like flood protection in mind
"Until it's smacking us in the face, behaviors aren't going to change," he said.
Cecil Scheib, the advocacy director for the Urban Green Council, a green buildings advocacy group, agreed that without government pressure, there's no reason for buildings to be designed differently. He said that whereas "green" can be used as a marketing tool, "prepared for disaster" cannot.
"Right now, for a developer, you are basically selling a downer," he said. "No one wants a downer."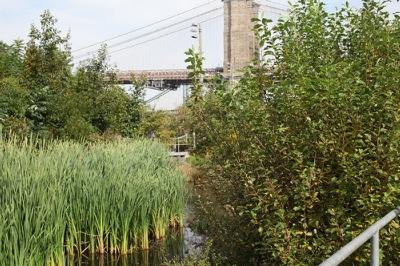 Brooklyn Bridge Park was designed to withstand storm surges.
Fiona Cousins, an architect with global engineering and design behemoth Arup, said clients often ask how much it will cost to adapt designs for climate change and whether it is worth it. She said the answer is often, "no."
Arup helped develop the $1.4 billion Fulton Street Transit Center in downtown Manhattan, which is being built to withstand flooding. The company also was part of a development team for London's flood barrier, which is meant to protect the city from storm surges.
Incentive in the public sector is lacking, too. At a time of tight budgets, designing the city for 50 years down the road can seem like a low priority, even though one of Mayor Michael Bloomberg's biggest mandates has been to make the city greener and to prepare it for the effects of global warming.
In 2007, the mayor's office released PlaNYC, a 200-page blueprint for city agencies, residents and businesses to help make New York more sustainable. The plan called for a 30 percent reduction in greenhouse gases from 2005 levels by 2030, largely by making buildings more energy efficient. It promised $2 billion for storm water infrastructure and other upgrades to deal with rising sea levels and increased rain.
In August, the City Council passed legislation that would make permanent a climate change panel and task force created by the mayor's office in 2008. The legislation also enlarges the scope of the panel and task force to focus their efforts on "vulnerable populations," such as the elderly, children and the poor.
But Cousins said New York is behind when it comes to spending money on large infrastructure projects. "In New York, nobody does anything at this point," she said. "I don't think it's likely that New York is going to implement that barrier."
Many developers, real estate agents and others involved in building the city's infrastructure recognize that more can be done, through economic incentives and regulation, to prepare New York City for a warmer future. But they do see signs of hope.
"Everyone has woken up," said Russell Unger, director of the Urban Green Council. "Five years ago, no one was really acknowledging that adaptation was a problem. Maybe once something floods, they'll recognize they need to move."