Â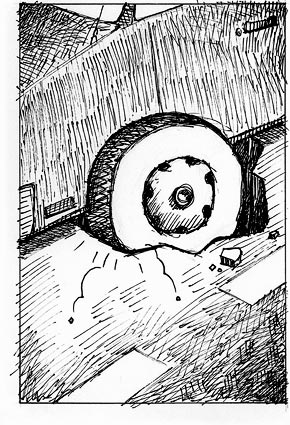 Astoria, and a car with a blown suspension system. In February, while driving home from a friend's house in Brooklyn, the front tire on Gilpin's silver Geo Prism fell into a fissure on the Van Wyck Expressway in Queens — a classic pothole notable primarily for its size, which he estimates at about 18 inches deep.
"I fell off a shelf into an abyss," Gilpin says. "I felt it in my throat. I was in flight." He pulled to the side of the road to investigate. "The tire was flattened. Pieces blown. I had a spare. I had a jack. I had my girlfriend watch for my life."
For city drivers like Gilpin, potholes are a fact of life. He and his friends refer to the pothole-riddled area around the entrance to the Queensboro Bridge as "Saigon."
"It's almost unmanageable," Gilpin said.
A winter such as the one that just ended wreaks havoc with pavement in the city. It spurred the Daily News to declare the current situation the worst pothole crisis in the history of New York, to run an ongoing feature entitled Pothole of the Day, and to feature fissures such as one on 78th Street in Middle Village and on Morrison Avenue and East 174th Street in the Soundview section of the Bronx.
According to Department of Transportation spokesperson Tom Cocola, from February to mid-April, the city repaired approximately 53,000 potholes — 18,640 in February alone. That is a 50 percent increase from 2002. After the Presidents Day snowstorm, the city launched what Mayor Michael Bloomberg called "a pothole blitzkrieg," filling approximately 1,600 potholes a day.
But with so many miles of streets and highways in the city, simply figuring out what to fill where presents a challenge. The transportation department counts on its 40,000 workers to look out for potholes. The department also relies on average New Yorkers and provides several resources for pothole victims to report a problem, vent their frustrations and even get reimbursed by the city for car damage caused by a street defect.
One of the fastest ways to report a problem is through the Department of Transportation web site.
The new 311 hotline for non-emergency complaints is supposed to make it easier to complain about potholes. From March 9 to April 21, 2003, the hotline received 3,526 pothole related phone calls, according to the New York Times.
After the mayor said he was "tired of people complaining" about potholes and directed them to phone 311, calls to the hotline about road defects jumped 400 percent, according to the Daily News.
But the transportation department wants details: the precise location of the problem, its size and depth, a description and so on. To help, its web site provides a detailed breakdown of the different kinds of street defects. Is your street plagued by a hummock — a bump resulting from the road being pushed up? Or is it the site of a cave-in, a jagged break in the pavement with a large void beneath? Photos of these problems, as well as of traditional potholes and protruding manhole covers, help readers understand what, exactly, popped their tire or loosened their chassis.
The department tries to repair each reported defect within 30 days. But it has not always succeeded. An audit released in November found it took an average of 57 days for the transportation department to repair potholes — 98 days for defects in the Bronx.
The city promised in late April that it would have about 35 crews of three to four people each working to repair potholes for 10 days. The Daily News followed one crew recently and found it spent little time working, preferring to shop, buy and eat food, and drive around aimlessly. The transportation department suspended the workers after the story appeared and said it would also take disciplinary actions against four supervisors.
The transportation department web site also offers a link to the city comptroller's office, where residents can report car damage sustained from a brush with a pothole and try to get reimbursed.
While the city blames the particularly harsh winter for the current pothole epidemic, budget cuts may make a bad situation worse as the Department of Transportation cuts back on street renovations that could prevent future potholes. "You never fix a pothole by just filling it," former transportation commissioner Lucius Riccio, who now teaches at Columbia University, has said. "You have to fix the street. A pothole is an indication that the street is failing."
The gloomy prognosis would not surprise Michael Gilpin who sees the pothole as being as much a part of driving in New York City as motorists who run red lights and summer weekend traffic jams on the Long Island Expressway in Queens. "It's an ongoing nightmare," says Gilpin. "I don't drive through Manhattan without expecting potholes."
(Do you have a pothole problem in your neighborhood? Tell us about it by going to the Community Gazette for your area.)
-- Anne Sachs
---
---