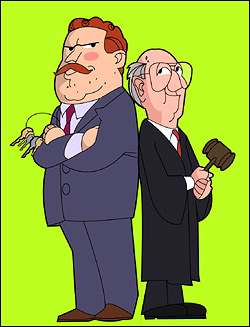 For more than six months, Gene Garvin has been wearing earplugs to bed and setting out traps for mice. Like many New Yorkers, he has problems in his apartment, a two-bedroom on Manhattan Avenue near Morningside Park.
With a stack of papers laid out on a table recently, Garvin described his largely fruitless efforts to have his landlord fix the water heater and exterminate the vermin. A list of dates detailed dozens of calls to the landlord that began in October 2002. He complained to the city's department of Housing Preservation and Development. By February, Garvin started holding the rent, a typical tenant response.
"We just couldn't put up with it anymore, and nothing was happening," he explained.
The landlord responded in typical fashion, too: His attorneys filed a non-payment case against Garvin.
Non-payment cases dominate in Housing Court, making up more than 80 percent of the more than 300,000 cases filed every year. But the court was originally established in 1973 to hear cases brought by tenants to force landlords to repair and maintain services in their buildings, so-called Housing Part actions.
A new study shows at least partly why tenants file so few Housing Part actions: Housing Court is too slow in forcing landlords to fix things and the process of filing the cases is too arduous for tenants. Most people just hold the rent, like Garvin.
And the number of cases filed is sure to decline even further,as more and more apartments are deregulated in New York City – a likely consequence of the rent regulation laws passed by the New York State Legislature late last week. When an apartment is covered by the rent regulation laws, landlords are required to offer tenants renewal leases. But landlords are under no obligation to offer a renewal lease to tenants in unregulated or deregulated apartments. Many tenants simply will not file a lawsuit for repairs and services if they think they'll have to leave -- or be forced to leave -- when their lease is up. Although laws to protect tenants from retaliatory evictions exist, in practice they rarely work for tenants.
"No Rainbow, No Gold: Tenant-Initiated Housing Part Actions in New York City," (in pdf format) the new report on tenant complaints, written by the City Wide Task Force on Housing Court, where I work, reveals that tenants endured substantial delays in getting inspections and resolving cases, that landlords were rarely fined for noncompliance with the city's housing maintenance codes, and that violations were often not repaired even after more than two years had passed.
The city and state must act to correct the problems in Housing Court. These cases are taking months to resolve. Justice delayed is justice denied. The delays, lack of fines and lack of repairs mean thousands of New Yorkers are living in miserable and, above all, unsafe housing.
More than half of all rental apartments in the city have at least one violation of the city's Housing Maintenance Code, according to the Census Bureau's Housing Vacancy Survey. But that number is likely higher because the Census Bureau's survey does not ask about every type of violation.
Every year, tenants file about 10,000 cases in the city's Housing Court to force landlords to make necessary repairs. Broken locks, leaking pipes, peeling paint, exposed wiring-the problems run the gamut from mundane to life threatening. Even for violations deemed hazardous - violations that landlords must rectify within 24 hours - we found that tenants waited up to two weeks before the court heard the case.
A Housing Part action also automatically makes Department of Housing Preservation and Development a party to the case that a tenant files. But the agency's attorneys only get involved if the landlord has repeatedly violated the Housing Maintenance Code.
In our report, we recommend that the court reduce the time necessary for court-ordered inspections, particularly in cases where tenants allege hazardous conditions. The report also recommends that landlords face fines more frequently. Landlords faced fines in just two percent of cases initiated by tenants.
Tenants and their advocates have long complained that the court does little to enforce the city's Housing Maintenance Code and instead acts as a collection service for landlords seeking overdue rent.
In Gene Garvin's case, that seemed to be the case. Lately, he said, he's been trying peanut butter on the mousetraps and thinking about putting a wall around his water heater himself - an improvement Judge Ernest Cavallo ordered his landlord to do three months ago.
Joe Lamport is the assistant director of the City-Wide Task Force on Housing Court a coalition of community housing organizations.