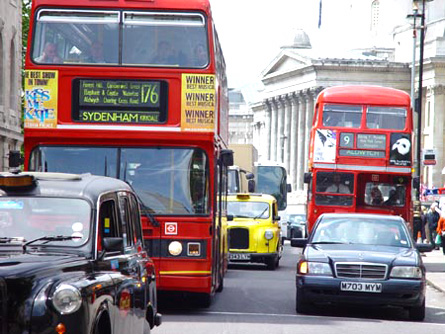 With Mayor Michael Bloomberg's inauguration behind us, the debate now begins in earnest about the issues he will tackle in his second administration. As he considers what to do, Mayor Bloomberg would do well to consider London's example.
Some of the issues facing Mayor Bloomberg are clear – since the election he has vowed several times to build new affordable housing and aggressively focus on Lower Manhattan redevelopment. New Council Speaker Christine Quinn may have a few ideas of her own, of course, as do many other politicians and advocates around the city who would like the mayor to put his overwhelming electoral mandate to work on their behalf. Neighborhood revitalization efforts will be at the top of many lists, while others will likely focus on a congestion charge scheme like the one that has proven so successful in London. Such initiatives would all leave a mark on New York, but in isolation – and without a broader vision – their long-term impact would ultimately be limited.
A bolder approach would borrow another big idea from across the pond – the London Plan. More formally known as London's Spatial Development Strategy, this land use planning document articulates a coherent, long-term vision that says where development should occur, and what it should look like. What is truly unique about the London Plan, however – and what makes it noteworthy for policymakers in New York – is the way it links to and is supported by other strategic plans covering topics like transport, noise, waste management, air quality, economic development and energy. To borrow a term from British policy debates, London's strategies emphasize "joined up" thinking, with each individual strategy reflecting and supporting key themes found in other policy documents.
In the London Plan, for example, London Mayor Ken Livingstone announced he wants developers to build high density, energy efficient, mixed-use complexes near existing transit hubs, and he is using his planning control powers to make sure this occurs. By concentrating development, the Mayor makes it easier for Londoners to walk or bike to bus stops and London Underground stations. In other words, his land use plan is also a transportation and energy conservation plan, complementing his congestion charge program, while simultaneously reducing traffic noise and improving the city's air quality. It is hardly rocket science, and in the world of urban planning these ideas are fairly commonplace. But whereas most cities employ this technique on a spot basis – say to revitalize one small neighborhood – in London the mayor wants to make it work citywide.
The London Plan also ventures into energy policy by requiring new developments to generate electricity on-site using renewable energy technologies. In doing so, the mayor is reinforcing his economic development strategy by focusing on making London the hub of a new urban energy business sector in Europe.
Strategic planning is nothing new to New York City – or to Michael Bloomberg. The world-renowned 1929 Regional Plan demonstrably shaped how our city grew, and we still benefit from the system of bridges, tunnels, highways, parkland and natural preserves that resulted from that original planning effort.
More recently, Mayor Bloomberg has issued a bold solid waste plan, helped New Yorkers reclaim waterfront access, and worked to expand commercial development in Brooklyn. He partnered with local residents to create a "vision plan" for a more livable Hunts Point and extended bikeways so New Yorkers can safely pedal to work. (The latter idea proved particularly important during the December transit strike, when thousands of New Yorkers took their bikes out of storage to get around the city, despite the frigid temperatures.) These initiatives articulated a clear vision by the mayor and his team about how to improve our city.
What is missing, however, are the links that make the London Plan an important tool for that city's future. New York's new waste plan could have emphasized both export and the use of locally available recyclable materials as the basis for new manufacturing jobs here. Plans for "big box" stores delight many New Yorkers – but aggravate others – because they frequently are proposed for areas like Red Hook, where limited public transit access forces shoppers to drive, increasing local traffic congestion. Brooklyn's proposed Atlantic Yards development has far more public transit options, but there has been no discussion of how clean, on-site energy systems for this massive complex could help address the looming electricity crisis identified by Mayor Bloomberg's 2004 Energy Task Force.
None of these issues are mutually exclusive, but because city agency responsibilities are narrowly defined, new development proposals often advance within a policy or planning vacuum.
A "New York Plan" would thus represent a seismic shift in how New York City is managed. Residential and commercial development would not stop, but would instead be directed to specific neighborhoods on terms that better reflect the city's long range interests – not just the developer's parochial financial interests and "as-of-right" prerogatives.
In other words, a New York Plan would help the city achieve sustained economic growth, less traffic and a cleaner environment, while providing City agency heads with a mandate and platform to deliver it. As in London, such a plan could galvanize public support around a vision of our city's future, and create a powerful legacy befitting Mayor Bloomberg's historic second term opportunity.
Stephen A. Hammer, a consultant on energy and environmental issues who studied urban planning at the London School of Economics, teaches a course on urban energy policy at Columbia University's School of International and Public Affairs.
Â