The opposing visions of Jane Jacobs and Robert Moses towards city building resonate with many New Yorkers today. It is certainly clear to me that Jane Jacobs is now the prevailing force. While no one person changed the physical landscape of New York as much as Robert Moses, Jane Jacobs' legacy and her influence is much more deeply rooted and felt widely by urbanists, planners and elected officials.
That legacy embraces:
the importance of the relationship of people and the public realm
the appreciation of networks created by diverse uses
understanding that blocks are the basic unit of the city
the primacy of the street as the glue of neighborhood life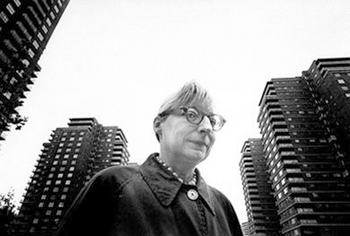 Moses may have gotten a lot done, built a great deal in the name of "the people", but the truth is that he wanted little to do with the people who would live in the city he created. Their voices were dispensable, their homes were dispensable. And that is why he couldn't conceive of the importance of neighborhoods.
Jacobs, on the other hand, knew that if you neglect neighborhoods, you do so at the city's peril. People who no longer have faith in the future of the place in which they were brought up or where they are raising a family, will, if they can afford it, leave for a more predictable, safer place.
So understanding and appreciating the integral character of diverse neighborhoods has to be a primary requirement for any planning initiative. The goal of city planners, or how we are looking at the city's challenges today, is no longer the broad brush, the bold strokes, the big plan.
Make no mistake about it, we have an enormous need to build thousands of units of affordable housing; we must create a broad spectrum of jobs for a rapidly expanding population; we need to reclaim and revitalize our waterfront; and we must lay the foundations to support the growth that is to come and that we welcome.
But it is just not acceptable, or wise, or even possible to undertake these challenges without espousing Jacobs principles of city diversity, of the rich detail of urban life, to build in a way that nourishes complexity.
That is not an easy goal with the limited and somewhat crude tools that planners have at hand. We are rapidly trying to diversify the contents of the tool box to respond to community needs and community concerns.
And that brings me to one legacy that Jacobs left which has a daily influence on city policy today. And that is her role as a fearless civic advocate. She gave community activists the confidence that they indeed can make a difference and prevail.
She inspired individuals – inspired them to join community boards and advocacy organizations, to speak out at public hearings, and to lobby their elected officials.
Planning has changed because of Jane Jacobs. Robert Moses' centralized planning is a thing of the past.
Planning today is noisy, combative, iterative and reliant on community involvement. Any initiative that does not build consensus -- that is not shaped by the give-and-take of the public review process -- will be an inferior plan and, deservedly, will be voted down by the City Council, and die.
Where we do, or some of us might, have nostalgia for Moses is in the realization that it is very very difficult to get very complex and expensive projects built that are critical to our city's future such as the Second Avenue Subway, East Side Access, a one seat ride to the airport from Lower Manhattan and the #7 line.
With the limitation of a two-term mayoralty, it is an enormous challenge to get great new open spaces such as Fresh Kills, the East River Waterfront in Lower Manhattan, the High Line and the Greenpoint Williamsburg waterfront approved, designed and built so that the initiative cannot be undone by subsequent administrations.
These are great projects that need the kind of sustained, focused leadership and a guaranteed funding stream that Robert Moses was so ingenious -- indeed diabolical -- in securing.
Big cities need big projects. Big projects are a necessary part of the diversity, competition and growth that both Jacobs and Moses fought for. But today's big projects must have a human scale; must be designed, from idea to construction, to fit into the city. Projects may fail to live up to Jane Jacob's standards, but they are still judged by her rules.
It is to the great credit of the mayor that we are building and rezoning today, once again, like Moses, on an unprecedented scale, but, with Jacobs firmly in mind, invigorated by the belief that the process matters and that great things can be built through a focus on the details, on the street, for the people who live in this great city.
Amanda Burden is the chair of the New York City Planning Commission and director of the Department of City Planning. This essay was adapted from remarks presented at a forum entitled "Jane Jacobs vs. Robert Moses: How Stands the Debate Today?", presented by the Gotham Center Of History at the City University of New York Graduate Center.
Â