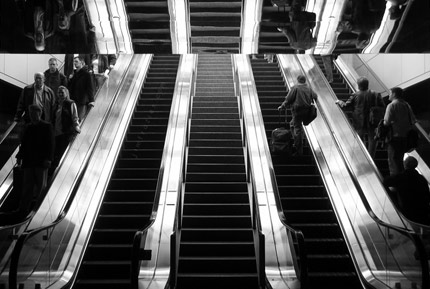 It is no exaggeration to say the short-term economic outlook is cloudier today than at almost any time in decades. The recession is already worse than anticipated. It is worldwide, it has structural roots as well as cyclical ones, and while it emanates from the financial sector, it reflects fundamental imbalances among consumers and in the broader economy.
So far, New York City has seen relatively modest job declines concentrated in finance and a small number of other areas. The city and its immediate suburbs have lagged the nation in terms of aggregate job losses that have been taking place for nearly a year. However, most regional economists expect the city to catch up very quickly, and by the middle of next year, the pace of our job losses likely will exceed the national average.
The coming months will pose real hardships for many New Yorkers, particularly low- and moderate-income families. Unemployment will rise, public services will suffer, and the mortgage foreclosure problem will undercut struggling neighborhoods. Despite the difficult times ahead, though, with the right government actions, New York City has a good chance of emerging from this turmoil in fairly good shape.
The Short-Term Outlook
Current forecasts call for New York City to lose 150,000 to 175,000 jobs by the end of next year. This would be about a 5 percent drop. That's less than during the downturn earlier this decade when we lost 240,000 jobs, and much less than in the downturn of the late 1980s to early 1990s that was much worse in the New York region than in the nation as a whole. New York City lost 10 percent of our jobs then. Of course, no one knows how steep or long the current downturn will be. Only four or five months ago, most forecasts predicted job losses about half of what they are now.
Through September, the city's finance sector lost a net of about 10,000 jobs, a little over 2 percent of the total. Following the financial market meltdown in the last half of September, not only did credit markets freeze up but the bottom dropped out of consumer confidence and spending. New York is feeling the effects of a recession that has spread across the globe.
New York's job losses appear to be accelerating. Finance sector employment will fall sharply - it could lose as many as 50,000 or 60,000 jobs in New York City, 10 percent to12 percent of the total. This will be accompanied by a substantial decline for many of the businesses that fill so many of Manhattan's buildings: professional and business services, corporate headquarters, media and technology. Hospitality and retail will suffer. And construction activity over the next two years will decline by 20 percent or more. With its concentration of financial and other export-oriented businesses, Manhattan's job base will contract much more than the employment levels in the other boroughs.
After the Recession
Economists know even less about what the recovery will look like than what we know about how bad the downturn will become. We expect to see a profound structural shift within the finance sector and in the relation of the finance sector to the broader economy and to government. This likely will mean that, for at least the next few years, the finance sector will not be as large as it was in 2007. Its presence in New York City could permanently shrink by 10 percent, if not more.
For the intermediate- and longer-term, though, New York's prospects remain fairly bright. We are in a much better position than we thought we were right after 9/11 when many feared that large commercial centers like New York City would no longer be viable in a time of terrorist attacks. Now, we face an energy-constrained world where New York City's overall energy efficiency and reliance on the most extensive mass transit system in the U.S. is a great asset.
Our dense concentration of business gives us a big leg up in terms of the productivity and profitability of many sectors - professional services, media, information technology, design and engineering. In most of these areas, the "value added" (the net dollar value created by business) per employee far outpaces the national average. Our cultural offerings surpass most cities in the world. The quality of life in the city has steadily improved.
New York City's many attributes are recognized in the 2008 ranking by Foreign Policy magazine in their Global Cities Index. New York City ranks as the Number 1 City To Do Business In out of 60 global cities. Of the five factors considered, New York ranked highest in business activity and human capital, second in political engagement, third in cultural exchange and fourth in information exchange. If you're worried about New York City's future in a world where we've seen "The End of Wall Street as We Know It," post those rankings next to your desk. Our recovery may be fitful, but New York City will continue to be a magnet for top entrepreneurial and creative talent the world over.
Government's Role
As many assets as the city has, New York's economic future depends heavily on effective national policies to foster genuine economic recovery. What happens in Washington, D.C. over the next several months is probably more central to the well being of New York City than at any other time since the days of President Franklin D. Roosevelt. Unprecedented actions have been taken, and unprecedented taxpayer resources have been committed to stabilizing the financial sector. It hasn't been stabilized yet, but the focus is there and the resources are at hand.
At least two other things also need to be done.
First, we have to stabilize the housing sector. It's paralyzed now. Prices have declined by 25 percent and are headed further down. We have to stem the flood of foreclosures and put a floor under housing prices. Millions of mortgages have to be renegotiated, losses have to be taken, bundles of mortgages have to be unbundled.
Second, the government must craft a robust macroeconomic recovery program to stem the current downward spiral. Usually, rising home sales, new construction and the related purchase of new appliances and furnishings pull the economy out of a downturn. Given the deep slump housing is in, that is not likely this time. The economy needs a big stimulus to turn the economy around and to substitute for the push a recovering housing sector normally provides.
To accomplish this, our leaders need to confront the forces that will say we can't let the federal deficit get any larger. We need to listen to John Maynard Keynes and not Pete Peterson. (Peterson, a prominent financier, is a leading advocate of the position that a looming federal deficit is the biggest barrier to long-term prosperity.) An effective economic recovery program might take 3 percent, 4 percent or 5 percent of Gross Domestic Product ($400 billion to $700 billion). Even so, that is far less than we have poured into the financial markets, and unless we're willing to make this additional investment, the money we've directed to saving the financial markets won't even be effective.
New York City's recovery won't get underway until we have a national program in place to deal with the other roadblocks remaining from the bursting of the housing and derivatives bubbles and to restore consumer confidence and spending.
This national economic recovery program needs to include:
-- A better targeted stimulus, including state fiscal and Medicaid relief, extended unemployment benefits, and increased aid to low-income populations;
-- A robust program to invest in infrastructure that funds ready-to-go state and local government projects (schools, sewers, roads, transit systems, etc.) and includes a major investment in green jobs to promote residential and commercial building retrofits and alternative energy development.
-- A universal health insurance program that covers the uninsured, finances health care in a sustainable way and helps small businesses provide affordable coverage to their employees.
We also need policies at the local, state and regional level to support, not undercut, these initiatives. We have to make sure we don't reinforce the downward economic spiral with damaging state and city budget cuts. Hopefully, we will come out of this downturn with an economy whose prosperity does not depend on debt and whose growth is more energy-efficient and sustainable. Sustainability means lessening our severe income disparities as well as achieving a better long-term environmental balance. If we have the right national policies, New York City will do well.
(This column is based on remarks Parrott gave at a Nov. 12 economic forum sponsored by McGraw-Hill and Zetlin & DeChiara LLP in association with the New York Building Congress and other organizations.)
James Parrott is deputy director and chief economist of the Fiscal Policy Institute (www.fiscalpolicy.org). He has been studying and writing about the New York economy since he landed in New York City a quarter century ago.Â