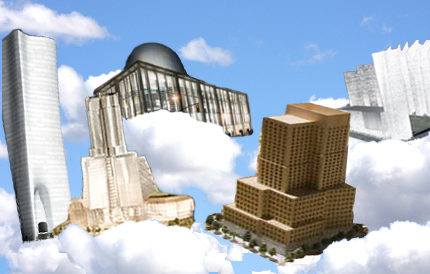 Gotham Gazette image by Ya-Hsuan Huang
In recent years, few issues have divided residents of downtown Brooklyn more than the $4 billion, 22-acre Atlantic Yards project being developed by New Jersey Nets' owner Bruce Ratner. Ratner's company, Forest City Ratner, reached a deal with the city and state to develop a high-rise commercial office tower, affordable housing units and a basketball stadium, the Barclays Center, in the heart of Downtown Brooklyn in just a few years.
Local community groups and residents, concerned that such a large-scale development in a partially residential area could harm their quality of life and change the neighborhood's character forever, have tried to stop the project through litigation, as well as seeking to influence public opinion and pressure decision-makers in City Hall and Albany to reconsider the project's risks.
While these concerted efforts have proved largely unsuccessful, key components of the development are now on hold -- not because of public outrage, but rather due to increasing construction costs, a slowing economy sliding toward recession and a tightening credit market.
To different degrees, the very same economic challenges facing Atlantic Yards confront real estate projects both big and small throughout the five boroughs. As the Metropolitan Transportation Authority faces a budget crisis, long-planned developments, such as the Fulton Street Transit Center, face delays and revisions. The original plans for Hudson Yards have been thrown into disarray, while individual apartment buildings in Queens and Brooklyn have been put on hold due to a lack of available financing.
As the economy turns toward recession, developers, community groups and city officials alike are questioning whether these projects will go through at all -- or at least in the way many had previously imagined.
Rising Costs, Slumping Funding
While much of Atlantic Yards project is sliding to the back burner, the $950 million arena is moving forward and slated for completion in 2010 for one main reason: The financing for it is already in place. Unlike the private financing needed for the commercial and residential buildings, Forest City Ratner already has secured $670 million in tax-free bonds to cover the costs of the arena's construction beyond the $200 million in subsidies already in place ($100 million from both the Empire State Development Corporation and the city). Additionally, unlike the commercial tower centerpiece known as Miss Brooklyn, the stadium already has its anchor tenant lined up (the Nets) and Barclays has ponied up a reported $400 million specifically for the stadium's naming rights.
But many projects, including other components of Atlnatic Yards, do not have such secure financing. The credit crunch facing financial institutions that typically lend money for real estate deals is making it extremely difficult for many developers to secure financing. There is unusual volatility in the financial markets,the result of banks havin taken on enormous amounts of debt and engaged in risky and complex financing activities. Economists are unsure when the situation will stabilize.
James Parrott of the Fiscal Policy Institute said, "There are significant financing challenges facing New York real estate developers including difficulty rolling over debt and manifesting in a general reluctance to lend money on projects, because of the necessity of conserving capital to cover losses from previous loans."
Additionally, the outlook remains gloomy for employment in the financial services sector where a recession scenario estimates job losses at 30,000 to 50,000, not including the massive layoffs already in effect from JPMorgan Chase's acquisition of Bear Sterns. The loss of these high paying jobs erodes tax revenues for the city and significantly lowers the demand for the expensive housing and commercial space.
At the same time, construction costs, including the price of concrete and oil, continue to rise -- a result of increasing global demand and decreasing supply . Turner Construction's Fourth Quarter 2007 Building Cost Index shows that costs rose 10.6 percent nationally in 2006 compared with the previous year. This is a significant increase for builders attempting to hammer out large projects, according to the city comptroller's chief economist Frank Braconi.
Increasing labor costs also could contribute to the possible demise of the city's major projects. Many of the relatively few unionized, talented workers with experience in building large-scale projects are already booked for the next few years. According to Harry Chernoff, a professor at New York University's Stern School of Business and a real estate developer, it is unlikely that we will see an increase in this labor supply in the near future because of the practical difficulties of bringing in workers from outside the city. "If you are a builder from another city or region, it is difficult to come here and do this type of work without having the prior experience of working in New York market," said Chernoff.
All of this has taken its toll on some of New York's high profile projects.
An Alternate Atlantic Yards
Such problems threaten the very aspects of Atlantic Yards -- affordable housing and expanded office space -- that were its chief selling points, according to a report in the New York Times.
Ratner has publicly stated that until he secure an anchor tenant for Miss Brooklyn, construction will remain on hold. The bond market is being blamed for slowing down the pace of the residential buildings.
New York City Councilmember Letitia James, who represents the area and is an outspoken opponent of the project, is concerned that affordable housing, which was integral to pitching the project, has taken a back seat. "What do I think about this arrangement?" she asked . "I think it is totally unacceptable." James said she, along with New York State Sen. Velmanette Montgomery, hoped to meet with Gov. David Paterson to encourage the state to take closer look at the project and possibly renegotiate the original contract.
Opponents to the project are also pushing for the U.S. Supreme Court to take up the case after several appeals lost in .
Fulton Street Transit Center
Another high-profile project affected by the precarious economy is the Fulton Street Transit Center. When plans for the transportation hub on Broadway between Fulton and John streets in Lower Manhattan were first announced in 2004 it was envisioned as a central element in the recovery of the area after of the Sept. 11, 2001, attacks.
The project, which the Metropolitan Transportation Authority now estimates will end up costing approximately $1.2 billion, had included a 110-story glass dome as well as a hub for several different subway lines and PATH trains to New Jersey. It was originally scheduled for completion last year. Now it's expected to be done by September 2010, and its price tag has swollen by more than $400 million from the original $700 million cost estimate projected back in 2004.
As part of the project, 148 businesses were razed or relocated under the city's use of eminent domain to build the hub.Now, though, the dome they had been forced to make room for had been deemed too expensive and was permanently scrapped back in January. Ironically, one reason blamed for the cost overrun was the expense of completing these relocations. The authority recently announced that it would indeed build some sort of structure above the subway connection, but details about its size, cost and usage have not been publicly revealed.
But the key challenge remains the MTA's capital budget. At $29.5 billion, it has t a projected $14 billion shortfall for this operating year. In addition, the city had planned to use $500 million in congestion tax fees to sell bonds to finance the capital budget. Because the congestion pricing plan failed, the estimated $4 billion to $5 billion these bonds would have raised for the capital budget for the next four or five years is lost, representing an even larger than expected hole in the agency's coffers.
Currently, the transit hub is undergoing a 30-day "review period." It is unknown how much— if any — additional money could be provided by the federal government and the Lower Manhattan Development Corp. and how much of a role public opinion and state leaders, such as Assembly Speaker Sheldon Silver, could end up playing. The idea of bringing in additional funds by turning the Fulton Street terminal into a public-private partnership is reportedly being floated.
Rising costs may also adversely affect other proposed transportation projects such as the Second Avenue subway line, the westward extension of the 7 train into the West Side and a Long Island Rail Road link to Grand Central Station in Midtown.
Javits Convention Center Expansion
The Jacob K. Javits Convention Center, located at 11th Avenue between 34th and 39th Streets, was supposed to expand to become one of the largest convention centers in the country. By November 2007 the plan had been scaled down. Now the focus has turned to renovating the convention center, which will cost about $800 million, compared to about $3.1 billion for the original plan.
At one point, former Gov. Eliot Spitzer had intended to sell off a parcel slated for the convention center's expansion, further jeopardizing the project. Spitzer put that plan on hold after a protests by city officials earlier this year. Now, under the Paterson administration, it is unclear what could occur.
Economic conditions are partly to blame for the uncerttainty. New York City simply unable to afford the original project, forcing the scaleback. The Empire State Development Corp. spent more than $30 million to determine whether the project was feasible under the current budget, with the state agency ruling after more than a year of study that it was not.
Also, local economic strains have created some friction between two of the center's largest revenue sources: exhibitors and hotel owners. Both groups are arguing over what redesign might produce the most revenues. With a slowing economy, there are concerns among observers that the Javits Center might be unable to hold on to its current slate of conventions, let alone pick up additional ones.
But the economy is not solely responsible for the Javits Center missteps. Poor oversight also is to blame. Directors of the center have complained the project was poorly planned and that they were asked to approve "millions of dollars" of expenses — after they had already been incurred. Further, the chairman of the center's board reportedly held most of its meetings behind closed doors.
Now, city planners are looking to a 61-acre site at Willits Field in Queens as a possible site for a satellite convention center for New York, but officials are not in agreement about this option or whether the possible Queens site would complement or replace the Javits Center. Last week that proposal started its formal Uniform Land Use Review Procedure, much to the chagrin of a majority of the City Council.
With Paterson now in Albany and a new head of the corporation to be named, it is unclear what the future holds for New York's convention center on the West Side.
Hudson Rail Yards
At the end of March, the MTA signed a tentative deal with real estate operator Tishman Speyer Properties to work on the Hudson Rail Yards, a 26-acre site on the Far West Side. The plans are to develop the former rail yards into a number of both residential and commercial buildings as well as some green spaces. But much remains uncertain
The deal is still tentative because an agreement must be worked out between the city and developer to ensure public access to parks and the Hudson River. According to a report by the New York Times, land-use and environmental studies are still forthcoming, and City Council will have to rezone half of the site.
Current plans call for construction to start at the beginning of 2009.
Moving Forward
While the stock market bobs and weaves, and city officials continue to warn of the recession's impact on the city's revenues, developers and potential commercial and residential real estate buyers are likely to move forward cautiously.
The fate of these monumental projects -- many of which were meant to be the signature accomplishments of the Bloomberg and Spitzer administrations -- will not only affect some political legacies, but our streetscapes for decades to come.
Steven Josselson is a New York City-based freelance journalist and a recent graduate of New York University's Robert F. Wagner Graduate School of Public Service. Â