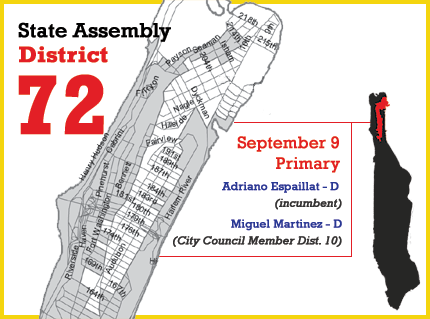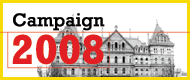 This is part of a series of articles on the issues and candidates in the city's 2008 elections for state legislature and other offices. These stories, along with maps, links and other special features, will be appearing on our site between now and November.
---
Related Links on District 72:
Miguel Martinez
Adriana Espaillat
New York State Board of Elections
(campaign finance information)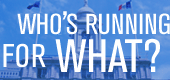 To find out who wants to represent you -- or what office your favorite official will seek next -- turn to our candidate database:
"Who's Running for What."
---
Update: In the primary, Adriano Espaillat defeated City Councilmember Miguel Martinez. In the general election, he will face William Buran. Buran was the New York City organizer for the grassroots Ron Paul presidential campaign and credits Paul for motivating him to run. Buran calls for less government spending and smaller government.
At the end of the most recent reporting period, Espaillat had about $150. Buran had $2,858.
Three hundred and two years ago at the Battle of Fort Washington, the British defeated the Americans. This fall, in the neighborhood of that historic fight, the uppermost tip of Manhattan will find itself a different kind of battleground.
City Councilmember Miguel Martinez announced on June 2 that he would challenge incumbent State Assemblymember Adriano Espaillat in the Democratic primary for the State Assembly District 72. This year, as in every even-numbered year, all seats in the New York State Assembly and Senate are up for election. Primaries for State Assembly positions are often a non-event, but this year many races are unusually heated.
This is especially true in Manhattan, where term limits on the city's elected officials will make nearly three quarters of the City Council unemployed after the 2009 elections. The term limits restrict elected city officials to two full terms. For those whose tenure will come to an end in 2009, the 2008 elections in Albany offer a shot to continue in government.
That seems to be the situation facing Martinez, whose two terms expire at the end of 2009. Despite that, his decision to run against his former mentor and current rival, incumbent Espaillat, comes as a surprise to many -- including Espaillat.
"Yes, I'm surprised," he said of Martinez's decision. "Martinez comes out of our club and we did everything we could back in 2001 to get him elected. It's like someone from your own house turning on you."
Espaillat and Martinez were once both members of the same political club, Northern Manhattan Democrats for Change. Martinez worked in Espaillat's first campaign, and Espaillat helped Martinez with his campaign for City Council in 2001. Martinez left the club and formed his own, Democrats in the Heights. Since then, there has been little communication or cooperation between the two. Last September, they backed rival candidates for a district leader post. What once seemed to be a mentoring relationship is now more strained.
Looking at the Record
Espaillat has a long record in the area's politics. In 1996, he became the first Dominican American elected to any state legislature, representing District 72, which includes Washington Heights, Inwood and Marble Hill. Now chairman of the Committee on Veterans' Affairs, he cites his work to give free college tuition to veterans of the current war through the CUNY system as one of his accomplishments. He also initiated "Nos Quedamos," a program for tenants. Through it, Espaillat said, hundreds of residents have attended town-hall meetings about issues facing renters and he has secured the money and resources for a free legal clinic for tenants.
"A testament to my good work done is more people moving in," Espaillat said.
Martinez has served on the City Council since 2002 and chairs the Committee on Fire and Criminal Justice Services as well as being a member of several others. He is the Democratic district leader in Inwood Community. He says bringing money into the community has been his major accomplishment as a council member. That achievement, though, has recently raised some questions about whether he funneled money to an organization where his sister served on the board.
Both candidates see the primary campaign as a chance to demonstrate what they have done for their constituents. "This gives the community the opportunity to evaluate his work and my work," voiced Martinez.
As a longtime member of the Assembly, Espaillat had lined up support for his re-election. The looming question is, of course, whether or not that will withstand Martiez's unexpected challenge.
Espaillat holds an endorsement from the New York Working Families Party. The Empire State Pride Agenda and the United Federation of Teachers have not completed their endorsement process, but the Pride Agenda has contributed funds to his current campaign and the teachers have endorsed him repeatedly in the past. "Everywhere I go I've been getting signs of support," Espaillat said.
Martinez, too, feels he is garnering support, though he has not yet registered with the Campaign Finance Board.
A Breach Between Allies
With two former allies running against each other, the race has gotten buzz in the blogs. But some dismiss the talk of an epic feud.
"I don't see the battle. The only things you hear are rumors here and there," said Ebenezer Smith, district manager of the local community board.
"The media is putting the negative connotation on the race," according to Martinez.
"I am not involved in a feud," Espaillat said.
While reports of hostility between the two have been raging in online forums, both men maintain a civil, if nuanced, demeanor when trying to distinguish themselves from each other. And in many respects, they agree. When asked the most important issue facing the district, both men concur that it is the cost of rent. Additionally the two voice concerns about economic development and education.
They do disagree on how effective the other one has been. Martinez blames Espaillat for the lack of funding for the district from the Empire State Development Corp. Espaillat feels that Martinez "has not been a strong voice for housing."
Ydanis Rodriguez, who is looking to run for City Council in 2009, feels the competition is inspiring others to get involved in improving their neighborhood. "The community is tired of looking at races that focus on personal issues. We want to look at what [the candidates] have done," he said. "Any race should be open to whoever can do the better job for the community. We should encourage voters to look at who will serve them best," commented Rodriguez.
Smith agrees. "Whoever is elected will find a Community Board willing to work with that person," he said. There is no evidence that they will not find an equally receptive and cooperative community.
In fact, rather than seeing this campaign as a detriment to the community, many see it as a benefit. "This is part of what makes this nation great, the democratic process," Martinez said.
On that Espaillat agrees. "The voters will have their say," he said.
For More Information
New York State Board of Elections (campaign finance information)
Â