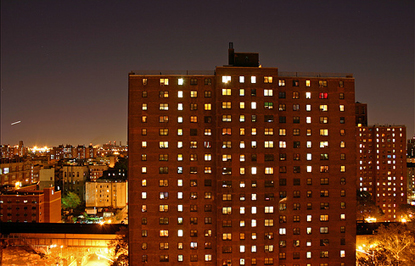 Public housing that works is a legacy that New York would be foolish to squander. Mayor Michael Bloomberg's plan to build or preserve 165,000 affordable housing units by 2013 was a promising start to meeting the city's low-cost housing shortage. Even if the mayor and his successors meet this ambitious target, it will be a hollow victory should the New York City Housing Authority simultaneously fail. NYCHA, after all, still manages 178,000 public housing apartments for over 400,000 low-income tenants. This vast system is under fiscal strain, as it has been for decades. Its collapse, sometime in the future, is not out of the question.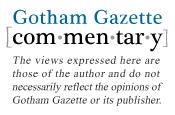 The most frustrating dimension of NYCHA's current budget crisis is that by almost all accounts this should be the housing authority's golden age. After almost 75 years of comparative success, New York is one of a few cities in the world that has successfully managed high-rise public housing. New York's big bet on public housing has paid off.
Administrators have kept up the projects in spite of high crime, vandalism, aging structural and mechanical systems, and declining subsidies. Forty-five percent of NYCHA tenants are working families and only about 15 percent of families depend on welfare. The remaining 40 percent are seniors, veterans or the disabled. Project grounds are relatively well kept, the buildings solid if uninspiring, and the apartments impressively affordable. Billions of dollars have been spent in the last decade updating buildings, grounds and community centers.
The New York City Housing Authority is nevertheless at a crossroads. One of the secrets of New York's management since the 1930s has been solid staffing under a civil service model. Today there are still 12,500 employees, over 9,000 of whom clean and repair the authority's 2,600 buildings. These workers face major challenges maintaining housing developments at a decent standard, but by all accounts they have so far succeeded.
The Financial Squeeze
The down side of competent staffing is the costs generated by collective bargaining. This staff is entitled, as a result of state law, to generous pensions and regular raises. Fuel and other material costs have also skyrocketed in recent years. At the same time, federal subsidies, which comprise approximately half of the authority's annual budget, have dropped during the Bush administration. Republicans have no love for public housing, well managed or not.
As a result of these declining federal subsidies and increasing operating costs, for the past few years the authority has run an approximate 10 percent annual deficit. Annual cuts have been made in everything from staff to social programs. Administrators have eliminated 2,500 positions over the past decade. Declining subsidies within a few years will lead to even steeper cuts in the projects that could undermine tenants' basic quality of life.
The authority's recent announcement that it will close its community centers, and raise rents once again on the higher income tenants, signals the onset of serious consequences resulting from annual shortfalls. The city as a whole can scarcely afford to let its projects decline as they have in other cities. The city government, to its credit, has underwritten billions in bonds for building renovation, and until a few years ago provided an annual subsidy. State and city government, however, have had to spend little to maintain such an enormous system because the combination of federal subsidies and rents have covered most of the annual costs.
What the City Can Do
The time for procrastination by elected officials is over. Two proposals by NYCHA deserve serious consideration by the mayor and the City Council. NYCHA's request that the city government fund the community center program should be adopted. These community centers have been chronically under-funded since the 1930s because federal subsidies have only paid to build community centers rather than to staff them. Over the years NYCHA has nevertheless drawn on general operating funds to create America's most impressive system of urban community centers, one that offers both tenants and non-residents programs such as summer camp and after-school. The city government's assumption of costs for community centers would save these worthwhile services and reduce NYCHA's annual deficit by $68 million.
The end of NYCHA's annual payment to the New York City Police Department would save another $68 million dollars. This payment is the legacy of the time when NYCHA had its own internal police force; after 1995, however, the police department absorbed responsibility for NYCHA security. The NYPD Housing Bureau has become an effective crime fighting force in public housing but an argument can be made that crime control in public housing is in the interest of the city as a whole. These funds would be better spent on general maintenance by NYCHA staff rather than paying for a service, police protection, that most citizens consider their basic right. More broken elevators, for instance, as result of further staff cutbacks, would make the police's job far more difficult in towers that often reach 20 stories high.
These two actions, totaling $136 million a year, would not wipe out the entire annual deficit (estimated at $200 million for the coming fiscal year), but they would give NYCHA the financial breathing room that it needs. As a proportion of the total city budget (approximately $59 billion) $136 million is a small price to pay for the preservation of decent homes for 5 percent of the city's population.
The Importance of Public Housing
Many New Yorkers, looking at public housing, would just like to see it disappear, but NYCHA is too big to fail quietly. Many neighborhoods will suffer if public housing falters because projects exist in every borough. Very few New Yorkers would want to live next door to crumbling projects similar to those that plagued Chicago or St. Louis.
Some housing advocates have cited anecdotal evidence of maintenance problems in some projects as evidence that the authority is already faltering, but New Yorkers don't understand what a failing project or housing authority really looks like. New York, as yet, has no project that rivals the disastrous tower blocks of Cabrini Green in Chicago or Pruitt-Igoe in St. Louis, which were demolished because even most poor people refused to live in them.
The housing market would also tighten should the projects fail. The loss of 180,000 apartments would certainly drive up costs for almost all renters in the city. Queensbridge Houses alone contains just over 3,000 units. Finding new accommodations for these families, perhaps by giving them vouchers, would create even more competition for existing affordable housing.
Multiply that number of families by 60 and you get some sense of the crisis the city will face should NYCHA collapse. Conservatives at think tanks such as the Manhattan Institute, who want to sell off the projects, conveniently ignore the logistical nightmare that would ensue. Most of the projects redeveloped in other cities were partially empty; New York's are full to bursting.
Finally, public housing serves as an important home for low-wage laborers in the city. As NYCHA has shifted more firmly to working families in the recent decade, the argument that projects are just for welfare tenants and thus a social liability, no longer holds true. Almost half of the families in the system have at least one working member and most of them participate in the lower end of the job market. Business leaders constantly complain about the high cost of operating here; losing public housing won't help this situation.
Preserving the authority at its current level of management will be far less costly, in both financial and social terms, than permitting its failure. Paying $136 million today will seem like a bargain in the future.
Nicholas Dagen Bloom is an associate professor and chair of Interdisciplinary Studies at the New York Institute of Technology. His new book, "Public Housing That Worked: New York in the Twentieth Century," is available from the University of Pennsylvania Press. Â