Mayor Michael Bloomberg publicly set a laudable and ambitious goal in 2004 to reduce homelessness in New York City by two-thirds by 2009. Four years later, with only one more to go in his term, homelessness continues to be a major problem facing New York City, with no end in sight. According to a report released by the Independent Budget Office, which I commissioned, this spring saw more homeless families living in shelters than when the mayor originally announced his plan's target numbers.
Achieving the mayor's goal, or even making significant progress toward it, requires a major reprogramming of the way we approach homelessness in New York City. The Independent Budget Office's recent numbers demonstrate that the efforts made to combat homelessness over the past four years have been largely ineffective. Something must change.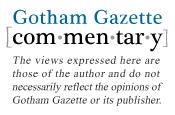 The mayor should use his remaining time in office to bolster proven, cost-effective prevention methods, correct punitive city policies that disadvantage homeless New Yorkers and, most importantly, treat our city's homeless crisis like what it really is: a housing problem.
Saving Families From Shelters
First, we should focus on the fiscally responsible ways the city can stem the tide of families entering shelter. Sheltering a family that has already lost its home isn't cheap. According to the Mayor's Management Report, in 2007 the average cost per day for each family in a shelter was $94.97. This same report cites that through 2007, the average homeless family remained in the shelter for 325 days, adding up to $31,000 for the family and to hundreds of millions of dollars a year total.
This massive sum could go a long way toward keeping families in their own homes from the start. Given our nation's financial troubles, we must now, more than ever, incorporate fiscal responsibility into all of our decision-making. On homelessness, this means putting money into proven prevention efforts and working to keep families in their homes, rather than hemorrhaging funds on expensive temporary shelter.
Just this year, the Department of Housing Preservation and Development lost $750,000 in funding for its anti-eviction legal services, and the Department of Homeless Services faced a $1.5 million cut to its anti-eviction services. These cuts represent poor fiscal decision making. A 1990 report by the New York State Department of Social Services demonstrated that every dollar spent on preventing a family from losing housing and avoiding shelter can save taxpayers $4 in the long run. The only way we can truly make progress on ending homelessness -- and fiscally sound progress at that -- is to simultaneously dedicate real resources to help families avoid the costly and disruptive need for shelter, and provide real solutions for families leaving shelters so they can find stable, long-term housing.
Making Housing Affordable
At its core, New York City's homeless problem is a housing problem. This spring, the New York City Rent Guidelines Board issued its 2008 Income and Affordability Study, which detailed that in 2007 evictions and possession orders rose more than 4 percent, and the proportion of cases awaiting trial that resulted in eviction rose to the highest level in 10 years.
We have seen this reflected in the number of families moving in and out of shelter in recent years. According to the Mayor's Management Report, the number of families with children entering shelter over the past three years has steadily increased: 8,027 families in fiscal year 2005, 9,167 families in fiscal year 2006, and 10,733 families in fiscal year 2007. Meanwhile, the number of families with children moving out of shelter and into permanent housing remains far lower and has steadily decreased: 6,447 families in fiscal year 2005, 6,193 families in fiscal year 2006, and 5,658 families in fiscal year 2007.
We must make the most of every available opportunity to create more affordable housing in New York City. If we are going to keep New Yorkers from being priced out of the city -- and from cycling through the shelter system -- we must compliment the mayor's homelessness reduction goals with an ambitious housing plan that ends giveaways for developers, requires on-site affordable housing wherever practical, and establishes tiered rental and homeownership opportunities that meet the real needs of an economically diverse New York.
Flawed City Policies
Over the years, I have praised the initiative this administration has taken in creating New York City's own housing subsidy programs for homeless New Yorkers. The mayor has correctly recognized that the cavalry is not coming from Washington, and we cannot rely entirely on federal subsidy programs to house the city's homeless population. But the deeply flawed housing subsidy programs the city administration has created have disproportionately steered shelter clients into dangerous apartments managed by slumlords. Additionally, the Work Advantage program only lasts for two years, leaving many families high and dry before they can afford their full rent. At the same time, the city has refused to open up public housing and federal Section 8 housing vouchers to the homeless. This is an irrational approach to federal programs that could be incredibly effective as part of a multi-faceted approach to preventing and addressing homelessness.
The city's under-investment in prevention, combined with its misguided approach to federal assistance and the unrealistic inflexibility built into the city subsidy programs, has caused homelessness to skyrocket in recent years, drawing us further from the mayor's ambitious goals.
Many of the tools to address this crisis are already at our disposal; it is simply a matter of being open to breaking with the past, and learning from programs and policies that have not been successful over the last four years. On Sept. 23, I will chair an oversight hearing to examine the city's past and current approach to achieving the target of reducing homelessness by two-thirds by 2009. I look forward to a serious discussion in the coming months on how we can work together to prevent homelessness and permanently house homeless families in New York City.
Bill de Blasio is a member of the City Council from Brooklyn and chair of the General Welfare Committee. He also is a candidate for Brooklyn borough president.
Â