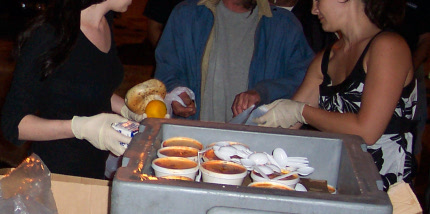 Photo Courtney Gross/ Gotham Gazette
The smell of hot soup spills out from three white vans marked with the Coalition for the Homeless emblem. Inside, bread, milk and oranges are stacked high enough to feed a small brigade. Volunteers stand by, waiting for the "go" sign to set off to their respective routes across the city.
One van will go to the Bronx. Another to Upper Manhattan and one more will head south. The volunteers gather every day -- same place, same time, maybe not exactly the same faces -- to make sure the city's unfed and unsheltered get a meal.
It's just before 7 p.m. on a Tuesday night, and I skipped dinner to see what it's like to feed somebody else.
I climb into one of the vans with James Taylor, a driver-slash-mechanic; Susan Humphlett, a speech pathologist; and Chelsea McGrath, a student at the New School. We have four destinations, circling Lower Manhattan, from Madison Square Park to an empty parking lot in Chinatown. At every stop, lines of 10, 20, 30 or more twist between park benches or cement barriers -- dozens of homeless and hungry New Yorkers waiting for dinner on us.
New Yorkers like Juan Ayarde, whose 60th birthday was swiftly approaching, who had lost his Bronx house in a fire and has been living on the streets ever since. He still maintains an affable, nonchalant demeanor. He avoids the city's shelters because they're "overcrowded" and calls our first stop his home of the moment. It's the heliport -- a landing pad for high-flying executives turned hangout for the city's homeless near 34th Street.
The van whirls around the parking lot, reversing toward the group, who are primarily men. It stops. Everyone jumps out with handfuls of plastic bags in tow, ready to distribute to the crowd.
Chelsea and Susan head to the back, prop open the doors and start handing out small soup containers and tiny milk cartons. They smile and greet each "client" -- as they call them -- telling them to have a "good night" as each one departs with a warm meal. Some hang around, leaning against the cement railing, slurping spoonfuls of soup. Others just slink off.
"Excuse me," I hear in a Spanish accent from behind. A man in a red shirt, black hat and khaki shorts approaches. "Do you know where I can sleep, but not in a shelter?" he asks.
"Ummm..." I reply. My voice trails off as I look to Susan for guidance.
She takes over, pulling him aside, showing him maps, brochures -- I imagine the quintessential how-to guide on making it without a home on the streets of New York City. "We have a lot of information," she tells him.
I think: "Thank God it's summer," wondering what an icy winter would be like sleeping along the East River.
An Increase or Not?
"There's definitely been an increase (in population)," James tells me once we hop back in the car, heading further downtown. He's been on the job for seven years, the length of the Bloomberg administration, and during that time, he's seen more people come out for the coalition's services.
Is that because of an increase in the homeless population or is the coalition spreading its outreach? Trying to decipher the homeless stats really depends on who you ask and where you look.
Last week, the Bloomberg administration released its latest management report, which said street homelessness -- those people not in the shelter system who instead take up residence under bridges or on park benches -- has significantly decreased -- a drop of about 25 percent between fiscal year 2005 and fiscal year 2008. Elsewhere, the numbers have increased since 2004 when the administration first committed to cutting the homeless population by two-thirds.
Figures, from the number of families entering the shelter system to single adults, are all on the rise, according to the management report. In fiscal year 2005, 17,245 single adults entered the shelter system. In fiscal year 2008, it was 18,303.
A recent report by the Independent Budget Office found the homeless family population had actually increased, from 8,712 families in 2004 to 8,848 in 2008. In 2007, there were 9,162 families in shelters, according to the report.
Onward: Chinatown
On Tuesday, there are more than 34,000 homeless individuals in the city, and scores of them are lined up in a parking lot in Chinatown not far from the Manhattan Detention Center.
There is a line for men, from recently released prisoners to -- based on the smell of one's whiskey-soaked breath -- substance abusers to those who just have bad luck. There is another line for women, a vast majority of Asian decent. Some may not be homeless, per say, but impoverished, Susan and Chelsea explain.
The lines are self-segregated.
It's the biggest, and toughest, stop of the night.
I walk down the line of men first. Naikim Ahmadzai calls for my attention.
Tall -- gargantuan even -- with shaggy dark hair and a gap where his front tooth should be, Ahmadzai starts to tear as he describes his past.
"Tell the U.S. government to leave homeless people alone," he barks, while walking to a bench.
To ease his anger, I tell him that I'll try.
Not everyone there is as disgruntled -- some are just dining. Ernesto Bol, who at 34 years old has been homeless for four months after his most recent girlfriend kicked him out, lounges on the wall encasing the Centre Street parking lot. He has slept on subway trains, but there isn't a hint of melancholy. He has only one explanation for his situation: "I fall in love too much," he says whimsically.
Once the crowd departs and everyone seems well fed, Susan, Chelsea and James slam the van doors shut and hop back in. Onward.
Not so fast.
"Wait," says James. "We got one more guy."
A tall black man, dragging a small suitcase behind him, makes his way over. James gets him a meal. He doesn't want to miss anybody.
A Lasting Impression
Back in the van, I ask if anyone ever gets depressed being exposed to so much poverty every week.
"No," they all reply.
"Sometimes you can just get a bad night," said Chelsea, who had to volunteer as a requirement for a class on urban homelessness. Once the class ended, she decided to stay on and help.
"People don't want it in their neighborhood," James explains. Residents close to their stops, they say, complain to the police, arguing the vans only attract more homeless people to their neighborhoods.
"They are gonna be like, 'We don't want you here,'" said Chelsea. "And pretty soon, it won't be anywhere."
That is what is frustrating, they agree.
Chelsea and Susan start crumpling up plastic bags in the back of the van as we head downtown. Separating them first, will make it easier to hand them out once we arrive at our next stop. Their routine begins to set in: just another Tuesday night on the town.
Calling It A Night
Talk of health and work begins to subside when we swing by the South Street Seaport, where a handful of men wait -- patiently. Nearby, you can hear music from a local outdoor event. A few of the men tell us to check out the parties if we have time.
One attempts to finagle extra servings. "Well, if we give some to you, someone else isn't going to get any," reasons Susan, who has been volunteering with the coalition for about eight months.
The conversation -- just like at any other dinner table, under a roof or not -- turns to politics. One man asks the women as he grabs his meal, "You think Obama will come out on top?"
"I do," answers Susan.
Frank, a regular at the coalition van whose long gray beard and ankle-length coat is recognized from afar, saunters up. "I'm a vet, thank you very much," he tells Chelsea and Susan. Frank says that every time, they explain.
Whether it's Frank or more recent regulars, like a middle-aged father with two young children, the volunteers said that after awhile, the faces become familiar. These are New York's chronically homeless -- those who can't seem to get back on their feet.
We careen up Third Avenue, approaching our final stop for the night.
Nearing 9 p.m., the van pulls up along Madison Square Park. It kisses the curb in front of a 24-hour Fitness, where Chelsea residents can sprint on treadmills inside.
Another group lines up. "You're very generous," says one man, after accepting one of the final meals of the evening.
Susan gives the last of the milk containers to the remaining men camped along the benches across the street. The van doors shut -- until tomorrow.